Hello everyone!
We are proud to announce that today we are releasing an open beta build of Curse of Mermos! The game has been in development since September and we're getting ready for our mid January release. Everything is going great so far, we have the better part of the game completed but we are still looking to balance the difficulty to reach that sweet spot. This is where you come in! As a fellow (indie) games enthusiast you can help us make Curse of Mermos better by playing the game and sending us your gameplay information. Gameplay information is saved automatically so it only takes you a minute to send a small file after you've finished played.So go right ahead, download our beta and play the game!
Here's how it works:
1. Download the game
2. Play the game as much as you like
3. Send us your gameplay data (Mermos\Data\*.JSON) via our Uploader or e-mail if you prefer. Make sure you send it by 1st of January 2015!
4. Wait for the final release of the game on 15th January!
If you want to report a bug or just get in touch e-mail us at team.101@hotmail.com or through IndieDB!
Thank you for reading and we hope you'll give Curse of Mermos a try!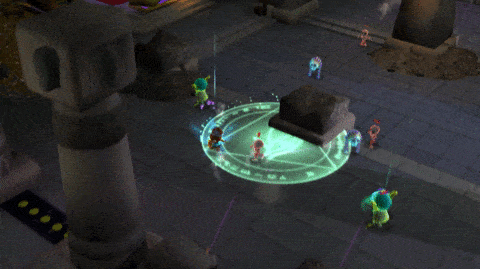 ---
OPEN BETA RELEASE NOTES

12/24/2014 - [edit] There was a game breaking bug when playing the game with the keyboard. When upgrading an ability at level 2 you couldn't exit the menu. We've fixed that and updated the build!
Recommended System Requirements
The game does not need a powerful computer however it is not yet optimized. It should run on most laptops and desktop PCs. Both MAC and Windows OS are supported.
64 bit operating system.
Approximately 150 MB of space.
A game controller.
Really important things to know
The game is designed to be used with a game controller. We've mostly used the X360 controller but others should work too. Keyboard control is implemented but it's not perfected yet. Controller is strongly recommended.

Don't quit the game with ALT+F4. The gameplay data is only saved if you quit through the game menus.

A playthrough will take you about an hour to complete. You can send us the gameplay data even if you don't finish the game.
What to expect from the game
Overall the build is a Beta so expect to find the odd bug however the game is very stable so there are very little chances of finding game-breaking bugs.

All gameplay elements are implemented and functioning.

Map is completely navigable.

Most art assets are in-game.

All enemies are almost completely implemented (some animations/effects are missing).
Known Issues
The game automatically detects if you plug/unplug a controller and adapts the interface to the available input. Sometimes this might not work properly. Please restart the game if it becomes unresponsive.

After Wave 13 enemies might stagger while navigating the map.

Shard trails might lead you through inaccessible areas.

Sometimes the charge effect may remain stuck on Abdu.

The Mac version does not save gameplay data.
---
OPEN BETA FAQ
Can I play the game without send you gameplay data files?
Yes, of course! We want as many people as possible to play the game but we also want to improve it and this is why we kindly ask that you don't forget to send us your gameplay data.
What does the gameplay data file contain?
(Note: This applies to the windows version only as *.JSON files are not saved on the Mac)
Gameplay data and a unique player ID.
The unique player ID is a random string generated by the game so that we know how many people have played the game.

Gameplay data contains your game progress, weapons used, upgrades and so on.
The file DOES NOT contain any sort of information about you, your location or your computer. If you want to have a look for yourself just open it up with a text editor but please don't edit it as it will mess up our data format.
Where do I find the gameplay data?
(Note: This applies to windows versions only as *.JSON files are not saved on the Mac)
There will be an individual file for each game you've played. You will find them in:Mermos Installation Folder\Data\*.JSON
Why is the deadline 1st of January?
We need the gameplay data as soon as possible in order to improve the game before release! The sooner you send it, the more time we have to implement changes.
I found a bug, and I want to report it. How do I do that?
Just send us an e-mail at team.101@hotmail.com. If possible please include steps on how to reproduce it and a screenshot if it makes it easier for us to understand.