Our feelings about this re-launch are, as ever, mixed. We're very excited to get in touch with the community once more and to show of our game to as many folks as we can, and if we're successful, we can really push Thea to its best so much faster. On the flip side, it is of course a very stressful time. There are daily articles on Indie sites telling dark stories of disappointment and failure, wasted resources and bruised egos. I just read Indiedb.com , a great article btw, but depressing for one re-launching a campaign, without an advertising budget to speak off. Like the authors of the above article, we've not done well in our last try. We too had several great previews, or mentions from smaller sites and really positive feedback from our own community, but no luck with larger sites or the big boys from the press. This is not a complaint, I am no pro at marketing and approaching press remains a daunting task. I did go to IGC2015 and listened to a great talk from Will Freeman, who stressed how hard it is for the press to get through the thousands of games they get, and how personalised contact, or face to face meetings are really crucial. And this is one more hurdle for a small studio, without a budget or manpower to really reach out.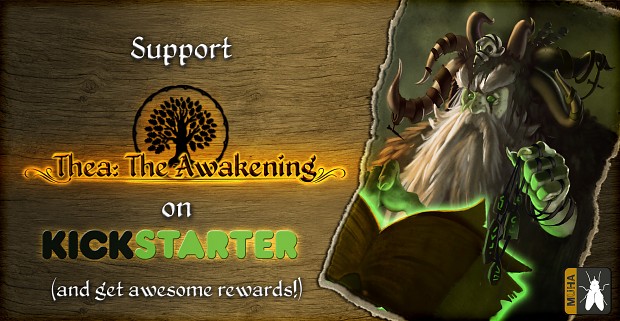 But then Thea has been through this before, and in all honesty, despite the bumps, I find KS to be a valuable experience as well as a good resource to find networks and talk to fans, who will one day, hopefully, buy the game anyway. Remaking our campaign we've already learnt so much, making a better trailer, prepping updates way in advance, putting in the leg work to research our rewards and stretch goals, building our following, visiting expos and convention etc. etc. And I suspect, whatever the result, we'll learn so much more this time round! There's been a lot of stuff around to say crowdfunding is dead, or at least that it is no longer viable without massive budgets of super luck, and yet, while this may be true, I will still say it is worthwhile. After all, if you are successful , it means real people believe in you enough to pledge their hard earned cash, and if not, well, it just means you either have to work on your product more, or you just didn't hit the right buttons.
We are yet to see if Thea will fare well, but I am very happy to be back on the horse as it were. We're out on KS now and we're showing off our game at the Digital Dragons in Krakow in May (21-22) and we hope our game may carry itself to the finish line. But, if the community choses to help us along the way, it will of course be awesome!
For all those in the same boat, good luck and may the force be with you!
MuhaGames Team