So the title says it all – but it's no failure really, we gained 210 new supporters which is great. There are no guarantees in this business and we decided to go down the IndieGogo route rather than the Kickstarter route, but would it have made any difference? Lets look at some figures.
So the launch was botched for a start, we made a bad decision. I enlisted the help of a marketing agency who said 'do not launch on a weekend and do not launch near a holiday' I spread those words amongst the team and we concluded that 'hey it means there will be more people by their computers, lets do it anyway.' On that Easter weekend a rare miracle occurred; pretty much the whole of Europe was basked in sunshine, I drove to the coast to spend it with my family as did many of you it seems. But before I left I visited the normal places and shared the exciting news, 'no immediate takers' I thought refreshing the IGG page as I added my offering to the endless list of crowdfunding beggars - but that's OK I muttered to myself; because we have our following.

Launching on the bank holiday was to be our first mistake because the $2,000 we spend on advertising and press releases was money essentially set on fire. We pushed the live button on Thursday night, by the time the media had recovered from the bank holiday a whole week would have gone by in which we had barely made 5% and we waited for the cavalry to arrive and we got nothing. I don't blame them; in a climate where crowdfunding campaigns are ten a penny why write about a failing one?
Well I say we got nothing, we got some complimentry kicks in the gut from a few sites who basically took the press release, pointed and laughed and used the opportunity to openly slate crowdfunding and our feeble attempt. I'm not mentioning any names and the articles aren't even worth linking too. But then we did get a large number of favourable reviews from a few upcoming sites, like this review from sound lad Callum Goss.
Anyways the magic number is 3% folks, that's the most essential piece of information that I was dying to know. 3% of visitors to our page converted into sales, it mentions 15,000 visits above but actually it's around 6,000 because most of those are repeat visits. Now that 3% tells me that I'd need 194,000 visits to make that goal – nearly 3x the yearly total of this IndieDB page hmmmm.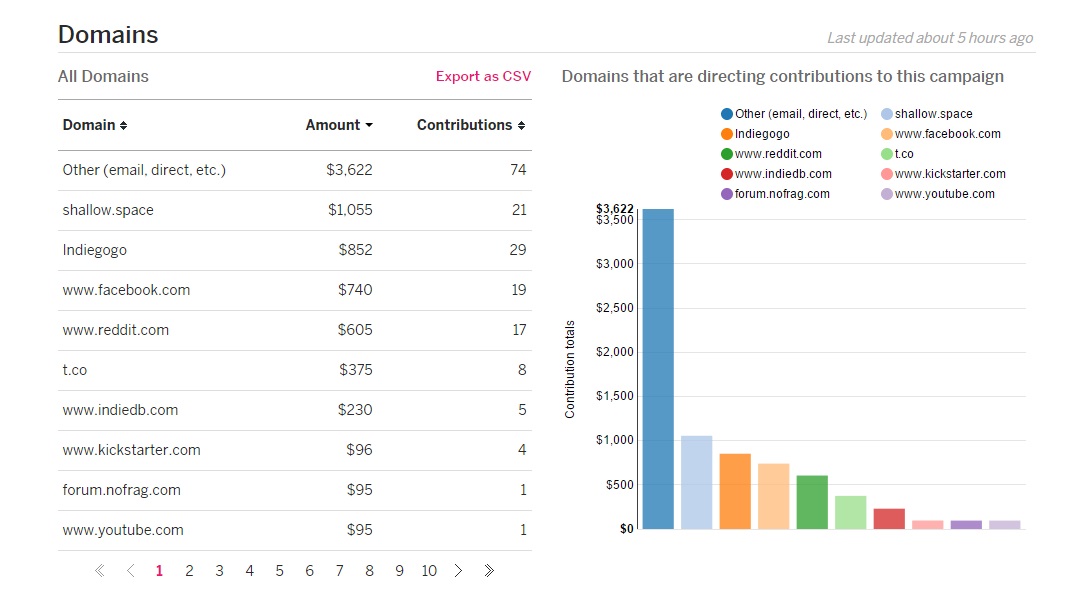 But that's OK I thought because we have our following; we had 500 people here, 800 on the newsletter, 400 on Facebook, loads on YouTube - a reasonable following but come the day it didn't seem to matter. Now it's important to note that I don't blame anyone, I wouldn't have pledged myself if it didn't seem like it was going anywhere and I think it really needs more time and a different approach. 'You need more exposure' people were shouting out to me, but here's the most irritating part of the deal folks: If I talk about my project it get's ignored as self advertising, you have to talk about it to each other. This point leads me to my final daunting realisation after all the videos, all the posts, all the effort: No-one really gives a hoot about Shallow Space.
So here's me worrying about piracy, it's all secondary, in fact it's not even remotely a concern – if people do decide to pirate this thing I've dedicated a year of my life on (so far) it turns out that I should actually feel grateful. The truth of being indie is starting to dawn on me… DRM-free from day 1 it is then...
So we made a demo, we invested in marketing, we collected a sizable following before the event and we still failed. Tough luck eh. Although back when I started Shallow Space there were 16,000 games registered on this site now there are 26,000 – it's getting harder and harder to stand out from the crowd (especially if you're not part of the 8-bit zombie crew.) But I take my hat off to the IndieDB guys and if you have a game on here you OWE it to them to subscribe to the site, especially seeing as most people use ad-blockers turning off the required revenue to sustain this great site.

Anyways we've met a load of new supporters and we've opened up the website for preorders for those who do feel like contributing. The price starts at $15 and increases offering some digital incentives do check it out! Will I run the campaign again on Kickstarter? Maybe – they've verified my identity now at least, but it'll probably be for some insanely small amount just to try and gather more of a following. You see it's that all important following that is the obstacle, we have to shout out to 1000 people who don't want to listen to find one person who does and the best part? They normally forget to click like or subscribe and so forget about you 15 minutes later.
Such is life, anyway I'm still focused I've got work to do – you can barely keep us out of the IndieDB top 100 – that's gotta count for something right? New version of the demo about to hit your screens, Steam and Humble store pages to prepare, artwork specifications to manage, blog posts to write, social media to update - keep your eye's out for the 0.7.10 version of the demo, oh and did I mention you can preorder now for just $15? ;)
Peace,
James