Crossfire re-release and future updates
---
It is safe to say that 2020 was a very turbulent year, sometimes with some unpleasant surprises waiting around the corner.
We are living in a difficult time and adapting to new situations sometimes can be challenging.
The plans we had for Crossfire in 2020 were thrown overboard and got replaced by necessary structural changes that helped us to create a future proof foundation for Crossfire.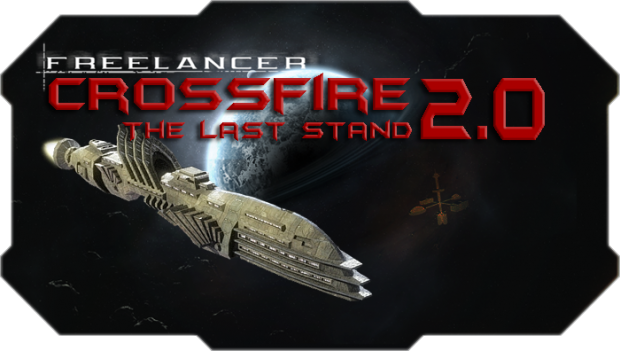 Certainly an important aspect was to replace our servers in order to ensure that players can enjoy the multiplayer aspect of the game in the years to come.
But we also looked into the fundamental issues the players used to have when installing and playing the mod. It is no big secret that installing a Freelancer mod of this size and complexity is/was not an easy task. Some players simply failed due to the many steps required. Other players passed this process but still had problems when joining the server.
All of that forced us as developers and to a noticeable amount also the other members of the community to spend much time giving support and guiding players to the desired goal, a clean mod installation. This was a time-consuming and definitely also demotivating process.
We as developers want to do constructive development work and not daily management jobs.
In the end we spend a few months analyzing the situation together with members of the community and carefully trying to reproduce the issues players have had.
It allowed us to identify and fix every possible source of error, no matter if people are playing on Windows XP, Vista, 7, 10, 32bit version or 64bit. The whole installation process was reduced to two simple tasks: install the original game and run the mod installer. All the settings and features known from FLMM and our external tools are now directly integrated into the new installer. The installation is easier, faster and settings can be changed again (unlike before). The process behind it will always produce a fresh and clean mod installation while also reducing the required disc space drastically.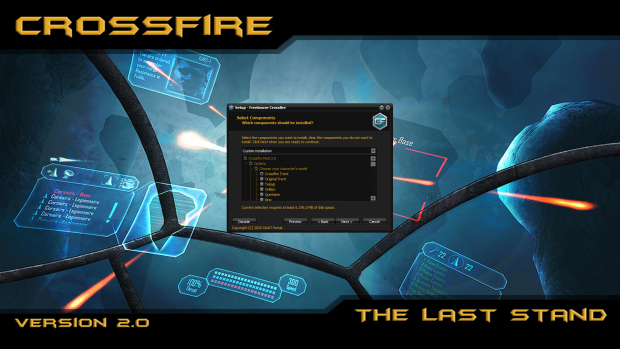 We also upgraded the Crossfire Mod launcher with features requested by the community and improved update performance.
On November 15, 2020, we re-released the Crossfire mod as version 2.0.1 with the already mentioned improvements but also with all the content updates which we released in the past 5 years. We had plenty of new content releases in this time-frame containing new missions, entirely new sectors, new ships, new gameplay mechanics, better graphics etc.
It was about time to put everything together in a meanwhile easy to install mod.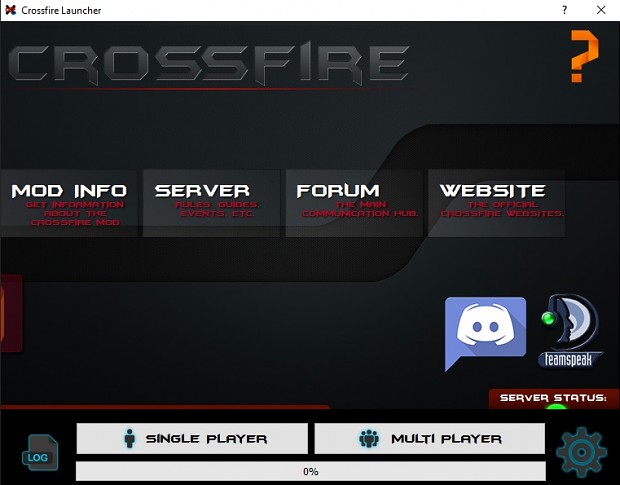 You can download the re-release at Moddb.com
We will share more information about the upcoming updates and discuss ideas on our forum at Swat-portal.com . You can also join our discord server Discord.gg
So what about Blackstar and the future content for Crossfire?
---

Now that we have solved many problems and created a foundation for the mod, that allows players an easy entry into the Crossfire world and us as developers more time to actually work on the mod, we can finally move forward with the mod development itself.
Especially in the past months we collected feedback from the community about key aspects of the game. Some players have provided great ideas which we most definitely will take care of. We know that some stuff that worked perfectly fine five years ago when we released Crossfire 2.0 requires changes now.
We still have some structural changes mentioned earlier on our to-do list but are confident that we get that work done till the end of this year.
The Blackstar update was almost completed when we made the decision not to release it in 2020. We will push this big content update into 2021 now but without a fixed release date. The reason for that decision is simple. We want to treat the community feedback with the highest priority and focus on that first. Part of that feedback is linked with the Blackstar update, so we also have to find a balance here. We most likely will even move away from releasing giant content updates at once, like we did in the past, but instead do micro updates improving certain areas of the mod on the fly. That would allow us to test new ideas and get feedback from the players more frequently.
We now have the foundation and tools to do that.
While 2020 was not what we all expected it to be, not in real life or our virtual world, we will move into 2021 knowing that things will get much better now.
We'd like to thank the Crossfire community for their ongoing support, the constructive feedback and the many great ideas that have reached us. It is great that players still show continuous support to a game which soon will be 18 years old
Merry Christmas and a safe flight, Pilots.
Oh and most importantly, stay healthy.