CRAZYMALS. The newly released indie arcade game
with offbeat characters
Color your everyday life with bright emotions, lose yourself in the exciting world of tropical forests and deadly dangers - all of this is possible with the new CRAZYMALS by the indie developers Red Hedgehog Games. The game is already available for iOS and Android.
The jungle is calling
The animated world of CRAZYMALS is a pitch-dark jungle with a continuous running from troubles lurking around the corners. Bright and a little crazy animals: the parrot, the bear, the monkey, and others, won't leave untouched even the gloomiest ones!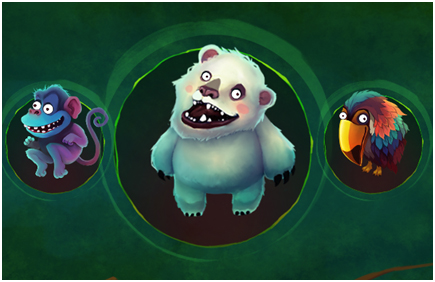 They will constantly have to open their eyes wide from horror, trying to find a barely noticeable gap between the lianas, slip through it and get to the next level, where even more difficult trials are waiting for them.
The player's goal is to save all the crazy animals from jungle without losing all lives, and to protect them from such dangers as:
flood
predator plants
dangerous corners and dead ends

The quickly appearing hazards requiring the clearness of action, high attention and quick reaction make the player improve their skills with every new level!
The gameplay
Each character has two lives at the beginning, but their number can easily be increased by using additional features.
Points are earned in two algorithms: one-round score and total score. In the first case, you see the number of points received in one game, while in the second case, you see the total score. The bigger the total score, the sooner you can make new animals available.
The success of the game depends on how quickly you react to exit pointers when a danger is approaching. Failed to do it in time? You'll have to start again.
Who will like CRAZYMALS?
CRAZYMALS is a skillful combination of excellent graphics, intuitive gameplay and hilarious characters! Exciting adventures of funny animals will cheer you up, amuse you and help you fill in the time, if you are:
abusy housewife
anoffice worker
a garage worker
a salesman
adeputy
a banjo tuner
and just a good person!
The app will amuse both adults and children, because a player doesn't have to think many moves ahead. You only need to keep up with the hints and don't fear the difficulties, sharpening your skills in moving your finger quickly across the screen. The simplicity and the unusual characters of the game will absorb you and give you positive emotions, even if you are in a stuffy subway car on a Monday morning!
In a word, a real hit was released by independent developers, which are ready to make themselves known and give a hope for the best future of mobile games!
FREE on: