Go your own way in this free-roaming multiplayer sandbox racer. The sequel to the successful Crash drive 3D can now be made available on Windows, Mac and Linux with your help!
Speed across gigantic maps featuring ramps, hoops, and bizarre terrain. Score as many points as possible to grab glory and unlock new vehicles, such as buses, muscle cars, and monster trucks. With 6 events, including checkpoint racing and coin collecting, 30 vehicles to unlock, and tons of fast fun, Crashdrive 2 will drive you mad!
Help us get the game out there - Vote on Steam Greenlight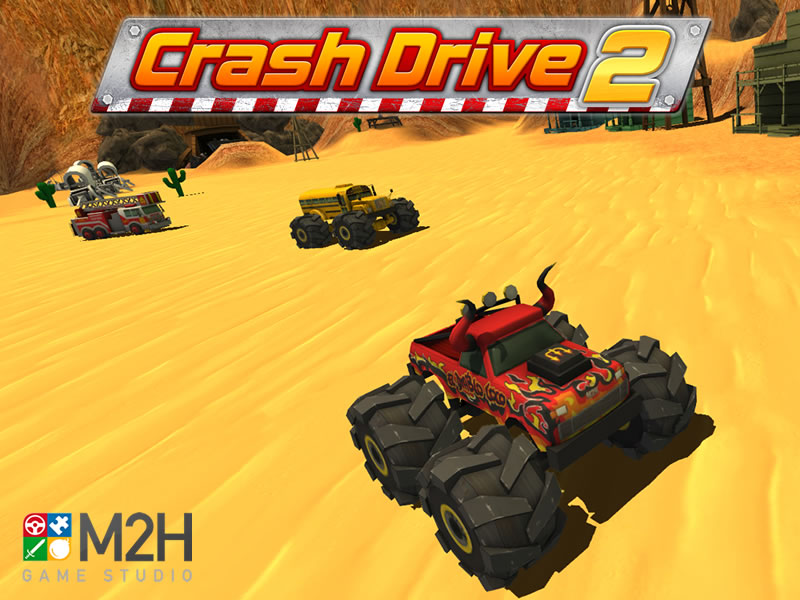 Features
Cross platform multiplayer (Mac,Win,Linux,iOS,Android)
Sandbox/freeroam gameplay
6 Random events to challenge other players (Collect, King of the crown, Race, Tag, Stunt, Find the ring)
4 huge levels to explore (Can you find all secret areas?)
Leaderboards and 32 achievements
30 unique vehicles to unlock
Unique car levelling system
10+ hours of gameplay
Fully localized in 7+ languages (more can be easily added with your help)
History: About Crash Drive 1This new version of Crashdrive is a huge improvement on the original game which was a huge hiton web and mobile with over 25+ million plays on web and 5+ million mobile downloads. The biggest changes are the unique car levelling system and the new multiplayer feature. You have to use every part of a car to fully level it up, using nitro will level up the nitro level and so on. The new multiplayer mode makes the random events more fun than ever; can you beat the other players in the new "King of the crown" and "Tag" events?
Cross platform multiplayerYou can play Crash drive 2 against your friends even if they are playing on their tablet, mobile phone or computer. There's no excuse not to play and because the controls have been tweaked per platform there's also no excuse to lose!
Thanks to the cloud servers, you'll have the best possible multiplayer experience: Hassle free (no configuration) there are always other players and you'll get the fastest connection possible.
Random events systemCrash Drive doesn't tell you what to do, but you're always invited to have fun. The random events system will always spawn challenges for players to earn some quick cash and compete against other players.
Find the ring event
Tag event
Collect the coins event
Race event
Score event
King of the crown event
Car leveling systemSomeone had to do it..we integrated a RPG-like levelling system in a sandbox racing game. Every car has 4 stats which can be levelled up by using them. Increase your top speed by driving at top speed for a while. Level up nitro by using the nitro, etcetera. If you fully level up a car you gain a player level and can buy new cars. You'll have to collect and play trough all cars in order to get access to the most awesome cars.
Please vote for us on Steam Greenlight