Crafting paint
Hi everyone, good progress this week. I've worked on both the coding and the graphical side of crafting paint, and it's mostly done. This is how it will work: first, you go underground, and search for the color you want. The blue rock will be called Sketchstone, after the [Gamesketch Network], the red rock will be called Olsstone, after Tomas Olsson, and the yellow one will be called Lieron, after user Johnlier. Johnlier still hasn't responded, so I think he's not using IndieDB or his email account anymore, but I decided I want to honor him anyway. These three paint rocks can be a bit hard to find sometimes, but I've learned the trick is to find natural corridors (which are formed randomly), as they show a lot of area quickly. This is how finding sketchstone looks: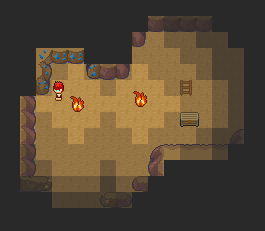 Then, you craft a bucket from wooden planks with your tool. It can be done by left clicking either the plank the tool. You can also make a new gun this way.

This bucket then has to be filled with water, by interacting with the water, and finally combined with the rock you mined. You can also add two rocks for secundary colors.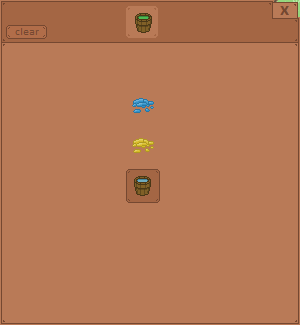 Next up: actually using the paint :).
Hometown music
Furthermore, I promised you to let you hear the music that combines the [home theme] with the [town theme], added to the latest update. You hear it in your home town:
If you want more development, see [twitter] or [facebook]. If you want to be a tester, you can subscribe on [olvand.com].
PS
Today is my birthday!