Dear Community,
After a long wait, blood, sweat and tears we proudly present you our first ever Pre-Alpha gameplay trailer.
Click the image to view the video.
World premiere gameplay trailer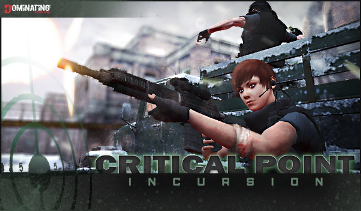 You can help us get on STEAM by voting on GREENLIGHT as we ramp up the PR/ marketing campaign with our eyes set on a beta next year (2013). Hit "like" or "rate" in the bottom hand corner (usually a thumbs up) and also share us on your facebook and social sites.
A big thanks go to the whole of the team (especially to JTMarrin and Matt Lefevere), plus our past members whom have made this dream come true.
We have slogged our butts off for 4 years, going from UT2k4, to UT3 and 3 years ago porting to the UDK engine. It has been a wonderful eye opening experience, meeting artists and colleagues from all over the world and to finally be able to bring our hard work together into this packed trailer is mind blowing.
We hope you enjoyed the trailer, bearing in mind this is ingame footage from an early Alpha build; not to forget we are an indie team working on a 100% ZERO budget.

Your Critical Point Team