Here's a video preview of corvette ship customization in DSS, which demonstrates how ship design works. Corvettes are the smallest class of ships averaging at 30 meters in length. They are used as workers/transporters as well as fighters engaging in dog fights.

You start off by selecting a base hull which usually contains the cockpit and main systems. On that hull, there are several sockets you can fill with components likes wings, engines, weapons, armor, shield, etc. Each socket can host a specific category of components. Sockets on the sides of the base hull can host a corvette 'Side' component like, for instance, a wing or a cargo pod. Some sockets can be filled with weapons while others can hold support systems like shield generators or additional armor plating, etc. Once you're done with your design, you can save it for future games or give it to your friends to try out.Components have stat modifiers, e.g. 'armor' components increase the ship's maximum armor hit points by a fixed amount; 'engine' adds thrust, which increases acceleration and speed relative to the ship's mass. Some components boost a stat by a percentage, e.g. 'wing' boosts acceleration by 20% and steering by 10%.There are also parts with special and unique abilities, which have a wide range of effects. For instance, there's a module for enabling a ship to research debris and singularities that can be found throughout the galaxy. Another special ability is being able to dismantle and build a station, like the colony ship does.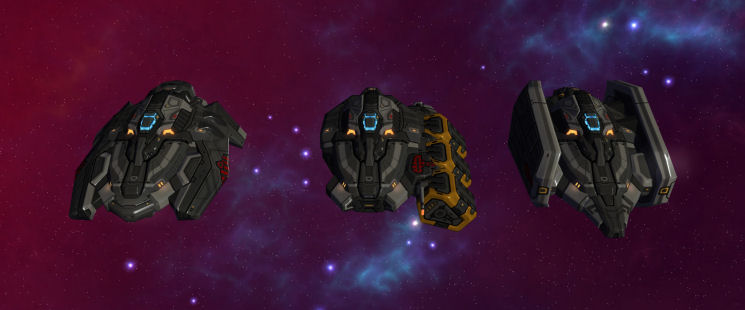 There is plenty of room for customization. Players can spend a lot of time designing ships and optimizing their stats according to the tactics they want to use. Do you give your miners two cargo pods, or rather one cargo pod and one armored wing? Do you build a multi-purpose fighter with laser and gun or rather a specialized dual laser corvette? It's all up to you.
From an art and design point of view, the idea of interchangeable parts and modularity was emphasized by having cut-out areas on the corvette body, where corresponding parts fit in like pieces of a puzzle.While corvettes hold up very well when seen up close, they are a very small unit. This is why weapon size has been played up a bit, to have the guns a bit more noticeable.