HaZardModding Coop Mod complete, after 6 years
6 years
H
a
Z
ard
M
odding Coop Mod
First of all, the new version features the complete Campaign from the Singleplayer, Including all Secret and Mission maps! Due to the significant (nearly 130) changes in the Modification this version is not compatible to any previous version, you are required to update as soon as it is available.
This is a short list of the most noticeable changes:
A notification is displayed if your Mod is outdated
A comprehensive internal Vote system has been added
A Skill level can now be selected
New useful Menus have been added to the game
The Objectives Menu has new features
Classes can now be selected from the menu
Context Dialogs are now available regardless of the server language
Language Specific English and

German

versions
A Symbol is now shown bellow injured players
The Player his Class is now remembered and restored
Fixed: Coudn't load file precache_m8l2a-drull_ruins2$m8l2b-to-m8l2b.cam
Everyone has one game that is THE GAME, your love, if you will. No other game can ever replace the relationship you had with that game or even get close to it. For me that Game was Star Trek: Elite Force II.
Almost 6 years ago I wanted to make a big Modification for that game that I loved very much at that time, I decided to create a Coop Mod. I found others that also wanted to create a Coop for EF2, we talked planned and did some tests together, but when they learned how much work such a project would require they lost the interest in it.
I was confident that I could realise that Coop Mod all by my self. I knew many people, I had good connections to Mappers, Scripters and Modellers. A few weeks after I started officially working on the project, I had several brake throughs, they motivated me to keep on going. Not knowing what I had to battle with in the years to come, I was sure that this would be easier than I first anticipated...
The feedback of the community was quite low at the beginning, as they have seen so many promises for new Modifications, of which only a handful ever were released. There where even some players that called the Coop Mod a waste of time, but that did not stop me.

I wanted to do this, this was my gift to a community I spend so many years of great gaming together with. I learned from the finest of the Community, Avenger, GSIO, Flix, Explorer, Tempest and Lars Tiefland. I analysed their work and asked them many questions which they gladly answered, for which I am still thankful to this day. That also was how I got involved in the A Gate two Birds and the beautiful Sky Mod. I even got some support from Ritual Entertainment, they promoted my Mod and wrote a News-Article about it.

One day someone send me a E-Mail with a link, on which I can not go into detail. How ever on that website I read the following quote The HZM Co-op Mod used in this release is the fourth generation (4.1) and is famous for its inclusion of advances scripting techniques (creating arguably the most stable co-op experience of all current game modifications).
As you probably guessed it was quite motivating to read something like this, especially as I had a accident around that time, involving a case of hit-and-run driving. Since I knew I will be sick for a while I started to work on a new Coop Map, I spent up to 16 hours each day to work on the Mod and the new Map, as there wasn't much else I could do at that time...
So why did it take six years to Complete this Mod, you might ask. Well, six years ago I estimated it would take 3 about years, and if I would have ever been able to compile the Game Code for Mac OS-X and the Linux dedicated server, it probably would have. But I could not work it out, so the Modification had to rely on the Level Scripting provided by Elite Force II it self.

From initially 450 Lines of code the Coop Mod has grown to several thousand lines of code, facing the next problem; Script Max Statements. Now that was a tough one. I began to swap more and more code into configuration-files, that could either be executed by the client or the server. But still many features had to be removed from the Modification to make it work in the end. Again if I would have been able to work out how to compile the DLL code, that problem would not have occurred in the first place.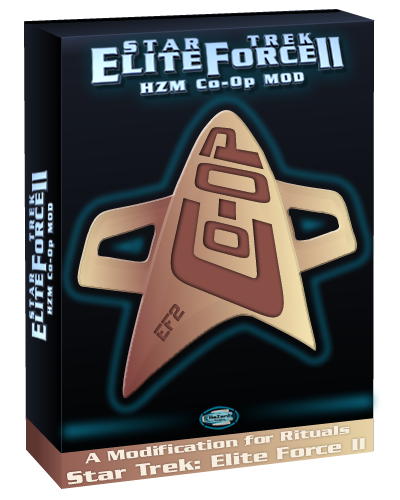 But at the end this Project was completed and that is what ultimately counts. Taking its rightful place among the best Modification for Elite Force II, such as the Ultimate Patch Mod and the quite famous A Gate two Birds and the beautiful Sky Singleplayer Mod.
And this is a personal note I just have to mention, for all of you who kept saying that a co-op mod for Elite Force II was not possible, this is my final message to you guys: You have been proven incorrect!
Thanks to all those who supported this Mod over the years and also a big thank you goes to the ModDB.com staff for this wonderful news platform.
At last but not least, special thanks goes to the darkMatter and the Star Force Union Clan, for their help in Betatesting, the great feedback and of-course the hosting of our Server.
Upcoming:
More Gameplay and Promotional Videos
Artificial Intelligence improvement
A Gate two Birds and the beautiful Sky Mod for Coop
m7L1a and m11L1 bsp and script improvements
HaZardModding Coop Mod on Facebook
Known Bugs:
AI does not patrol if player 0 is missing