Hey
After a week or so of voting, with the number of votes coming in slowing drastically, i figured id call it. And Here are the results...
In order of votes from lowest to highest
Entry 1 - 9
Entry 3 - 11
Entry 0 - 17
Entry 4 - 24
Entry 2 - 43
This means Scifi Stig is the winner. I asked him to do a few small changes to the design, add the logo i noticed hed missed. And this is what he made.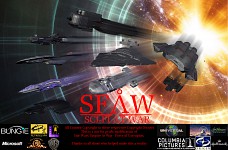 So ill convert it and add it to the mod, this will be the next Splash screen.
Hope u like it
Also thanks to all who entered and voted. After all im all for feedback.
As for a progess upgate.
This is all ive got for the last week or so. Ive got a coder workin on the units. Im working on the hardpoints/projectiles. Hopefully we will ahve 1 faction recoded and balanced soon so we can test the new balancing. But until then thats all ive got.
TTYL
Spino