In our last post we outlined the process of UV mapping and texturing our 'casual' and 'action' Kit character models. In our third and final post of the current series, we outline the process of rigging, weighting and animating Kit in 3D before demonstrating his updated 2D animations.
Rigging
Our 3D artist/composer Peter Satera has been busy working on Kit's land and sea-based animations. Below he describes the rigging process:
PS: Like almost any character in 3D animation, Kit was in need of a diverse rig which allowed him to run through any range of motion the game called for. Since we decided to opt for 2D sprites only to compose our final scenes, Kit's rig doesn't have the same restrictions as a game rig would have. Weight and bone/joint influences aren't a concern; I don't need to integrate the rig into Unity's Mecanim system so instead can use Lightwave 3Ds bipedal rigs: additional muscle and movement compensations which allow for better deformation and quicker workflows.
The skeletal rig was set up using Lightwaves biped system 'Genoma'. I've created custom rigs before and Genoma has proven its robustness through testing and speed so I've come to really like it.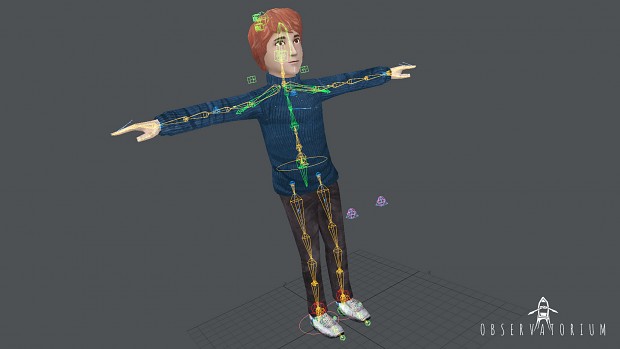 Weighting
PS: The next stage was to weight Kit. Genoma makes a great first pass of deformation but for complete deformation control I decided to weight Kit's body parts myself. Here's a look the weights assigned in Kit's casual mesh: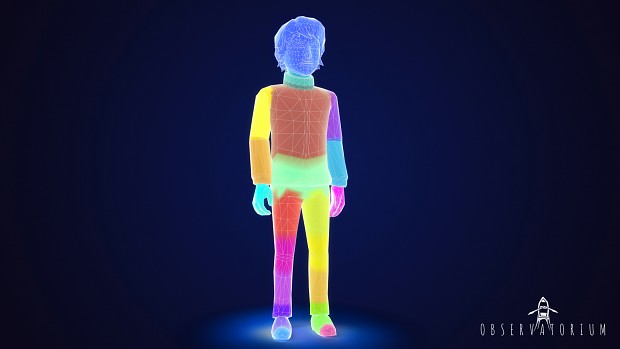 Animating the 3D Model
PS: Once Kit's 'casual' rig was running smoothly I ran him through some test poses and movements just to make sure his deformation was working well. Once everything looked great I then ran through the weighting process once again with Kit's 'action' model: making sure all weights were named the same.
With Kit being the same size in both models, all I needed to do was replace the model; Lightwave swapped out the model and automatically reassigning the weights of the old model to the new one. I then ran through some tests with this Kit too. Here's an example from Kit's rowing animation: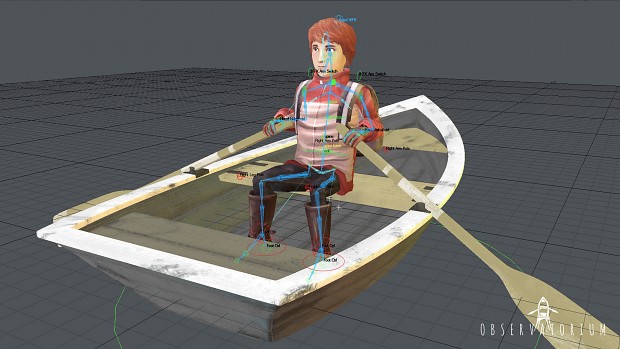 Converting the 3D Animation back to 2D
Once Peter was happy with the animations, he rendered them out as a series of frames before turning them into sprite sheets, ready to be implemented in our game. Below are some examples from Kit's idle, walking and jogging spritesheets which I feed into Unitys Mecanim system: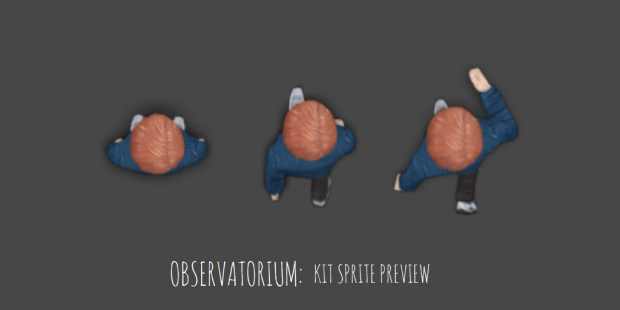 For tips on how to work with Unitys Mecanim system you should check one of our previous posts here where we go into detail about how to get your scripts and animations talking to each other.
The video below provides a look at Kit's revised rowing animation:
Conclusion
That's it for the 'Constructing Kit' series.
We hope you've enjoyed reading about our Kit redesign and our 3D to 2D process which we'll be following for a few more of our important game assets. We're currently hard at work on the Alpha version of the game and hope to share more environment and gameplay examples with you soon.
If you have any comments or suggestions please post below and we will try and respond.
Thanks for reading!
Observatorium Team