In our last post we outlined the origins of Kit's design, discussed why we abandoned a fully 2D workflow and showed our untextured character model. In this post, we discuss the texturing process.

UV Mapping and Texturing
Our very talented 3D artist and composer - Peter Satera - has been busy adding the finishing touches to Kit's 'casual' and 'action' outfits. Below he describes his approach to UV mapping and texturing:
PS: Kit's texturing process underwent a different approach compared to the standard 3D asset treatment. Usually maps would be created for the diffuse (colour), spec, gloss, normal, etc. However, due to the way we decided the game should look Kit was only dependent on one channel map: his colour. This was intentional as it forced the painted look to do the heavy lifting in his design while, more importantly, remained to keep him consistent with all other 2D assets; Kit had to feel like part of his world and not look like a foreign 3D asset. To get that balance, considerations such as lighting, details and the way he was painted were carefully thought out; to make this little guy fit with the rest of our style, texturing became about the brush strokes and art rather than the attempt to make everything as realistic as possible.
We looked at multiple sources of inspiration from previous (and current) games that have employed similar techniques but Observatorium was slightly different: Kit would become a 2D sprite and one we see from top-down most of the time. This meant that some decisions changed when creating UV seams and adding prebaked in lighting. Here's what Kit looked like in two different outfits when UV mapped.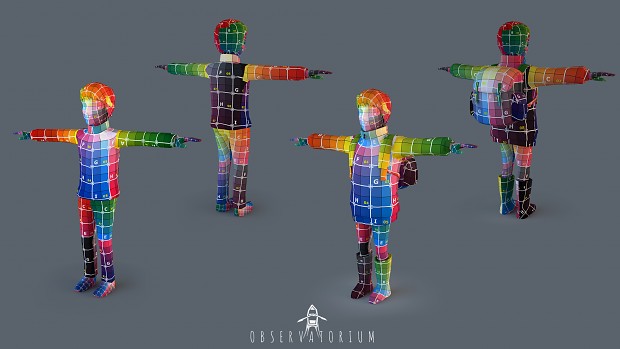 Kit gave me an excellent bit of freedom though. Knowing that it was going to become a pre-rendered sprite meant I could create large textures: so I decided to create one for each part of Kit to generate nice crisp details in the brush strokes - not worrying about UV space or any other restrictions you would get in when creating assets for a real time environment.
As shown last week, here is the original Kit model in his casual clothing setup - now fully textured: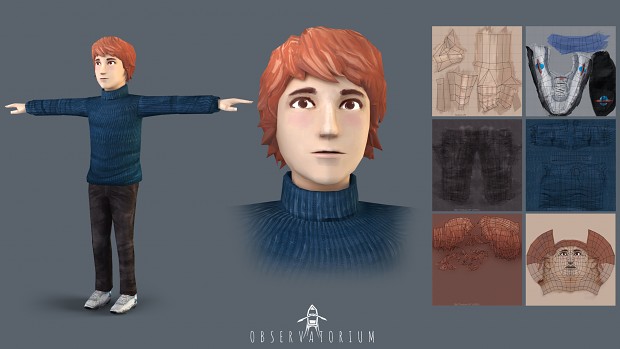 Getting Ready for Action
In part 1 of this series we mentioned that Kit had another - more significant - outfit: his 'spacesuit'. This was the clothing setup first revealed in this post. We've pasted it below for reference: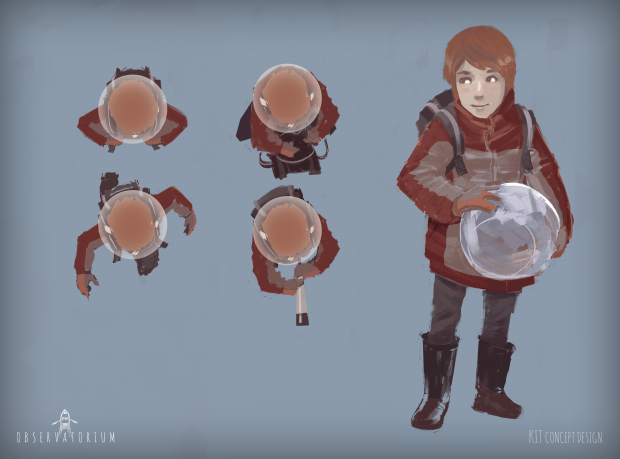 Below, Peter discusses the approach of constructing Kit's most important attire:
PS: When it came to designing the 'spacesuit' textures, Apollo2D's concept didn't only inspire but gave clear direction in how Kit should appear. Due to the weather conditions Kit will be in thicker clothes at this stage as well as wearing more appropriate big boots! He has multiple assets - telescope etc - that he'll carry about with him: some of which will be stored in his backpack. Kit also has a space helmet, something we loved as it established the fantastical imagination of our young protagonist.
Here is the final Kit model with textures: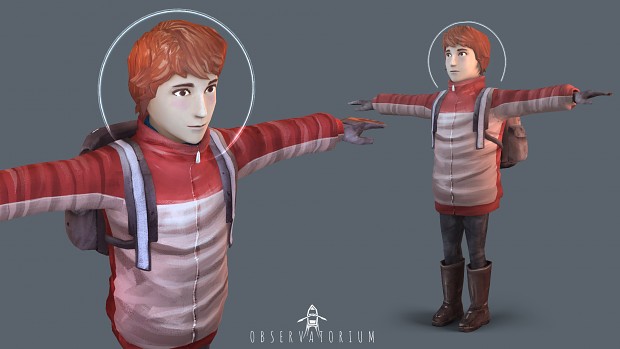 I surprised TheManWhoFlewAway and Apollo2D by taking some creative liberties when it came to the backpack. Sometimes it's fun to deviate from the concept artwork: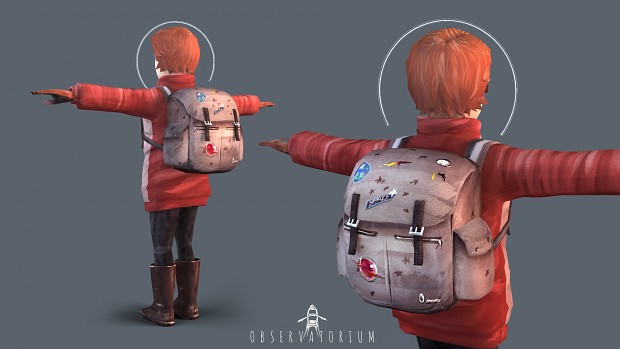 Turnaround
Below, we've provided a turnaround of our 'casual' and 'action' Kit models - highlighting the transition from untextured to fully-textured for both:
Conclusion
That's it for part 2. In our 3rd and final post of the series we'll look at the process of rigging and animating Kit. If you have any comments or suggestions please post below and we will try and respond.
Thanks for reading!
Observatorium Team