The gallery has just been updated with some of the concept art that is driving the art style of the game.
Plot: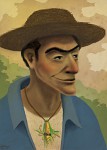 The story takes place in the countryside of Minas Gerais, a typical Brazilian state, more specifically in the ficticious city of Cobsburg, in a very distant region from downtown area, from at least one day galloping a nag.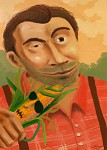 The tradicional Cob Festival is about to happen and despite all the caution cultivating the maize crops along the whole year, the frost came and killed Mr. Custodio's and Mr. Adamastor's dream of winning the corn competition, the two biggest rival farmers from all Cobsburg.
It turns out that while reaping the straw that still remained, Mr. Custodio and Mr. Adamastor noticed, at the same time, a different cob, shiny and giant, which brought them back the hope to participate in the festival and win the competition. Very desperate, they quickly jumped over the cob. Pulling on one side and the other, the poor cob couldn't resist and torn apart in half, giving one piece to each farmer.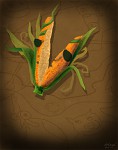 And until the festival starts, each one will bravely try to win the other's half cob, with the help of his whole farm.
Visual Identity:

We are working on synchronizing the game visuals with the aspects contemplated by the concept to make it better aligned. The two programmers have never worked with shaders, so still have a long way to go =)