Welcome to today's update. Since our last update, two months past. There were several changes in this period. Today we want to show you following things:
Models

New Character: Marine
New Weapon: M14
New First Person Arms

Level Design

Al Saad

Video

Using the M14 & Airstrike Support on the Battlefield

We Want You!
Models:
First of all, we want to introduce you our first character: the Marine.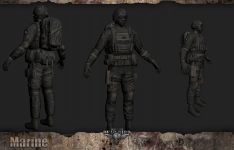 The Modeler Cargo (Crymod) created the Model and the Texture. He gave us this one and many other textured ones. Horst then rigged and exported the model. The Marine will be not the only new character you will meet later on in the Modification.
In the next picture you can recognise a new weapon: the M14.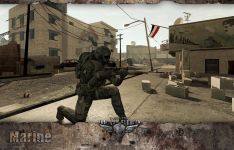 The M14 gun was the standard weapon of the Marines until it was replaced by the M16. Since it's one of the most precise semi-automatic weapons, many special units still use this weapon. With it's great precision it's ideal on bigger distances, but you should avoid the close combat.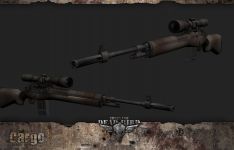 As you can see on the following pictures, we changed the player's arms. The new one replace the old Nanosuit arms and fit much better to our Iraq setting.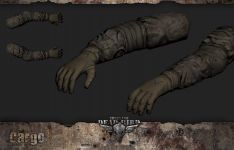 Level Design:
There were many new modeling assets, but our mappers did well, too. The next picture shows the US Base near Batar. The player will start his mission there.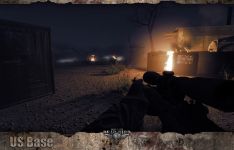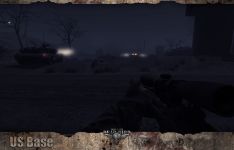 Following pictures show Al Saad, the city in the 2. mission. In contrast to Batar, Al Saad is a metropolis. Narrow streets and big roads alternate here. On his way through the city the player has to look for cover, since his enemies can attack from everywhere.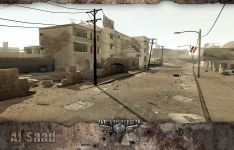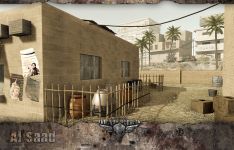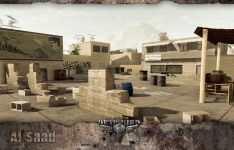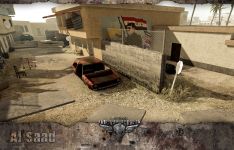 Video:
To complete today's update we will show you a new video. The player and his team mates attack equipped with their M14s an enemy position. But the enemy doesn't give up. The only solution for this problem is the Airstrike. The player can call the support of the air force just hitting a key. Then he points at the target and confirms the location. The jet will drop his bombs right at the target, no one within the zone can survive that. The Airstrike is hard coded in C++ and can be used dynamically in the complete Mod. All functions are ready to use, there are just some minor details missing.
We want You!
We're still searching for new talented modders, that want to support us. Especially Modelers, Animators, Flow Graph and Cutscene Creators, Sound Composers and Voice Actors are needed. If you are interested go on to our homepage. (http://deadbird.de.ohost.de/index.php?s=jobs)
We hoped you enjoyed today's update.The next update will be released within the Moddb.com Mod Of The Year Awards.
- Dark Dust Studios