Hi Everyone again ! :D
In last blog i show you some history about nascency of tank and id show you first tank ever, id show you some legendary tanks from both World wars and now i will writing about what was happening after WW-s.
Cold War
Cold war was great time for tanks because many countries spend their money for their armies and tank was one of the essentials war machines on the battlefield. In Cold war there was created a lot of legendary tanks wich construction and technology we are also using today. They are called
Second generation tanks
Russia
T-64
Armament 1 - 125mm (2A46) D81TM smooth bore gun
1 - 7.62mm MG coaxial
1 - 12.7mm (NSV)AA MG
Engine: 10 cyl. opposed piston Model 5DTF multi-fuel diesel
750 hp, coupled to power-assisted transmission
Speed: 46 mph
Range: 310 miles
Crew: 3
Weight: 43 tons
Retains low silhouette of the T55/62. Has greater mobility than the T-62. Main gun is stabilized in 2 planes but does not have "on the move" firing capability of the Western MBTs. Gun can fire fin stabilized APFSDS, HE and HEAT ammunition as well as the Songster AT-8 missile and is equipped with an auto-loader. Hull is covered with steel/ceramic inserts called Combination K. Sides of hull are covered with gill type armor panels which spring outwards to reduce effectiveness of HEAT projectiles. A toothed shovel/dozer blade is attached to the front of the hull, and there are attachment points for a mine clearing plow. Snorkel, night vision, fire detection and suppression, and an NBC system are standard equipment.
This tank was not exported but was produced solely for the USSR. More than 8000 were produced. Improvements led to the T-80 model tank.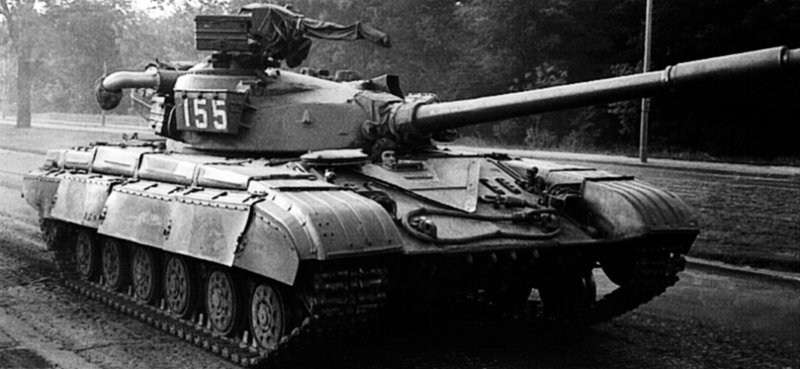 T-72
Armament: 1 - 125mm 2A46 smooth bore gun
1 - 7.62mm MG coaxial
1 - 12.7mm remote controlled DShK AA MG
Engine: Model V-46, V-12, diesel or multi-fuel, 840 hp
Speed: 50 mph
Range: 278 miles
Crew: 3
Weight: 48.9 tonsThe T72M was first seen in 1980. This version replaced the optical range
finder with a laser. The T72M also has improved armor on the front. The resulting thickened front led US Tankers to nickname it the "Dolly Parton" Tank. Auto-loading system for the main gun which is stabilized in two planes. It can fire 3 types of ammunition: APFDS, HEAT-FS and HEAT-FRAG. The gun can also fire a laser guided AT missile. IR searchlight mounted to right side of main armament. Dozer blade mounted on front hull and 2 - 200 liter fuel tanks externally at rear. Sloped glacis with deep V-splash board. Can be fitted with mine clearing equipment. Standard equipment includes NBC system, fire detection and suppression, snorkel for fording up to 5 meters, night vision equipment. Exported to former Warsaw Treaty members. An estimated 50,000 have been built.

United States of America
Armament: 1 - 105mm gun
1 - 7.62 coaxial MG
1 - .50 cal MG in cupola
Engine; Continental,V-12 , AVDS-1790-2A , diesel
750 hp
Speed: 30 mph
Range: 295 miles
Crew: 4
Weight: 46 tons
The 105mm gun is a modified British weapon. Modified M48
hull, wedge shaped. Used turret from M48A2. Total
of 2,200 built. Superseded by M60A1. The diesel was a
great improvement over the gasoline engines in the M48.
Range was increased to almost 300 miles. When not in
combat, turret is traversed to rear to reduce length.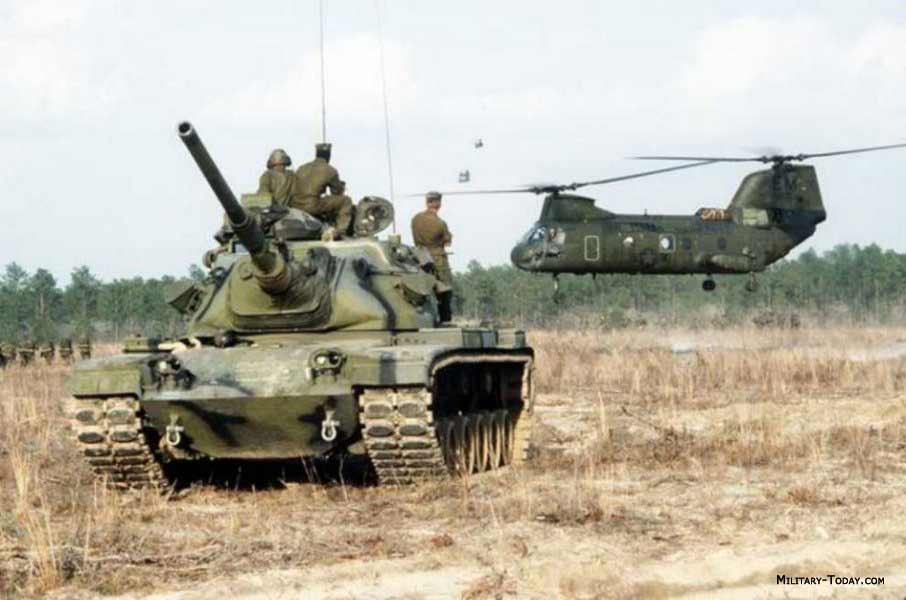 Germany
Armament: 1 - 105mm rifled gun L7
1 - 7.62mm coaxial MG
1 - 7.62mm MG
Powertrain: MTU MB 838 Ca M-500 10 cyl. multi-fuel, 830 hp,
coupled to ZF4 HP 250 automatic transmission
Speed: 40.3 mph
Range; 372 miles
Crew 4
Weight: 42 tonsFour variants were produced. Main gun can be fired on the move with
electronic hydraulic gyroscopic gun stabilizer. More than 6,000 exported to nine NATO countries. 2,237 were produced for the German Army. This is a minimum maintenance vehicle. Capable of deep fording with kit. Has computerized fire control system and day/night vision. Standard equipment includes fire detection and suppression and a full NBC system, One of the best European tank designs.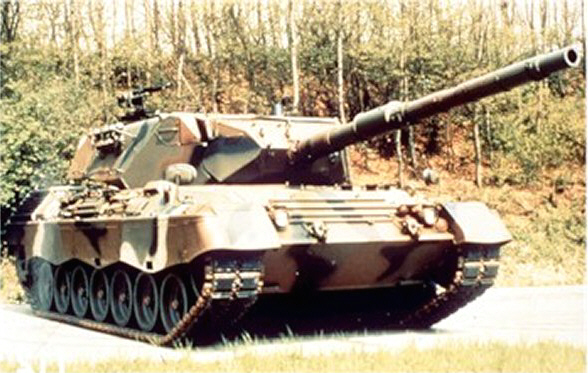 France
The AMX-30 main battle tank was developed in late 1950's to meet the French Army requirements. First prototypes were built in 1960 and it entered service with the French Army in 1963. Production of this MBT commenced in 1966 and ceased in 1993. Between 1974 and 1984 the AMX-30 was also license-produced in Spain. About 2 800 of these main battle tanks including variants were built for the French Army and export customers. It is now being replaced with the Leclerc MBT in the French Army. The AMX-30 is still in service with France, Bosnia, Cyprus, Qatar, Saudi Arabia, United Arab Emirates and Venezuela. The AMX-30 has a welded hull and cast turret. It's development was focused on firepower and mobility rather than protection. Vehicle is fitted with NBC protection and automatic fire suppression systems. Armor of the AMX-30 is very thin and protects only from small-bore cannons and artillery shell splinters. It can be penetrated by all modern anti-tank weapons. The AMX-30 is considered as the worst protected main battle tank ever built. The AMX-30 is fitted with non-stabilized French CN-105 F-1 105-mm rifled gun, which is comparable with the British L7, but has a longer 56 calibers barrel. The AMX-30 fires APFSDS, HE, HEAT, HE-FRAG, incendiary, smoke and illumination rounds. It is also compatible with all standard NATO 105-mm munitions. A total of 47 rounds are carried. Secondary armament consists of 20-mm cannon with independent elevation and a roof-mounted 7.62-mm machine gun. The first production AMX-30 main battle tanks were fitted with 12.7-mm machine guns in place of the 20-mm cannons. Vehicle has a crew of four, including commander, gunner, loader and driver. The AMX-30 is powered by Hispano-Suiza HS-110 multi-fuel diesel engine, developing 720 horsepower. It is fitted with a deep wading kit and can ford water obstacles up to 4 meters deep.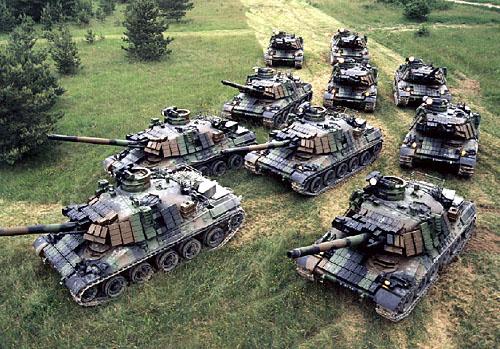 Israel
The Merkava, (Chariot) is the main battle tank of the Israel Defense Forces. Since the early 1980s, four main versions have been deployed. The "Merkava" name was derived from the IDF's development program name.It is optimized for crew survival and rapid repair of battle damage. Through the use of spaced-armor techniques and quick-replacement modular designs, the design team was able to incorporate composite armour, a derivative of rolled homogeneous armour (RHA) and Chobham armour. Additionally, the space between the inner and outer hulls is filled with diesel-an economical storage method and a means of defeating HEAT rounds.Following the model of contemporary self-propelled howitzers, the turret assembly is located nearer the rear than in most main battle tanks. This gives the crew additional protection against a frontal attack by putting the engine between them and the attack. This arrangement also creates more space in the rear of the tank that allows increased storage capacity, as well as a rear entrance to the main crew compartment allowing easy access even under enemy fire. This allows the tank to be used as a platform for medical disembarkation, a forward command and control station, and an armoured personnel carrier. The rear entrance's clamshell-style doors provide overhead protection when off- and on-loading cargo and personnel.It was reportedly decided shortly before the beginning of the 2006 Lebanon War that the Merkava line would be discontinued within four years. However, on 7 November 2006, Haaretz reported that an Israeli General Staff assessment had ruled of the Merkava Mark IV that "if properly deployed, the tank can provide its crew with better protection than in the past," and deferred the decision on discontinuing the line.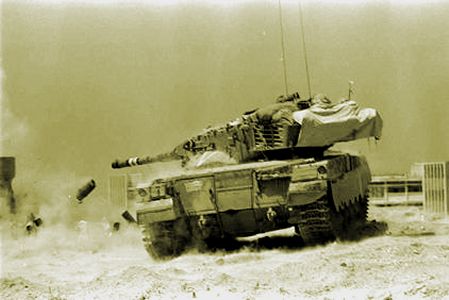 China
The Type 80 main battle tank was developed by NORINCO in the early 1980s. It is a radically improved version of the Type 69 MBT. Vehicle has a redesigned hull, which is longer comparing with the Type 69. Front of the hull and turret can be fitted with composite armor. The Type 80 features steel side skirts, common to all Chinese main battle tanks. Turret of the Type 80 is similar to that on the Type 79 MBT (export version of the Type 69). The Type 80 is armed with the L7/M68 105-mm rifled gun. It fires all standard NATO 105-mm ammunition, which is also manufactured in China under license. This gun is loaded manually. Fire control system of the Type 80 is similar to that of the Type 69-II MBT. Secondary armament consists of 7.62-mm coaxial machine gun and 12.7-mm anti-aircraft machine gun. Vehicle has a crew of four, including commander, gunner, loader and driver. The Type 80 main battle tank is powered by the 12150L-7BW diesel engine, developing 730 hp. Vehicle can be fitted with a deep wading kit. Variants Type 80-II is fitted with improved fire control and NBC protection systems; Type 85-II, developed in 1989, is a further development of the Type 80-II, featuring new turret and additional modular armor at the front of the hull and turret; Type 85-IIA command tank, fitted with additional communication and navigation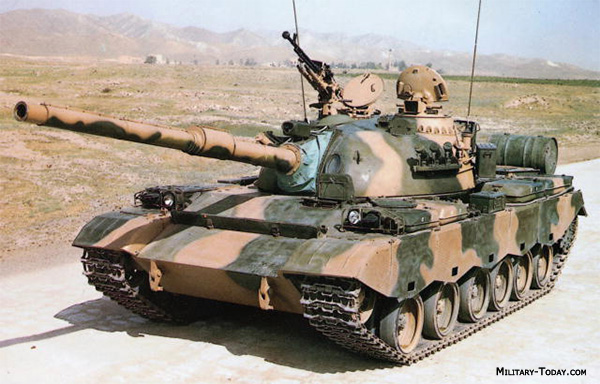 Thanks for watching, to be continued....