When Cogmind was rebooted in mid-2013, the intent was that it would be a relatively quick production that would take "about a year" to finish. As we approach the two-year mark, it's looking like an accurate forecast would have been more than twice that.
Of course, the original plan was to simply make "a polished version of the 7DRL, with some new mechanics." And that would've taken about a year. But it turns out the project had so much potential that it seemed like a wasted opportunity to not expand it further. Thus we end up with a huge number of assets, significantly expanded mechanics, and a bigger world and story to go with it.
Not to offer these up as excuses--I wouldn't have it any other way! As one follower mentioned earlier this year: "I'm away from Twitter for half a year and you turn Cogmind from something amazing into something I can't describe!" Drawbacks of having an indescribable game aside, that's a good summary of exactly why it's been worth the additional investment =p.
Alpha Access
Development could go on for much longer, but the desire to steer clear of feature creep gets stronger with every passing month. So it's about time to release this thing into the wild.
Cogmind Alpha Access is essentially a paid early access program scheduled to launch in May.
Setting that deadline has also had the positive side-effect of accelerating development beyond full time (we're deep in overtime territory now). At the beginning of January I drafted a three-month development plan leading up to the alpha launch, and that plan remained right on schedule except when we ventured outside my familiar territory and into tileset land, mostly due to handling the strong response from pixel artists looking to join the project.
For three months I've worked day and night to make the intended April launch despite all the additional tileset-related work, and while we could theoretically still be ready to release by late April, I should probably stop developing at breakneck speed to avoid a complete burnout.
The release is still too far away to set a specific date, which probably won't be announced until shortly before launch. Regardless, now that there's a feature freeze in place it's only a matter of (finite) time before we launch. Much of what's left to do is peripheral business and marketing nonsense rather than actual game development.
Release State
Just because there's a feature freeze doesn't mean the game is complete--the freeze is temporary so we can get this thing out the door in a tested, playable state.
As an alpha launch the game is naturally still a ways from its intended final state. That said, the core experience is there and it's plenty fun, so you'll without a doubt be getting something you can enjoy immediately.
All the core mechanics are complete, and you can salvage parts, engage in combat (or avoid it) with help from hundreds of unique components, hack multiple types of machines, and interact with dozens of robots while exploring the "main areas" of the world and a couple of the early branches.
Still to add are environmental sound/music, many more "branch" maps, bosses, more story elements, fluff, and NPCs, plus a few other features that aren't required but will improve balance and/or the overall experience.
Progress has been reported intermittently throughout the development process, on the website FAQ. The pre-alpha progress chart and roadmap have been replaced by new ones which will continue to receive updates as development continues, as before.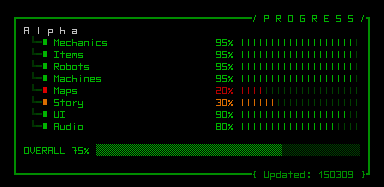 Cogmind's state for alpha release.A follow-up post after this one will go into even more detail regarding the state of the game and how it will evolve in future months.
Supporter Benefits
Back to Alpha Access: The obvious primary benefit is access to all alpha release builds of the game, including everything up to 1.0 and beyond, forever. While enjoying the game you can also join us in the forums (not open yet) to help improve and shape its future.
Assuming Cogmind eventually finds its way on to Steam, as currently planned, you'll also be the first to have access to the game on that platform (via private beta testing before it goes public). In that case, everyone in Alpha Access will receive a Steam key.
Your name (or a name of your choosing) will also appear in the game, but not just anywhere...
Item/Art Collecting
Introducing the ASCII Art Gallery and Item Compendium! The game menu Credits page now includes access to a new area where you can browse the many hundreds of pieces of ASCII art from the game. But, you can only view art for those items you've discovered so far. Art and names for items never seen before are listed as "unknown."
The art gallery also keeps track of an interesting piece of meta info: the total number of times you've attached an individual part across all your plays combined. So there's a reason to open it other than just to look at art.
Where do supporters come in?
Everyone* who joins the Alpha Access program is randomly assigned their own unique personal item from among Cogmind's huge selection. One supporter per item. Your name (or a name of your choosing) is then forever listed with that item in the gallery (you can of course opt out of this if you prefer). Consider this "adopt a component drive" a chance to be immortalized in roguelike history :D.
I wonder who will get Matter, the most basic and common item in the game, or any of the many rare items that could take a while to discover. Some of you may embark on a "personal quest" to find your item ;). Or perhaps you could enlist help from others...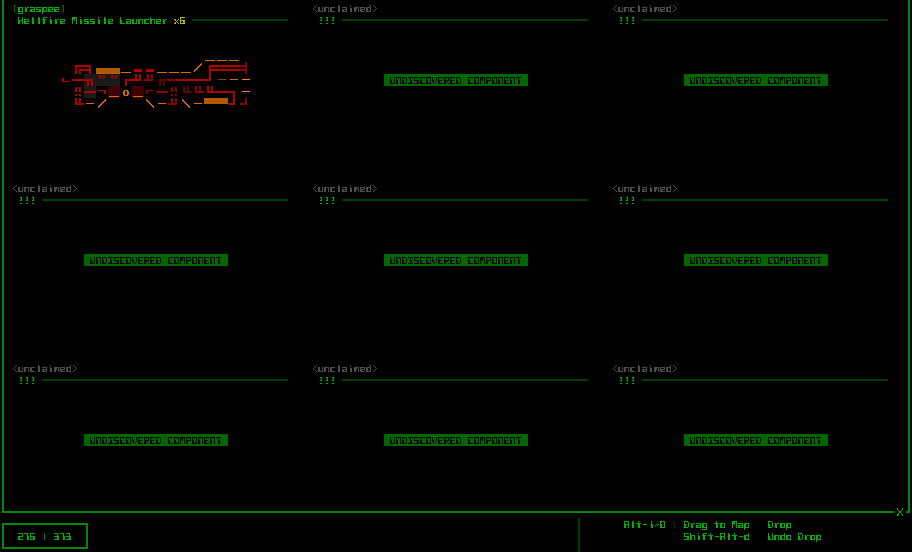 ASCII Art Gallery and item discovery records (click for full size). As an example I added in names left by some of the blog's more frequent commenters :D. Unshown is some descriptive text telling you which item is yours (unless you haven't found it yet) and an indicator of the total percentage of the game's items you've discovered so far.*Personal items are assigned randomly on a first come first serve basis. If all available items are taken by previous supporters, your name will be added to a waiting list and assigned in order as new items are added to the game, though there is no guarantee that new supporters will have a chance for assignment beyond the existing set of items. If we really have so many supporters that becomes an issue (there are a lot of items), I'll add a separate scrollable list of every supporter. (I may add that anyway, but it's not in there yet.)
T-Shirts
Alpha supporters who, like me, really want a Cogmind T-shirt also have that option by adding the cost of the shirt and shipping (I'm not looking to make money on the shirts).
I went through a lot of potential design concepts, and most of what represents Cogmind doesn't work too well on a shirt. In the end I settled on two main designs, the title logo and a (previously unshown) Heavy Battle Rifle in ASCII. I ordered a few samples to make sure the ASCII details would come out alright. They sure did: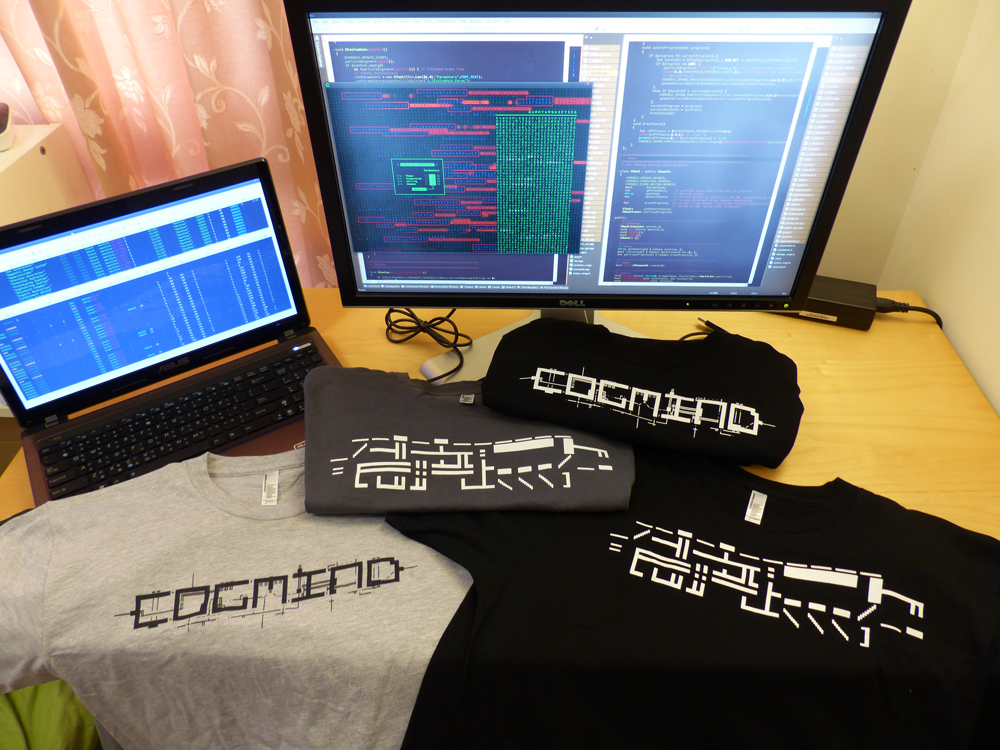 Cogmind T-shirt Samples! (click for full size)Aw yeah, I finally got me a Cogmind shirt--so official :D
Now that I know how this company's process works and the quality of what they can produce, I may add another design or two later on. (And no, I didn't try green because high-contrast saturated green doesn't work so well with ink printing.)
Price and Distribution
The Alpha Access price is set at $30. With a T-shirt (mentioned in the benefits section above) it's $60, which includes the cost of the shirt, printing, handling fees, and international shipping anywhere. It's not the absolute cheapest shirt available, but I figure that if much of the fee is the base cost for printing anyway, adding a little extra for better quality is worth it.
Alpha Access sales will only be processed through the Cogmind website. This is better since I can receive a much bigger cut than going through a value-added distributor like Steam. It also helps us ease into sales and gradually scale up, rather than jumping in the deep end with more chances to screw something up on the business side of things.
The price of the final game will be lower, but you'll have to wait, and will miss out on the other benefits. There is no set time limit on Alpha Access availability--it depends on reception and the pace of subsequent development. The details are also subject to change since I haven't yet set up the business side of things. Final details will be announced on launch. Feel free to share your thoughts in the comments.
Money Matters
In a perfect world we could all sit around and make and play games all day :D. In the real world (or my world at least), making Cogmind a reality has required that it be my full time job for more than a year now. Otherwise it would simply never see completion (unless 2030 is soon enough to be considered outside the figurative realm of "never"). To clarify, I'm not a young carefree kid anymore--I have a family to care for, lots of bills to pay, and nearly zero free time outside work and other responsibilities. Not to put down any carefree devs out there spending their copious spare time making free games! I did that for a decade myself, and my advice to them is to do their best to take advantage of that opportunity!
I felt that it's worth it at this transitionary period in my life to take a shot at making something grand, with the hope that the investment could be recovered and possibly fund "other grand schemes" ;). Even if it doesn't turn out that way, we still get a grand game out of the deal, eh? :D
Cogmind in particular has cost over US$ 25,000 to develop, and I expect total costs could reach $45k or more by the time it's complete. For those of you unfamiliar with expense budgets behind indie games similar in scope to Cogmind, this is actually a very modest amount. (There will be a detailed budget breakdown at or after we reach 1.0, when such data will be more meaningful.) Based on sales potential, recovering that investment is quite possible. Many will agree Cogmind is a unique quality game and has a good chance at being fairly popular. In any case, with enough support during Alpha Access we can continue to make this game better, and hopefully lead to more like it in the future!
Post-Alpha
We should probably reach 1.0 some time this year, though the pace of development will depend on Alpha Access reception and feedback.
I may put Cogmind on Steam Greenlight around or shortly after the Alpha Access launch, just to begin some community interaction over there and get the voting started. And because by then we'll also have our first trailer :D.