Hi all!
Yes that's true, firemode comes to CoD2 at last. I don't know about you guys but I was missing this feature quite a lot in the original CoD2. I couldn't understand why IW put it out when it was in the first CoD. Anyway it's back and it turned to be pretty awesome ingame.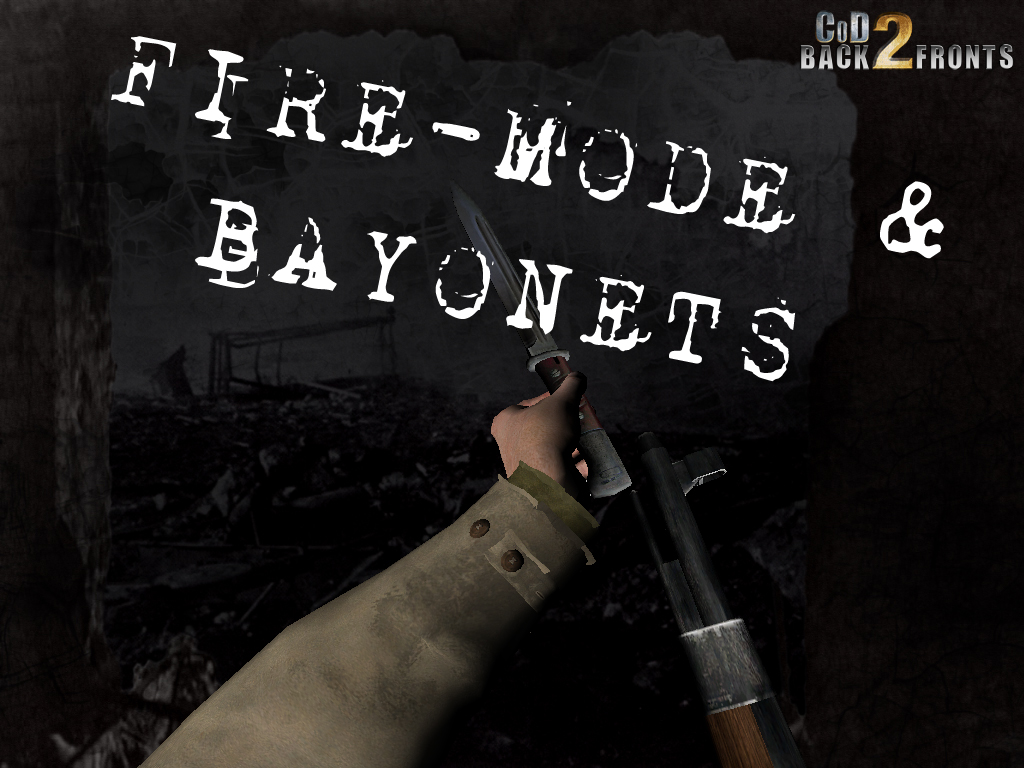 Fire mode & bayonets
It all happened just by accident. I was trying the script and I didn't believed that it would work. But it did :D It works in similar manner as the Back2Front's sprint script. If the player has a weapon that has a secondary mode you can switch between the firemodes by holding the USE button for 1second. You will hear a click sound and the firemode will be switched. The HUD has been changed to deal with the firemodes - it displays the name of weapon and next to it the name of firemode (for example semi-auto or full-auto). The firemode is displayed also in the firemode icon. This icon consists of either 1, 2 or 3 bullets: 1 means semi-auto or single shot, 2 means slow-auto and 3 means full-auto or fast-auto. If there is picture of scope it means that the weapon has a scope. The bullets can look like pistol bullets. In that case the shot of the weapon can't go through multiple enemies, it will hurt just the first enemy in row. But if the bullet picture looks like riflebullet then the weapon's shot will come through many enemies in row - it will shoot right through all of them. Firemode is available for these weapons so far: AVT-40, BAR M1918A2 (early and late), Brengun, MG-34, MP-41, MP-44 (unscoped and scoped), PPSh-41, Stengun (normal, silenced and late), Thompson (normal and late).
Aside from select-fire weapons, the firemode script was used for creation of bayonet attachments. Now you can switch between regular bash and bayonet on these weapons: Lee-Enfield, G-41, Kar98k, Mosin-Nagant, Springfield (unscoped early and late), M1 Garand, SVT-40.
Now something to the gameplay with the firemode - AI enemies and allies always use the default firemode which is always the full/fast auto or the bash. In order to pickup ammo from dead enemies or allies you must switch to the firemode in which the dropped weapon is in.
I was testing the firemode feature the last 2 days and I can say that I didn't encounter any single bug. The sprint uses the USE button as well but it is not influenced or interfered in any way (or at least I didn't noticed that). The only disadvantage is that the USE button is a little bit overused now since it is used for picking weapons, map objectives, sprinting and firemode. But that can be handled if you keep it in mind.
So to sum it up:
SPRINT

- player must be moving and standing, sprint is executed by hitting the USE button twice in short time and holding it in order to keep sprinting.

FIREMODE

- player must have a weapon that has a secondary fire, firemode switch is executed by holding the USE button for 1second.
NEW: Ingame video:
CoD2 B2F firemode preview

Some pictures:
1. changing between bash and bayonet: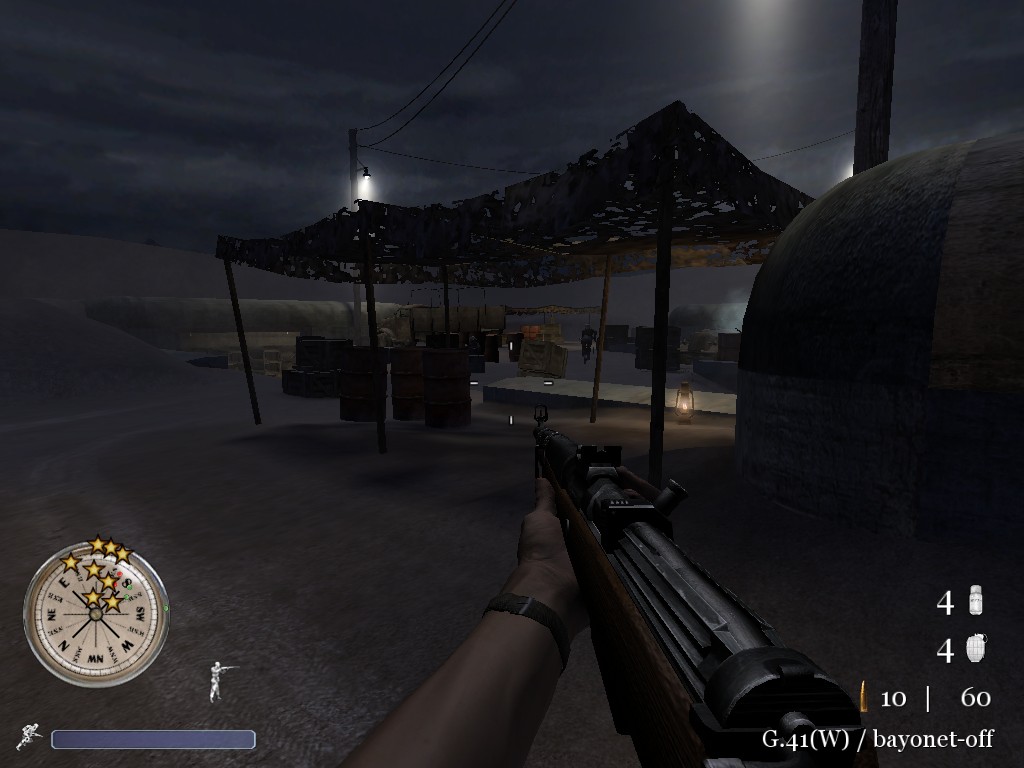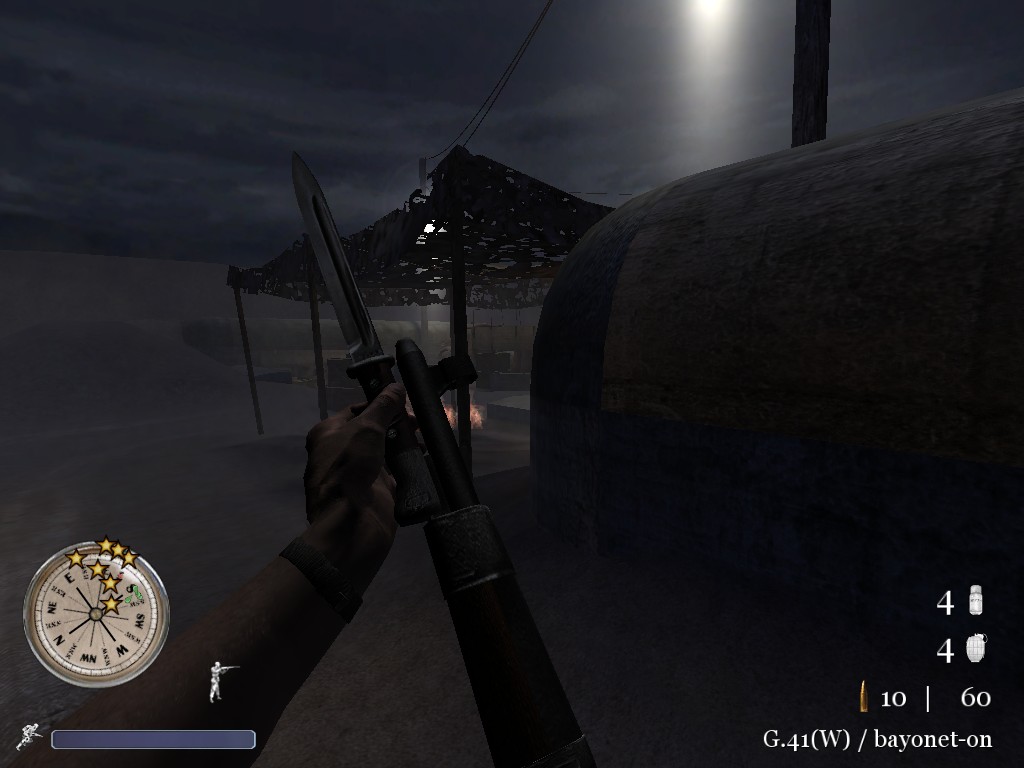 2. the change between bash and bayonet will reflect also if you drop the weapon as I mentioned in the text: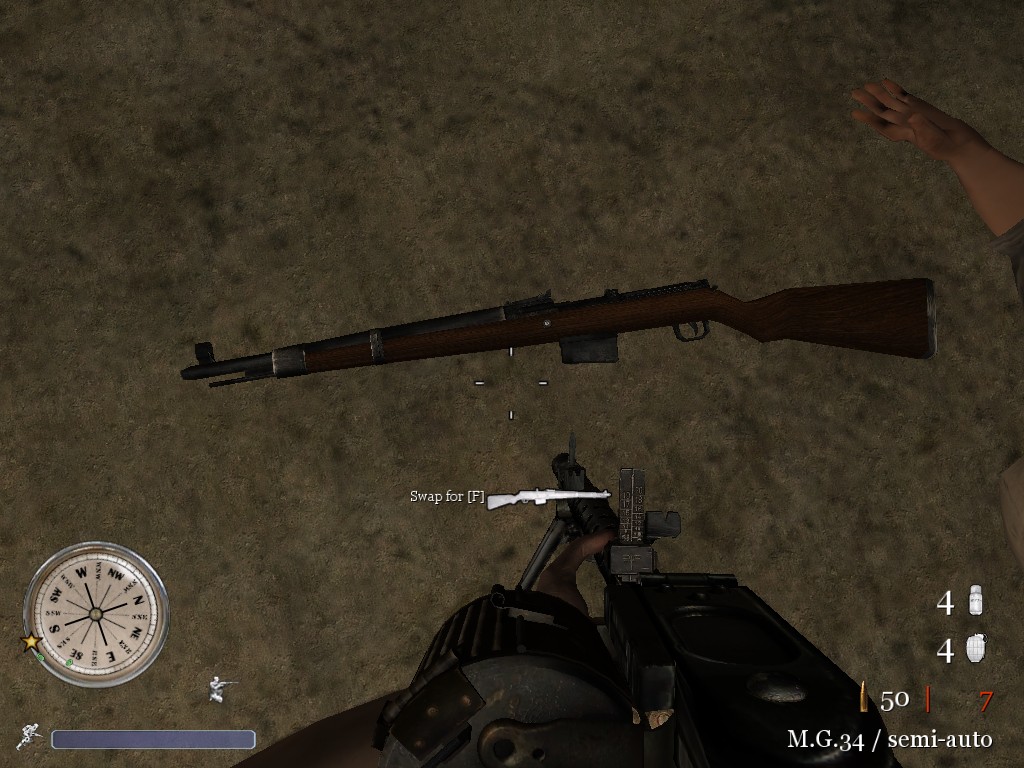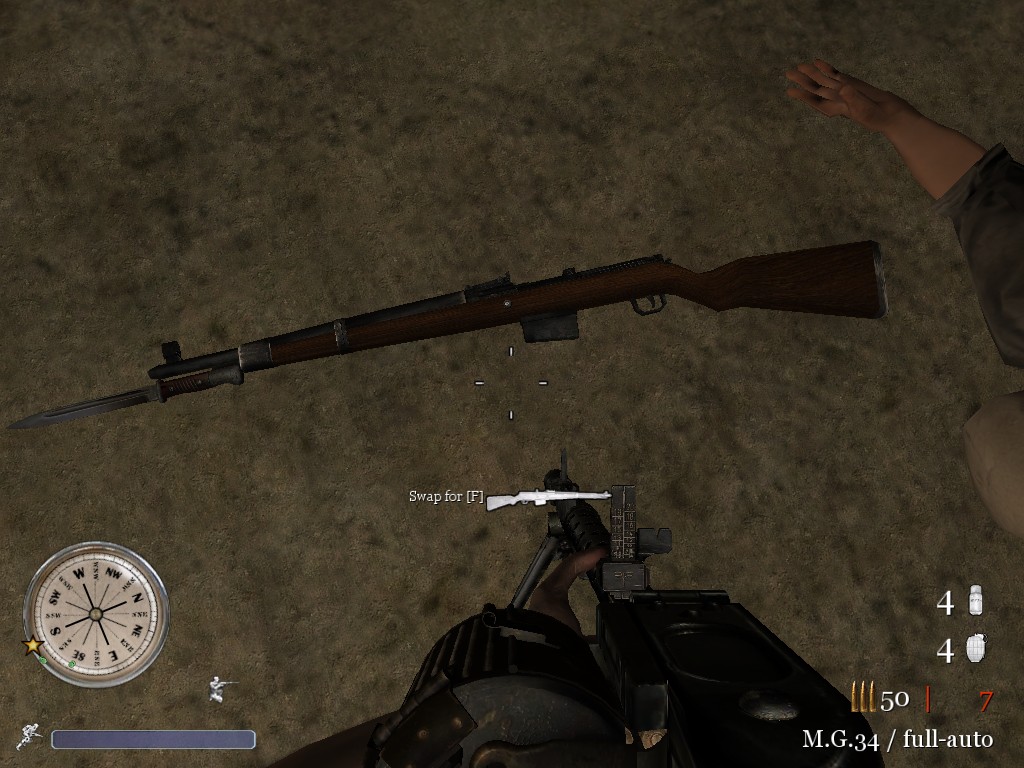 3. changing the firemode in silenced stengun: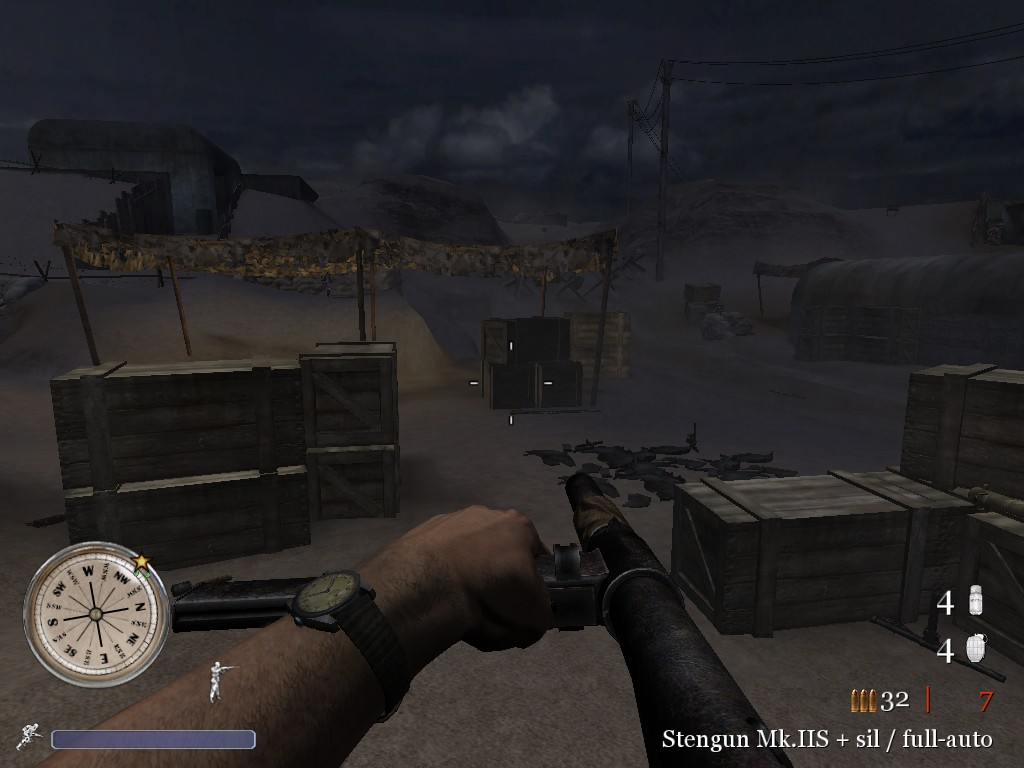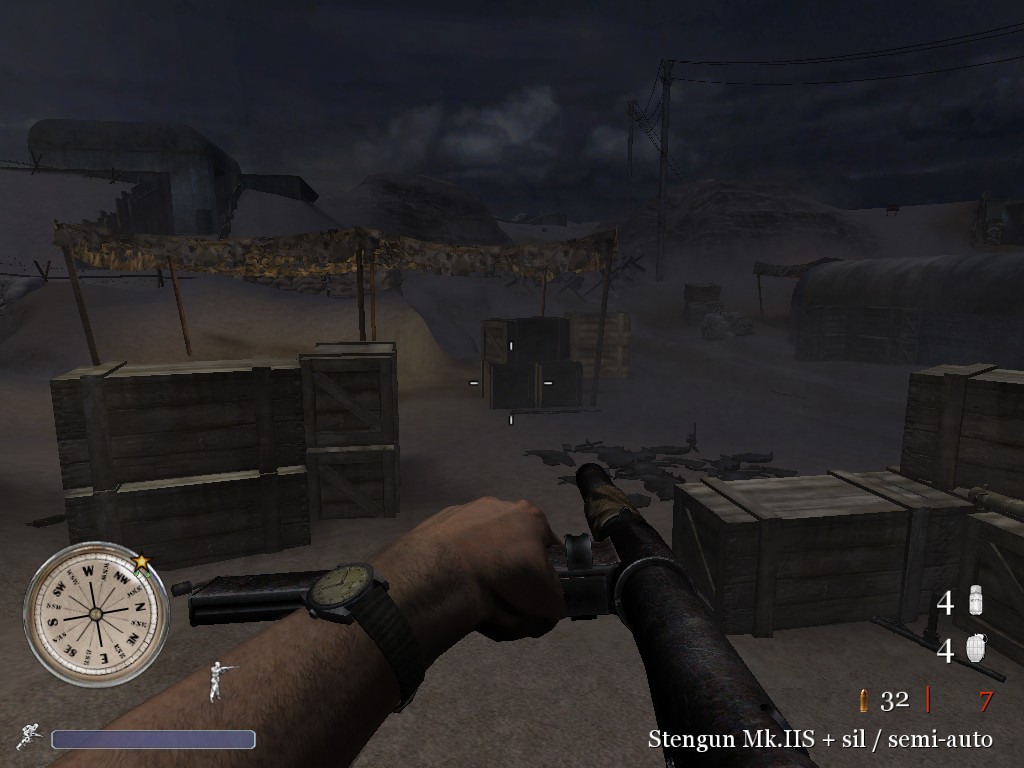 Older stuff: MG-34 & G-41
The MG-34 has been already introduced. Here are some videos that are not uplodad at moddb. The MG-34 animation was done with the help of Tom-Bmx's CoD tools (Tom-bmx.com). Please note that at the time of capturing these videos the firemode script wasn't yet done (so that is why the HUD is of the older style).
CoD2 B2F G41 with bayonet and updated MG34
CoD2 B2F MG34 ingame action


CoD2 B2F MG34 animation preview

That is all for now. Stay tuned! MCh2207Cz