Cloudfall: Night's Tale has been in development on and off for a little over a year now, steady development started in February 2015. The game is a remake of Cloudfall, which was built in a little under a month for the Indie Game Maker contest. It's still playable online, though it's not without many quirks/bugs.

Team:
The game is being developed by Igor Vatavuk (programming, design) and Antonio Hajden (design, art, writing). While Danilo Kapel and Tim Žibrat are creating all of the music and sound effects.

Engine:
Unity 3D

Game:
Gameplay of Cloudfall: Night's Tale consists of story driven exploration and puzzle solving with some NPC interactions in the vein of Zelda games. Puzzles are mostly part of the environment; while plants and creatures in the environment have their specific behaviors you can observe and influence.

In this short video you can see some of the graphics and how we intend to build the world. No serious player mechanics yet, and a lot of stuff is still being changed around as we work on it more.



You will be aided by a handful of transforming powers, each of which changes the way you interact with the environment.
As we want the game to be as non-linear as possible, the order of power acquisition and progression through the world is up to the player. This means most of the puzzles will be solvable with a few different approaches, utilizing different powers or combinations of them (with varying degrees of difficulty).
So for example, flame form's exploding projectile can clear away the plant that's blocking your path, while nature form can bend it; though by utilizing stone form you can pass through a different point, rolling through strong air currents.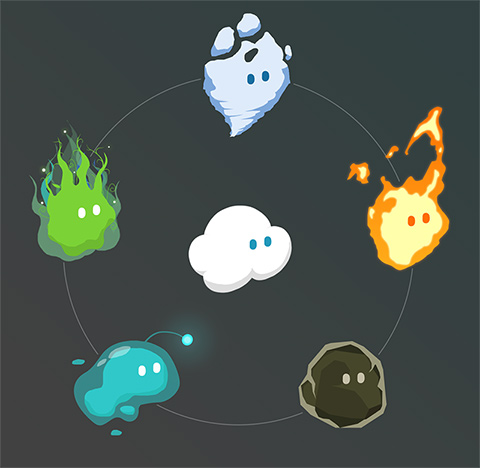 Cloud's base form (middle) - capable of absorbing water and electricity for use elsewhere
Air (top) - very fast, capable of pulling in objects and carrying them if not too heavy
Flame - burns things it touches, lights the way and can shoot exploding projectiles
Stone - heavy, falls to the ground, capable of jumping and rolling around
Water - opens up previously inaccessible underwater areas and can create air pockets in water
Nature - bends plants and non-cloud creatures to your will)