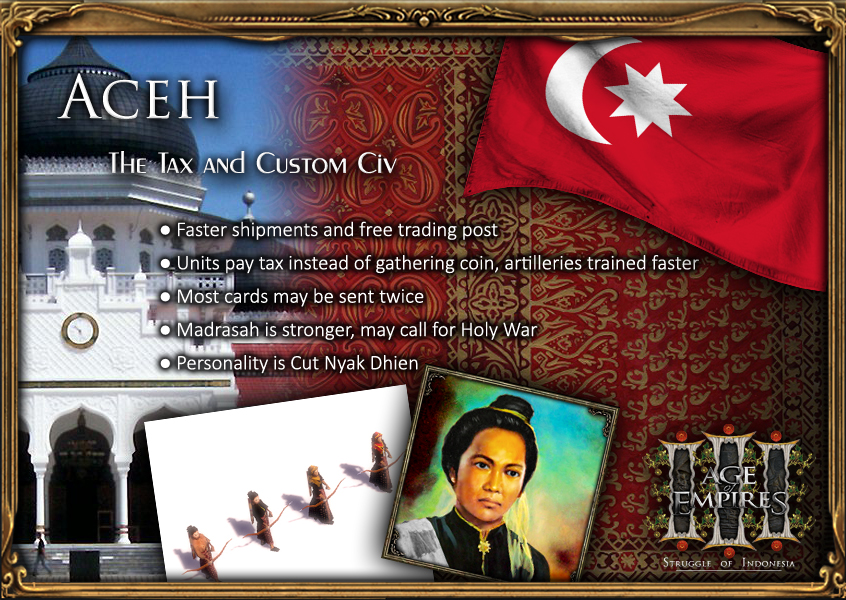 ACEH
The Tax and Custom Civ
The Sultanate of Aceh was founded by Ali Mughayat Syah, who began campaigns to extend his control over northern Sumatra in 1520. Originally covering Aceh, Pedir, Pasai, Deli, and Aru, it later extended as far as Malacca, Johor, and Minangkabau. At its peak under Iskandar Muda, it also annexed Kedah, while being disastrously defeated by an alliance of Portuguese-Johor at Malacca.
In SoI, Aceh span from the 16th century glorious Aceh to the 20th century insurgents Aceh, with the focus on the bitter end. Its sultan was Muhammad Daud Syah, who like his predecessor was merely a ceremonial leader. True leadership in Aceh at that time was not even around the sultan, but rather, at the hand of Johan Pahlawan - Teuku Umar. Yet, behind him was a strong woman, the personality of Aceh in SoI, Cut Nyak Dhien. Cut Nyak Dhien in SoI led the ruin of the sultanate at its last days, but she was exiled later to Java when her sidekick betrayed her.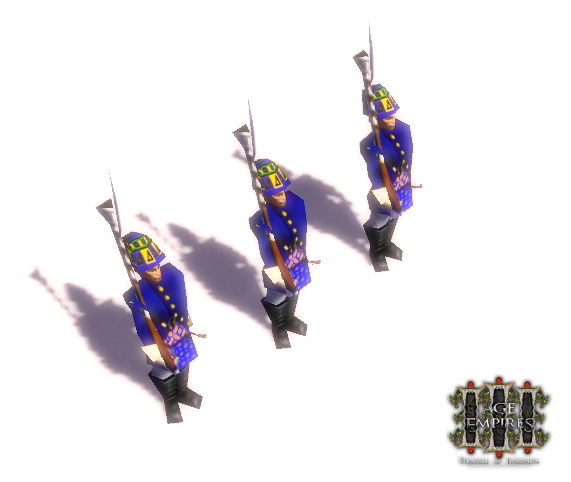 Sipai, Acehnese Imperial Guard - a formidable skimisher which is armed with rencong for melee battle
Aceh belongs to Malays culture, alongside the soon-to-be-launched Minangkabau and Johor. This means Aceh will have a different gameplay compared to the Javanese.
Beside the generic Malays units it share, Aceh also get some unique units:
Inong Balee, female archer who is also good at melee
Ekor Lotong, a light early artillery
Sepai, an imperial guard unit (strong late game unique unit for the Malays)

Acehnese set of Mahligai techs
There won't be many unique building for Aceh, but it will get Kamar Dagang (eng. Trading Chamber), which let it to trade with VoC and Ottoman Sultanate. The other buildings are shared, namely Mahligai, Perpustakaan, Madrassah, etc.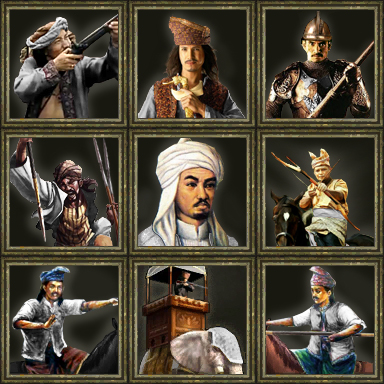 Generic malays unitset
As stated above in the picture, Acehnese units are paying tax. This means player doesn't need to worry for a bankruptcy. Aceh also gets shipments bonuses. The cards may be sent twice, they come faster, and the trading post is free. Aceh also, as a resemblance of its military allegiance with the Ottoman, has faster trained artilleries.

Aceh UU: Inong Balee, Ekor Lotong, Sipai
Last but not the least, player may expect something different, new, and weird while playing as Aceh. And don't forget to turn off that Holy War thing in the town center when you don't need it...