Intro
For the past year, we've followed a monthly update routine, giving us constant improvement over our produced content for a better final product. In every update, we've asked you for your criticism on everything from particles to map scenes and models. That feedback has not only allowed us to iteratively design our content based on fast feedback, but even accomplish better performance on some high-end effects.
This time, we want to give you a chance to get something back for your constructive suggestions while also giving you a chance to have your creations directly implemented into the mod. We want you to suggest your own original ideas that you'd like to see put in the mod! Perhaps a scene that you'd really like to see in-game? Maybe a new engine improvement on top of some of our current changes? How about just a plain awesome blow-everything-up-around-the-player gameplay scenario? Whatever you have in mind, we want your ideas!
Not only will some of the best suggestions and ideas go in-game, but one lucky winner will get to play City 17 with some special cool secret stuff! The top 3 will also win some awesome looking C17 mousepads! More details posted below!
---
ModDB Contest - The first of three contests!
What kind of suggestions are we looking for?
Gameplay Scenarios! Have an awesome action sequence in mind?
Characters! Want a character named after you, with a unique personality and train of mind?
And almost anything else!
The best 3 suggestions gets their ideas in-game, and free mousepads (One of only 20 in existence!), with their choice of background scene! The number 1 suggestion will also get early access to City17 before it releases!
Even if you do not win, theres a chance your suggestion might still make it into our mod!
To enter your suggestions, send an email to:
gear.dev@gmail.com
Please keep in mind, your suggestions can be about anything! Gameplay, story, characters, features; anything you can think of! There's no limit to the amount of suggestions you can send, and you're allowed to include pictures, videos, or any other form of media with your suggestion.
Alternatively, you could post your suggestion in a comment on this media release.
---
Cinematic Physics:
To add a more professional and cinematographic look, we decided to use Cinematic Physics, a method of physics-based baked animations, which Valve uses for games like Half Life 2 Episode 2, Team Fortress 2, and the entire Left 4 Dead series.
Cinematic physics have many advantages. Because they are baked animations via a 3D Modelling package, physics processing is no longer handled by the CPU! Using this approach to physics, we can now make maps littered with much more complex destruction scenes, without using precious CPU cycles and increasing your CPU usage. This means we can make beautiful complex scenes without putting any strain on your poor CPU!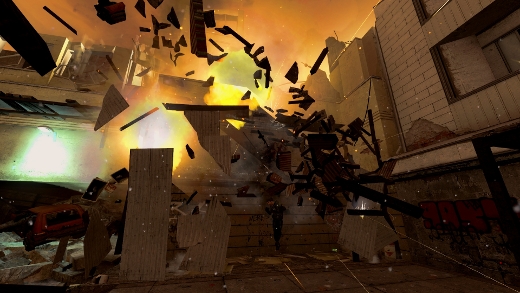 You can view the results of Cinematic Physics driven animations first hand in our video below:

---
Fire Particles:
Our last update got us working on some new environmental effects, and with that we've created a slue of new fire effects. From the last update's feedback, we've thrown together some new fire particle based effects. Not only do they use less video memory and CPU cycles when compared to our last version, but look twice as good!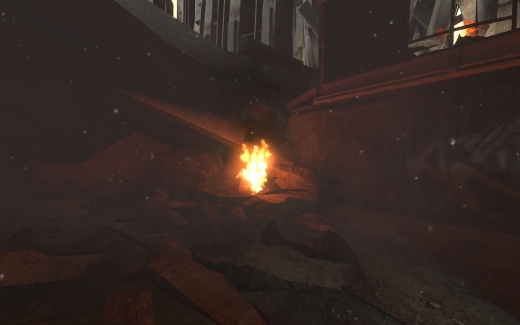 Some of those effects can be detailed in the scenes below:
---
That's it for today's update! But we'll have another update this month for parts 2 and 3 of our contest, so check back often! Have a Happy New Year everyone!