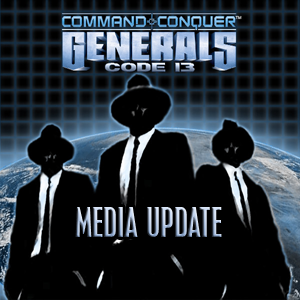 Welcome back General!
First of all we would like to wish everyone a Merry Christmas!
Because we like presents we would like to give you one! Below you will find our very last video (not Beta Video) and gift for you before the Mod will be released. The Video is about the Hero Unit of a Faction that had been scrapped when Code 13 went into a hiatus a few years ago.
The scrapped Hero Unit of the Alpha Zerox Faction that has never made it in the Mod. For your entertainment purposes, Agent 13 can still be used via Worldbuilder. This Unit was inspired by "Bunji Kugashira" from the great Videogame and Anime Series "Gungrave".
He comes with dual 45.er's and remote Bombs wich work a bit differently than the common Bombs that are placed by Colonel Burton or Jarmen Kell. These Bombs can be planted everywhere on the map and will detonate on your command, even if Agent 13 dies.
If you buy him the Pfeifer Zeliska Upgrade, Agent 13 will gain access to one of the most powerful Handguns in the world. The Zeliska shoots armor piercing bullets that can even damage Buildings severely. Because of the huge Caliber, Agent 13 has to take a few seconds before every shot and will be pushed from his position because of the sheer recoil of the Zeliska.
Well that's it for now folks. We hope that you will enjoy your Christmas Time! Remember that in only one Week Code 13 will have it's final Release so that you can start 2011 with a blast!

Until next time!