Hello once again, and welcome to Dissident Logic's character preview week! I'm Mike Smith, character designer on the indie brawler Paperbound. Last week we spent some time with the Egyptian God of War, Horus, a feathered menace from the Book of the Dead. Though he may be a fast and versatile warrior, even a God of War can be backstabbed by a stealthy ninja. Enter NinjEddy, our main character's (Eddy) alter ego from the Book of Five Rings.
In order for Eddy to blend into the books he's exploring, he has to find a disguise. In the Book of Five Rings (or spheres), Eddy masquerades as one of the deadliest assassins of all time. The dreaded and mystical ninja. Though the Book of Five Rings lays down a fairly detailed method of how to act within a theater of war, NinjEddy abandons all that with swift brutal attacks, and flying razor sharp scissors.
What follows below is his final in-game appearance. This initial image was produced for pins for Pax East earlier in the year, with our hero standing on a bonsai tree, and a red sun in the background. It turned out so well, we used the same image for his character select screen with only a few minor adjustments.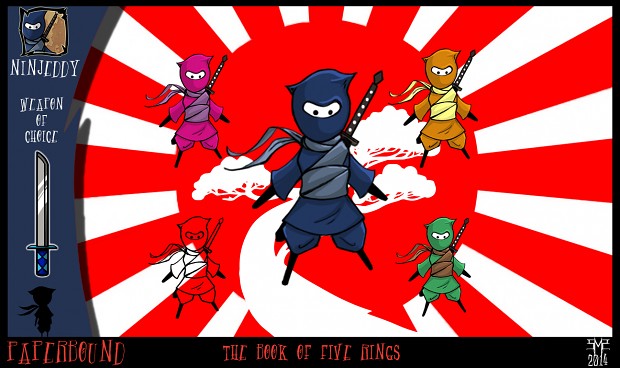 Earlier in the process, we looked at a variety of costumes and designs for the in-game version of NinjEddy. Only a small portion are highlighted here. In all, there were about seventy-five different costumes created. I looked at everything from Samurai armor to warrior monks to get some form of inspiration. I even researched Kendo uniforms, which aren't necessarily ideal for speedy ninjas, but their overall form had a certain appeal. In the end, Eddy is adorned with a fairly traditional ninja outfit. Dark, ominous, stealthy, lightweight, and easily camouflaged into any environment, ninjas simply have one of the best costumes ever created.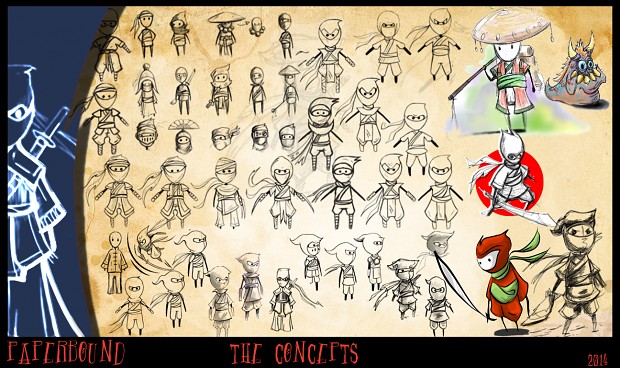 Similar to our previous warriors, we ended up exploring an 8-bit approach as an exercise in defining characters using a minimum amount of details. I've highlighted a few here, some of them slightly crude due to the speed of which they were being created. But, like the characters before him, we ended up abandoning the 8-bit approach all together. As a matter of fact, NinjEddy was the last character to see his persona chopped down to 8-bit proportions.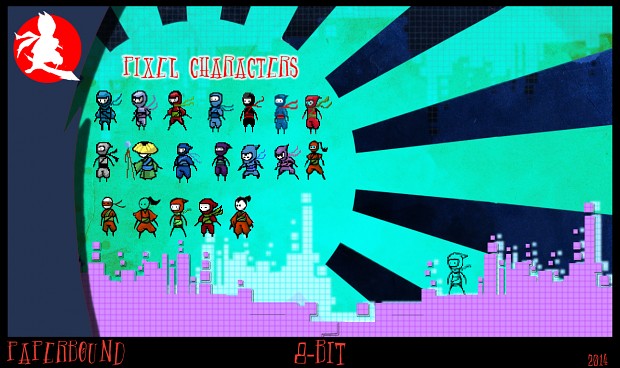 Finally, every character needs a weapon, and a ninja is not complete without his trusted katana blade. The sword went through only one major change. I felt like the weapon was too long and thin, so I quickly thickened the line work, and shortened its blade to fit the character. It was only a slight modification, but it made an improvement overall. The katana, similar to the other weapons created for the game, were drawn in Sketchbook Pro then ported to Photoshop for the final paint scheme.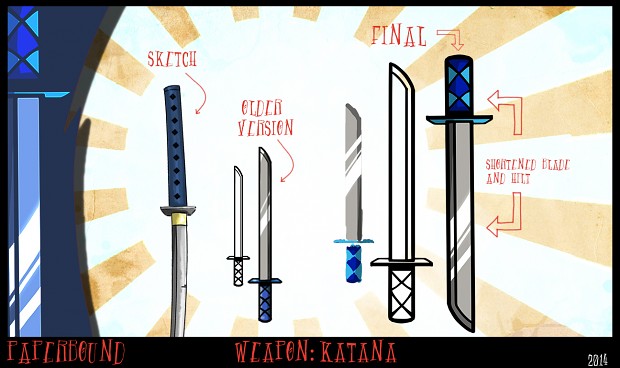 So that concludes week four of our character previews! We have a lot more to come, so we hope you can pop in next week to see the latest update! Thanks for taking the time to look at our work, and make sure to check out our facebook page for additional updates and news!