As 2014 draws to a close, we'd like to share a special post with our Indie DB followers; we hope you enjoy it!
Main Character
First off - a reveal: the playable character in Observatorium is 9-year old Kit - an imaginative, headstrong and intelligent young man who lives on a small island with his parents. You've seen him in our old marketing shot here but we've been busy refining his design and backstory: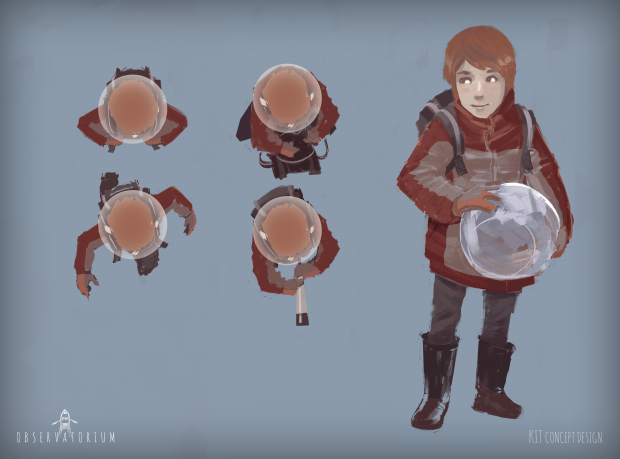 Kit lives in an archipelago comprised of crystal waters, strange sealife, silent forests, mysterious caverns and beautiful nights that seem to last forever. This rich natural landscape has links to the sky with its impressive auroras, observatory and space centre. By day, Kit attends the local school on the mainland where his love of maths, art and literature keeps him busy; at night, Kit can get lonely on his home island (especially if Dad is away on business or Mum is working late) but manages to keep himself contented. His hobbies include fishing, astronomy, sketching and science-fiction and one day he hopes to go into space. Kit dislikes being idle which often lands him in trouble with his parents...
We're happy to announce that you will be able to control Kit on-foot as well as at sea and we are currently prototyping various land-based levels with the puzzle gameplay you've seen so far. Since all gameplay is tied to the telescope, not the ship, it's working pretty well and we hope to share some videos with you soon!
Environment Update
Secondly - a preview of upcoming environment changes. In this post, I laid down some art style rules for Observatorium. Continuing with our space-meets-nature vibe, I'm happy to reveal an important addition to our environment style: we've decided to set the game in a northern region to give the game a cold/sparse overtone. In keeping with our space-meets-nature metaphors, the temperature and scale of the environment will alude to the coldness/depth of space: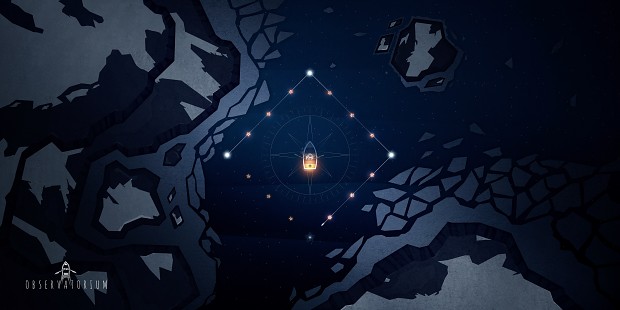 We plan to vary the amount of snow on display - with more being introduced as you move farther out from the HUB World. We've also produced a concept for our cave sections. These enclosed regions reduce sky visibility but you will still be able to solve constellation puzzles through holes in the ceiling found at various points: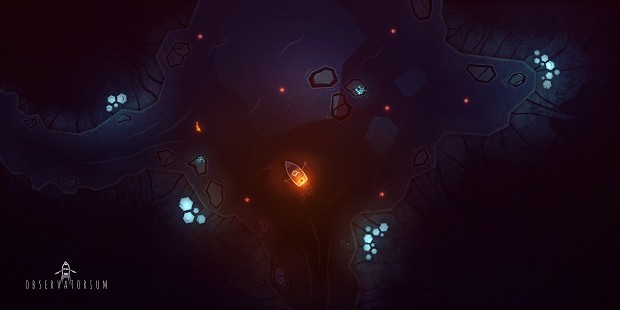 We plan to vary time of day and play around with different colours in each region of the game but these images represent our base style.

Production Update
Thirdly, we're busy trying out various ideas for how to produce the assets for the entire game. Although the game is viewed from a top down 2D orthographic view, we have decided to build some assets in 3D. This will allow us to quickly create special animations instead of having to hand paint each frame. We'll use this process for our very common game world objects that we expect to see from alot of different angles - such as the boat and character models. The image below demonstrates a 3D model/render test made using LightWave 3D: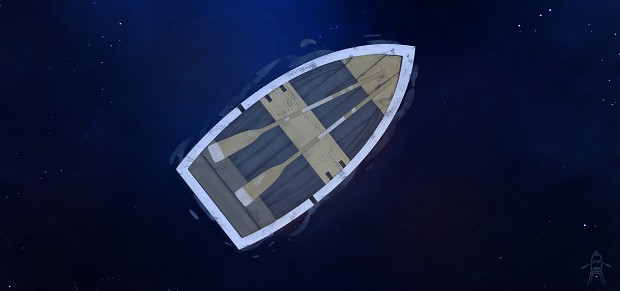 Our overall goal is to make the 2D/3D split seamless. We'll be importing our assets into Unity as 2D regardless of source format and we'll be washing each scene with several light sources which should help tie everything together. It's a little more work upfront but should save us time in the long run.
Conclusion
We hope you like the direction in which we're taking Observatorium. We're trying to let the game evolve naturally and part of that process means we often surprise ourselves with each art/design change. If you have any comments or suggestions please post below and I will try to respond.
All artwork in this post is provided by our talented 2D and 3D artists Apollo2D and PeterSatera.
Thanks for reading and special thanks for following Observatorium throughout the year.
Happy holidays from the Observatorium Team!
Clive Lawrence
The Man Who Flew Away