Introduction of the chapel
The chapel is the first concrete building in Drohtin. Boles and stones are necessary to build the chappel. The chapel is also the first step to take your village to the next level. After the church is done you will be able to build bigger and better building or update some of your existing tents.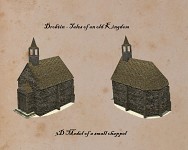 Your citizen will also visit the chappel regularly and it will be a center of your village.