ChangeLog Part 2
---
Let's continue talking about what has been happening in development that you guys were a bit in the dark before - not anymore! Todays changelogs:
ChangeLog:
Changelog 05.10:
- Bot has lift off, land, fly, zap sounds. 
- Hovering over placed item will bring out a WIP bubble with the items information 
- Old shield re textured + 2 new shields 
- Animated Central UI 
- Warriors want to buy the new shields

ChangeLog 05.12: 
- Refurbished UI with animations and new font's, visuals 
- Main Menu visuals reworked 
- Fountain particles and water splashes 
- Animated Portal 
- More options for changing visuals 
- The doors when opening emit dust

ChangeLog 05.13:

- Scroll and hand camera has raised FOV from 60 to 70
- New mouse cursor
- New item icons for a refurbished UI
- Item icons show in item descriptions on hover, corner of UI when selected, Quest log and item order
- Filter by gold in order scroll
- New quest log
- Confirmation windows for quitting and unlocking skills
- Minor bug fixes and updates
---
So what we got first? Sounds - Talking about the helper bot we wanted him to have enough sounds that you the player could know what he was up to not even seeing him, just by hearing, we are pretty happy with the way his docking, flying, traction beam sounds just merge together to bring him to life, although we do want to add some more variations to him, but before that day he was just a jerky flying helper, now he really feels steampunky, something that is almost alive. (An actual video with the sounds should come shortly)
For a long time we wanted some more information about items we are selling, especially when they are placed, so we made a tool tip pop up when targeting an item, and here is how the prototype looked (Used a speech bubble as a start yay!) and how it looks now.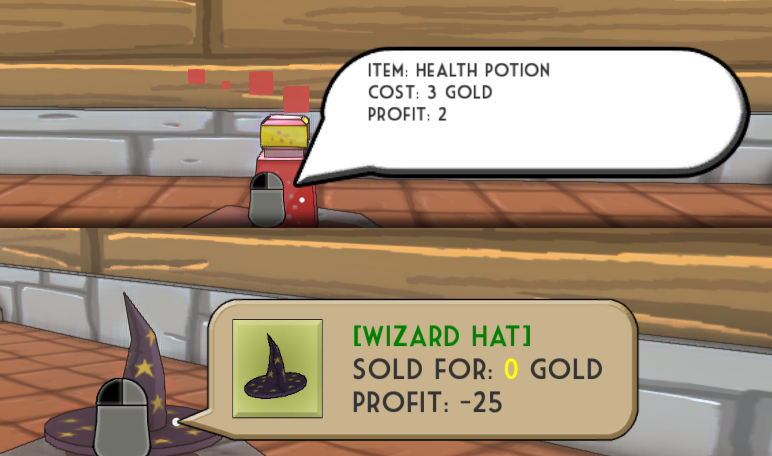 We have been using a texture for the shield out of my other game Beneath for a while, and on 05.10 we made a brand new one for the game, and an alternative skin as well, together with it came another shield - Buckle shield, and immediately the warrior class were all over the new items!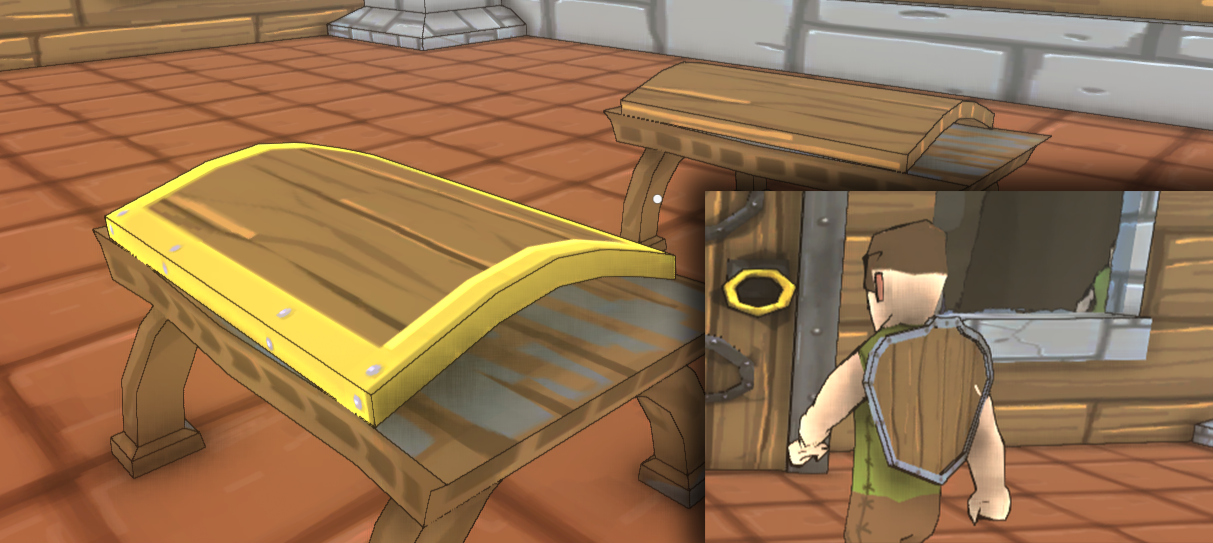 The UI, animation of it was already posted in the last news post, but some more exciting UI changes came along in these days, not counting the tool tip for item info when hovering over a placed item. You already noticed that there was an icon for an item, we added our own cursor, tho not very happy with it, but at least it is our own finally! New fonts, main menu were redone(Although it went trough another change a few days ago, but the rotating customer is set for a comeback soon!). Item icons now are shown in game in various places to help you know what is happening. The order scroll received a filter by gold amount now, a quest/objective log received it's own refurbish treatment. When quitting or unlocking a skill, the game asks you to confirm the choice in case it was made by mistake. Here is a small collage of some UI changes done.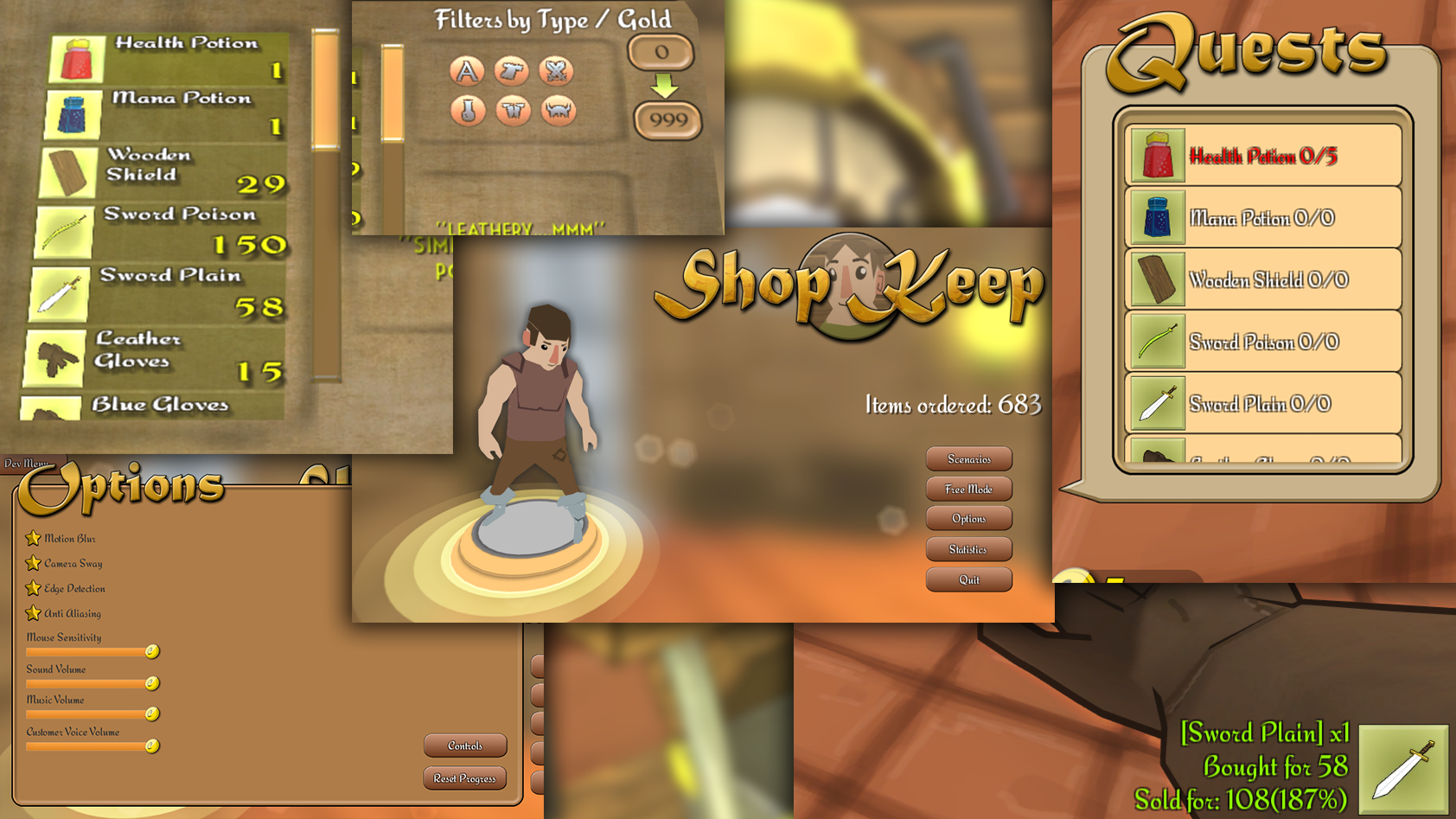 Wanting to make the environment a bit more alive, we animated a portal, and the fountain outside the shop.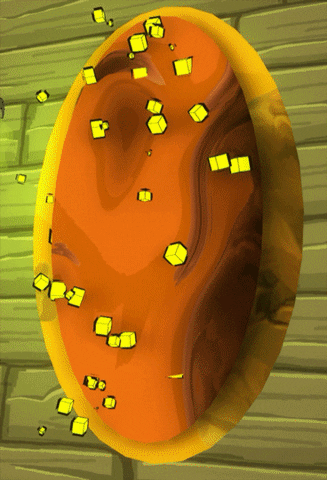 This concludes Part 2 of a strange "Dev log" from the past. The last gif gave a small taste of a feature we will be talking about in another Part soon enough!
Hope you all like the news posts, hell lot more to come!
As always stay tuned and thank you for your support!
Do check out our steam page - Shoppe Keep on Steam
And follow us on twitter - Shoppe Keep dev Twitter