Hello,
If some of you played Catyph: The Kunci Experiment some time ago, you might have found the gameplay clumsy. If you followed my sites and the news about the game, you might also have noticed that I have lost my work data of Catyph when my backup hard drive died in 2016. As a result I could never totally polish Catyph as I wanted to: it had become impossible to release new updates, new bug fixes and puzzles improvements.
It stayed stuck in my head during the past two years, and I was wondering what I could do, without working on a complete remake (sadly I don't have the time and money for this). By chance I have been able to obtain the original pictures of the game (backgrounds, animations…) from the team behind the game engine who could extract a few things from the Steam version. I then decided to re-program the game from scratch. However I knew that I wouldn't have the time to remake everything (it took me 2 years to develop Catyph the first time!), so I have decided to try to make a kind of light edition. That is to say, a more simple/optimized/user-friendly version of Catyph, if that is possible.
I have not been able to recover my original 3dsmax scene (from the old hdd - RIP), so it was impossible to come with a graphical update. However I have worked to improve many other things, and here's the list of all changes that I am preparing:
---
Recompiled with Visionaire Studio 5 (Catyph Original runs with V4.2 which is slower and less compatible)
Less than 2 GB, more compressed pictures, runs on smaller computers
Accessibility improved: Larger mouse cursors
Accessibility improved: Larger new hotspots icons
Removed difficulty choice and kept only the Normal mode
Removed the system of points for the Blue Matter
Removed the arcade minigame with the spaceship (and only kept it as a bonus)
Simplified navigation: removed the possibility to look back at 180, in order to follow only a single path "on rails", and reduce the number of visitable scenes
Removed the video transitions between scenes, to make the game lighter, more smooth, and avoid confusing cameras
Fixed an issue in region Palak
Improved the first puzzle (added rotation option to examine the ball)
Removed some useless comments of MAIDEN (the A.I.)
Improved the controversial wire puzzle in region Darnaha
Added a small tip to the generator puzzle in the Dome
Added a small tip in the puzzle to open the door in the old OT spaceship in region Raju
Added a quick gameplay tutorial at the beginning of a new game. Also added a message to recommend to play with a pen and a paper
Fixed the game freeze on the very last picture at the very end of the game
Added a message after the "bad" ending, saying that the adventure is not finished, and that you have to see all cutscenes to unlock the good end
Improved the way the cutscenes of Lantier and Germinal are unlocked (note: they are played automatically now)
---
If everything goes well, this major update should be released for the 2 years anniversary of Catyph
(so somewhere before Summer hopefully) under the name Catyph: Light Edition.
It will be free for everyone who has purchased the game (you will receive it under the form of an automatic update in Steam, or will be able to download it from your account on the other stores). It won't delete the original game for those who prefer to continue with it. After download, when launching Catyph from Steam (for example), it will not run the game directly. Instead you will most likely see a launcher where it will be asked if you want to play to Catyph Original or Catyph Light Edition.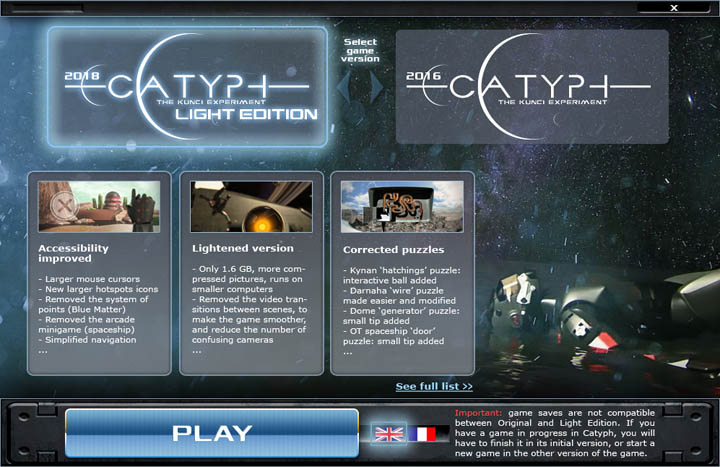 Well at least that is what I would like to do, I hope I will succeed! Of course it won't be miraculous: if you didn't like some aspects of the original game, you might unfortunately still find the same problems here in the Light Edition (same story, same cameras, same prerendered graphics…). But if you never played the game before, this new version could be more comfortable. The main improvement is in the simplification of the game, to make it a bit more "casual" (but don't take this word literally because Catyph will still be very challenging for most people).
Before I continue the development of this Light Edition, I would like to know what you think of the above. Do you like the idea, and do you think it can be interesting? In your comments, please let me know if you played the original game, if you gave up before the end, why, and if this new version might decide you to give it another chance. Thank you!
You can comment below, or also on the following forums:
- Adventure Gamers (English)
- Planète Aventure (Français)
---
In order to go further and to help you understand better what I am trying to do, you can download a demo of Catyph Light Edition (link below). It might contain a few bugs, it has not been tested and is for preview only. This is still a work in progress.
The demo takes place in the second area of the game, the Dome. It doesn't contain a lot of spoilers (nothing to worry about). You'll be able to solve two puzzles (activate a generator and enter a password), use a few inventory items for the occasion, watch a cutscene with a mysterious character, and use the teleportation pod, which will put an end to this demo.
Thanks in advance for your comments, they will be very helpful for me to decide if I should continue or not. I hope that some of you will be interested!