Catch A Fairy has recently received its second big update. Our goal this time was to implement connectivity between players while adding small edits to the core game. The intention was to incentivize players to strive for higher scores to share online.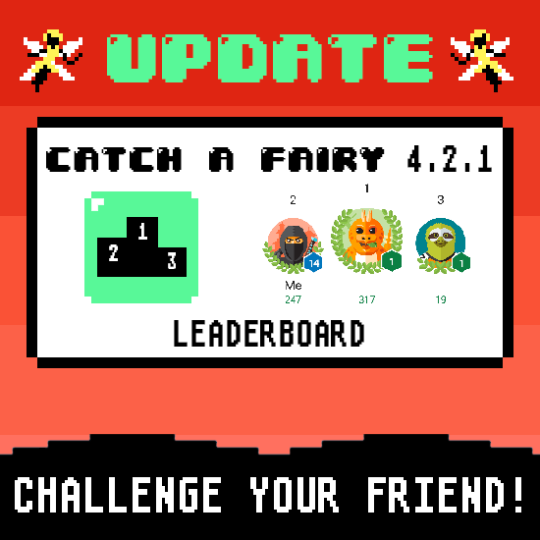 We decided that implementing leaderboards and notifications would serve as a good lesson while boosting retention. Making decisions on what is best for Catch A Fairy is sometimes difficult since we must balance the cost/time to implement a feature with its effectiveness. The lack of player details only compounds the issue. To remedy this, we will evaluate how our changes will affect the game's performance. Hopefully, the charts will point upward with this new update
Competition inspires commitment. We aim to promote some friendly competition by allowing players to compare scores. It may be easy to think one is good in a vacuum which can cause complacency. The leaderboard should help set a baseline for players to use when evaluating their skill. While we don't have a clear vision as to which audience enjoys Catch A Fairy the most, this feature should definitely appeal to a more passionate player base.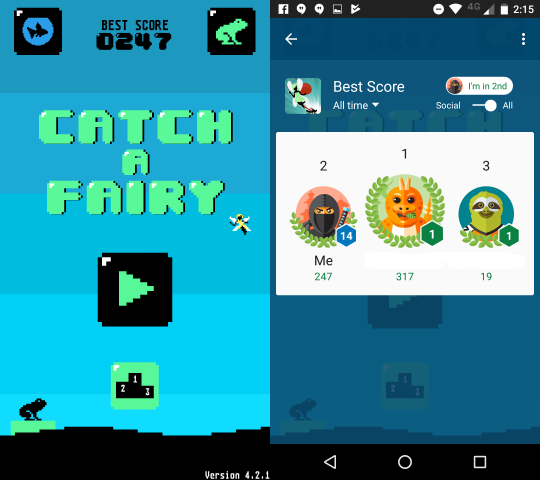 Greetings, it is us, the developers. Push notifications allows us to communicate more directly than before. This means being able to inform players of new features, updates, and important details. The feature also asks for players to provide a rating so that we can better gauge the game's reception. We understand that pop ups and notifications can be annoying if used too often and so they will be kept to a minimum. It wouldn't be smart to spam players. Implementing push notifications was a learning experience for us but we prevailed in the end with the efforts of Eric.
So we didn't get it perfect the first time. Iteration is path to a better product and so Catch A Fairy received some changes based on feedback we heard. This includes changes to the price of some items in the store and the stats for the wrecking ball tongue. We are now able to better see the game's metrics as more people try the game which means we can make more informed decisions.
For example, this new update will bring the fun back to the wrecking ball price. We will continue to receive improvements as we see them. That being said, feedback and comments are always appreciated.
As mentioned in the previous post, this game has been a great learning experience as the team delves past theory and into the actual application. Regardless of what happens next, Missing Fish Games will continue its success in learning as we head into a new year. Have a Merry Christmas and happy holidays wherever they are spent.