Hello to all who have been following Catalyst's development! This is Ossy Flawol, the Lead Developer of the mod, and I've been the main driving force behind Catalyst as itslead, helping direct the team towards our vision of explaining the transition between the two Portal games.
October 11 is an exciting date as it marks our very first anniversary of development. We started back in 2019 as a small little project to revive the concept of Conversion by two fans, and it's quickly grown into a fully fledged mod, featuring a team of three Mappers, two Puzzle Designers, two Musicians, a Programmer, and a Content Writer!
Before we get into the exciting announcements we have in store, let's recap some of what's happened over this crazy first year of development.

We started with the content dump of Conversion, which had occurred shortly after our ModDB page was launched, as word of Catalyst had been quickly picked up by those original Conversion developers. This was certainly a wild experience for the team as we had not expected an event like this to occur so early in our development life.
Some people, myself included, had been eagerly awaiting the release of Conversion. While it never officially happened, we finally got a peek into the long lost project. It was a shame it ended up dying out, but it was nice to finally play somewhat of a finished product in the form of Mind Escape, which I personally recommend you check out if you were interested in the history of Conversion or even awaited its release.
Link to Mind Escape can be found here: Moddb.com
As a sign of respect from the Conversion developers, they have given us permission to use their assets as a sign of gratitude from them to us continuing the legacy of Conversion through Catalyst. This (hopefully) makes Catalyst the final iteration in a long line of mods that attempted to explain the transition between Portal and Portal 2.

Most importantly, with our story finalised and the design document written,we now have a solid plan for everything that will happen in Catalyst. This is a crucial step for the Team, as it means pre-production is long behind us and all that's left to do is the whole mod. At this stage of development, the antagonist has turned out to be quite the unique spin on the classic formulas one would expect from a Portal 2 mod. We really want to tell you about it, but we wouldn't want to spoil such details immediately, would we?
Our story as it stands will be able to perfectly explain how Aperture changes amidst the events of Catalyst. No instant transition from Portal 1 Aperture to Portal 2 - you will experience how it all changes, and our antagonist will complement that. Speaking of which, in a sense of familiarity, you will be accompanied by a Core throughout most of your adventure in Catalyst. They weren't even your friend for most of the development of the story. Their friendliness is only a recent addition to their character. We hope the way in which they relate to the protagonist will surely make people invested in the narrative we want to tell. :)
Each and every Test Chamber and Map has been roughly planned out, meaning everyone on the Catalyst Team has a solid idea of how much needs to be done going forward.
Speaking of maps…
We had a vote about what people would've liked to learn about Catalyst between Gameplay, Lore, and Characters, with Gameplay winning out the vote. For those who are unaware, Catalyst features 7 Chapters spanning across 20 Maps, with 24 Test Chambers to solve. Quite a nice size for a mod, isn't it?
Now, I know what you're all here for: The new stuff. You might've already noticed some, but

let's get right into it.




We've slightly rebranded ourselves with a new logo that we feel better represents Catalyst as a whole, capturing the change between Portal and Portal 2 in one simple icon. Those in our discord might've noticed our logo got cut in half at the start of October, the reason why wasn't too hard to figure out, but it became a matter of what would replace the broken half.
Our new logo stays mostly the same as the original, but we've fixed up a lot of errors with the previous iteration. "Hang on a minute!" You might think, "What do you mean by previous iteration? You've replaced it!"
Not exactly...

The previous logo iteration remains with us, it's not going anywhere! It represents the sections of Catalyst that take place within Portal 1 Aperture, while our other new icon represents the Portal 2 portion of Catalyst.
In game, the logo of Catalyst will dynamically change to fit these icons depending on where you are in the story. Imagine it as marking your progress throughout the whole mod through a simple icon change.
Then what does our middle, main part represent? Hmm…

Of course, we can't have an update like this without showcasing some of the new stuff we've been working on in the background. It feels almost like an obligation to show some new teaser images with an update like this!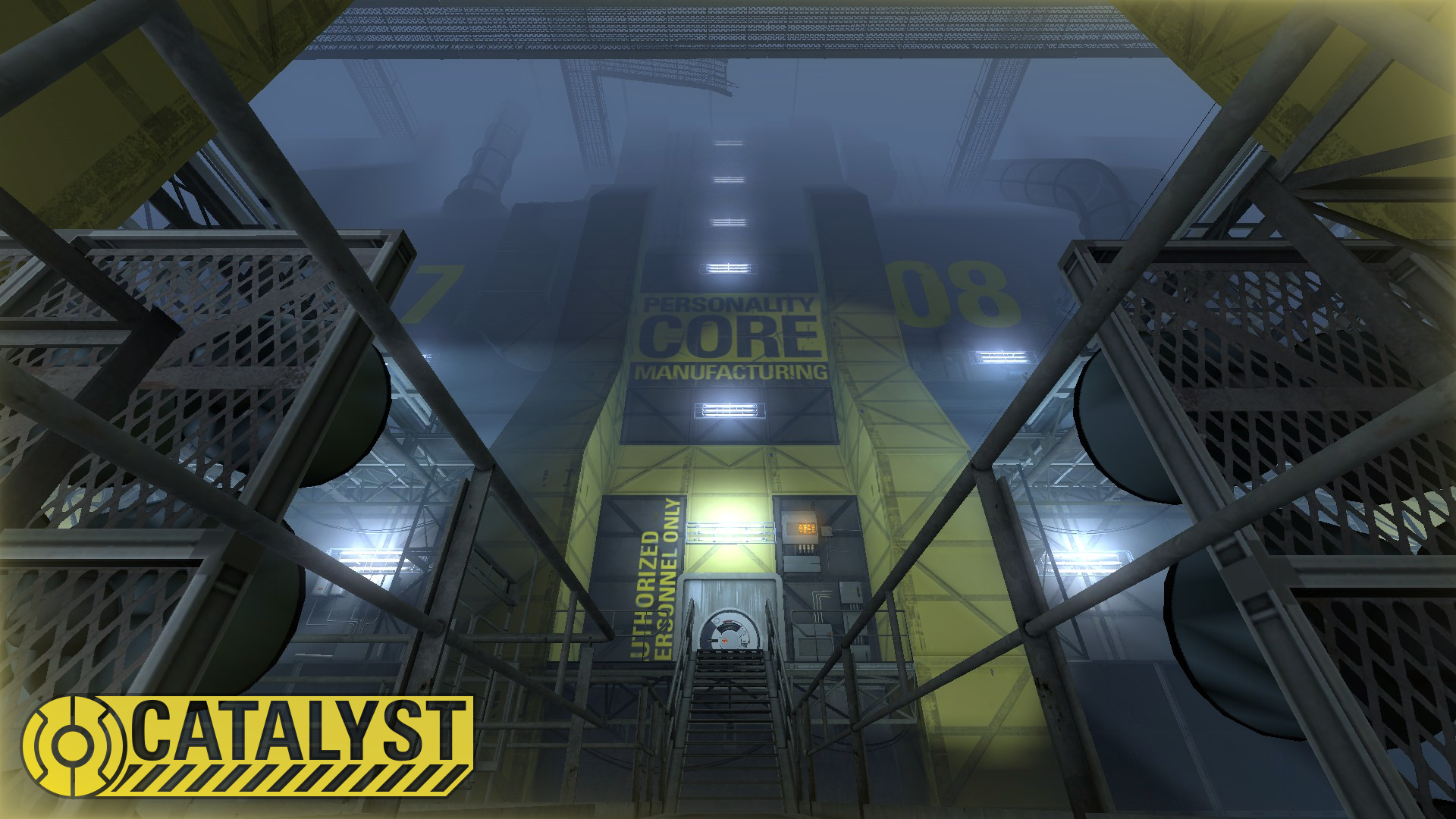 The Core Factory entrance has been redesigned as plans for it have changed overtime, this is not your run of the mill Turret Factory. This factory is meant to be the Core Factory, and it's new look compliments that.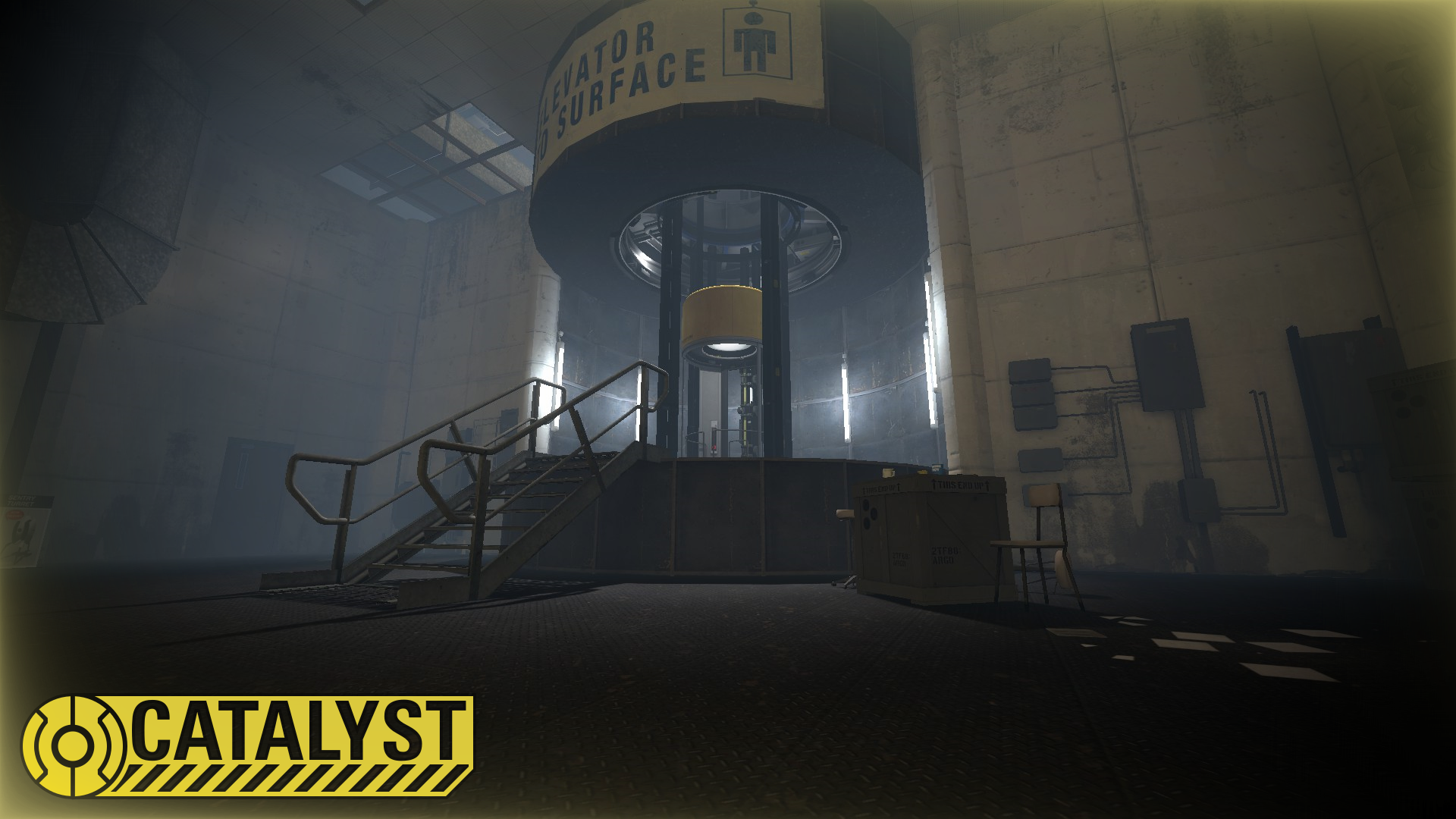 Going behind the scenes in one of our new styles, a potential shot at escaping from the collapsing Aperture Lab? This might be the way out of the facility!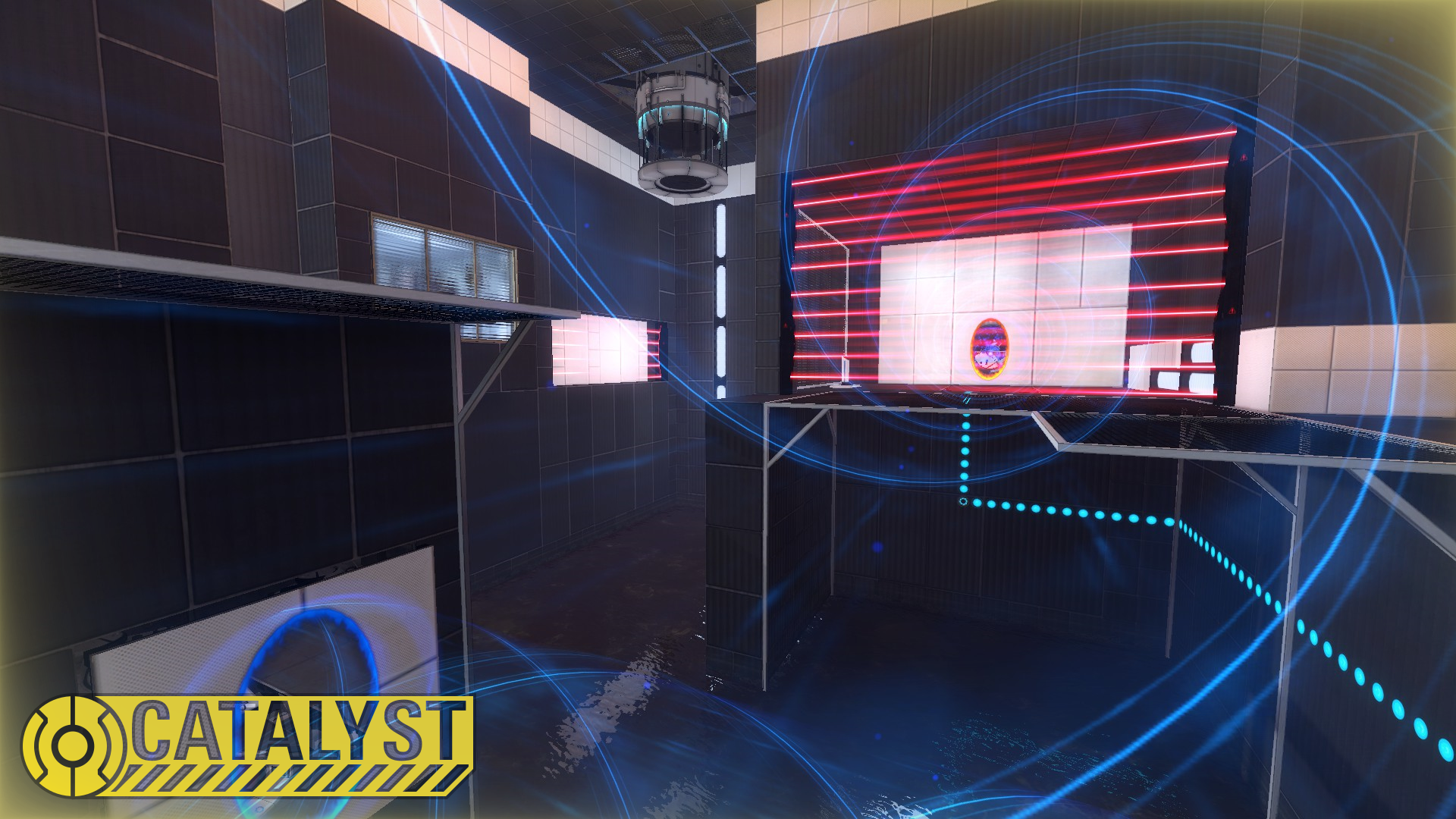 Floating above a goo pit in an excursion funnel, here we show one of our Portal 2 stylised Test Chambers, we've lovingly dubbed this one as "Funnel Pit".

So with our very first Development Anniversary article coming to a close, let's round this out with some extra information regarding the mod.
Catalyst will be jumping onto using

Portal 2: Community Edition

as a base, meaning we'll be able to utilise the new features they will provide for modders!

We can confirm that Overgrown, Reconstructing, Old Aperture and Wheatley are all themes that will

NOT

appear in Catalyst. However they will

all

live on in spirit through our new themes.

Portal 1 will be getting a visual upgrade, which we are working on in the background, just to bring it up to the standards of Portal 2's.

We will

NOT

be having a custom Portal Gun.
Now, I've got some good news and some bad news: If you've been following our progress on discord, you'd know we were planning to create a showcase video for one of our new themes. As crunch conditions were too heavy, we have decided to delay the video and work on it at a healthier pace so that we can eventually get it done and give our best first impressions for it.
Since we ended up delaying the video quite close to October 11, we are opting to tease the video and style since we had become strapped for time.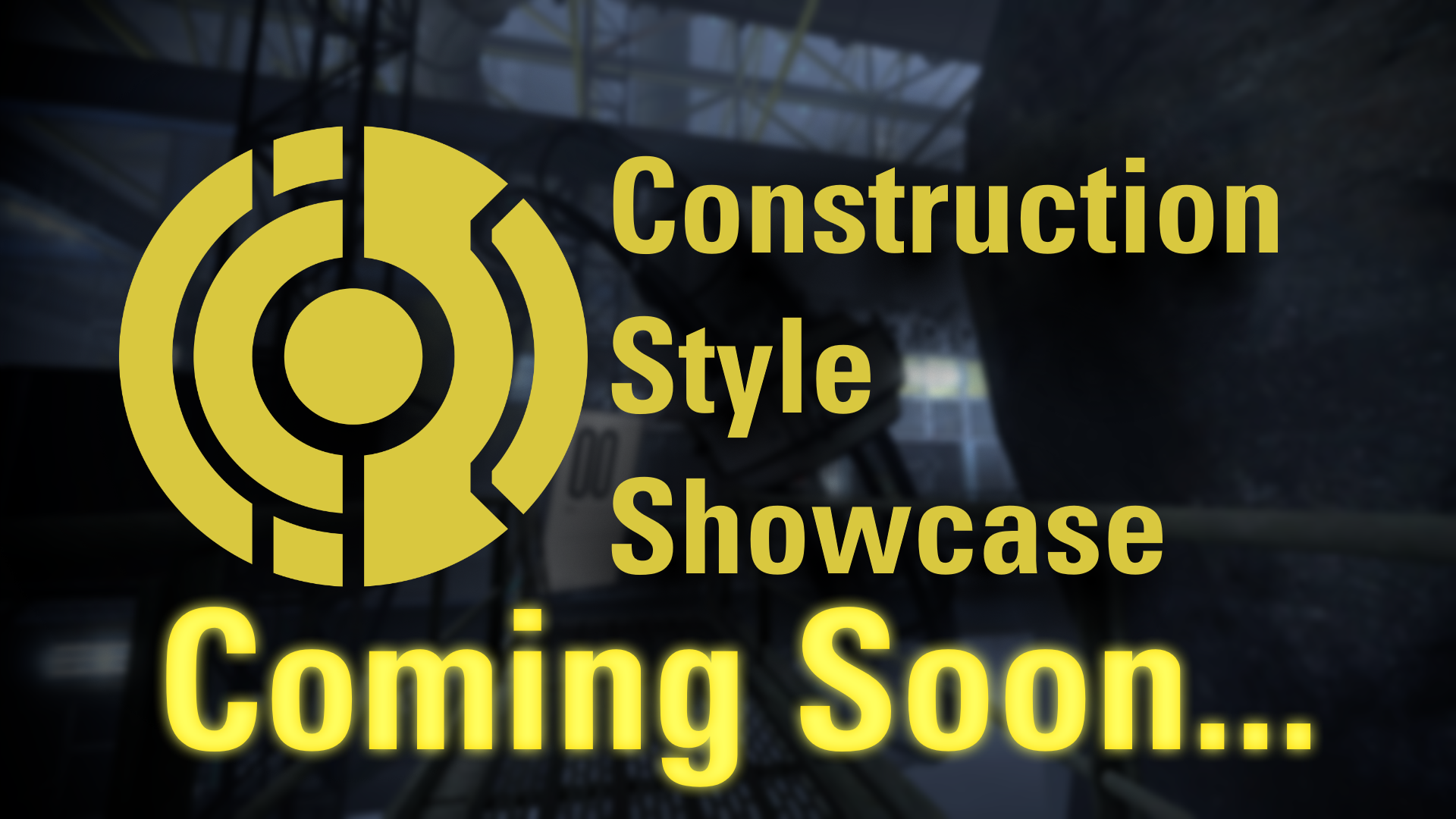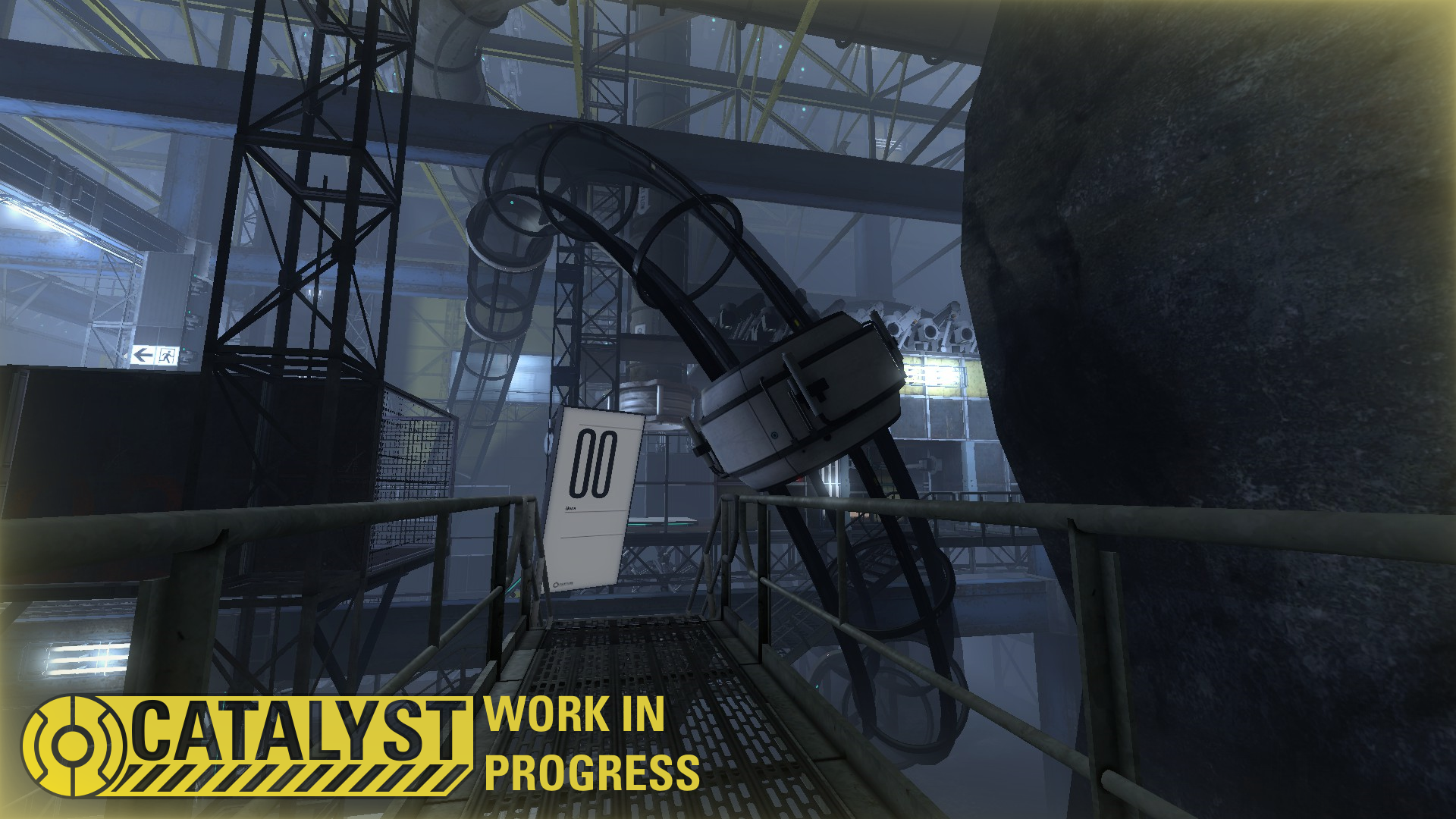 Remember to join our Discord to follow our progress more closely! It was exciting to look back on things such as the Conversion Content Dump and to update everyone on our progress, it was also great to finally unveil some new things we'd been working on like the redesigned logo and new screenshots.
Here's to the future of the project, we hope to continue working on Catalyst in the years to come!