Check out some examples of gameplay. There are 4 prehistoric themes you can play in Cartoon Survivor.
Doo Doo can glide to jump over large gaps. You can also use jumping pads for en extra boost.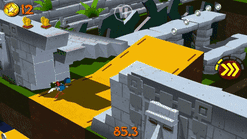 Here is an example of some of the dangerous creatures you can find in Cartoon Survivor.