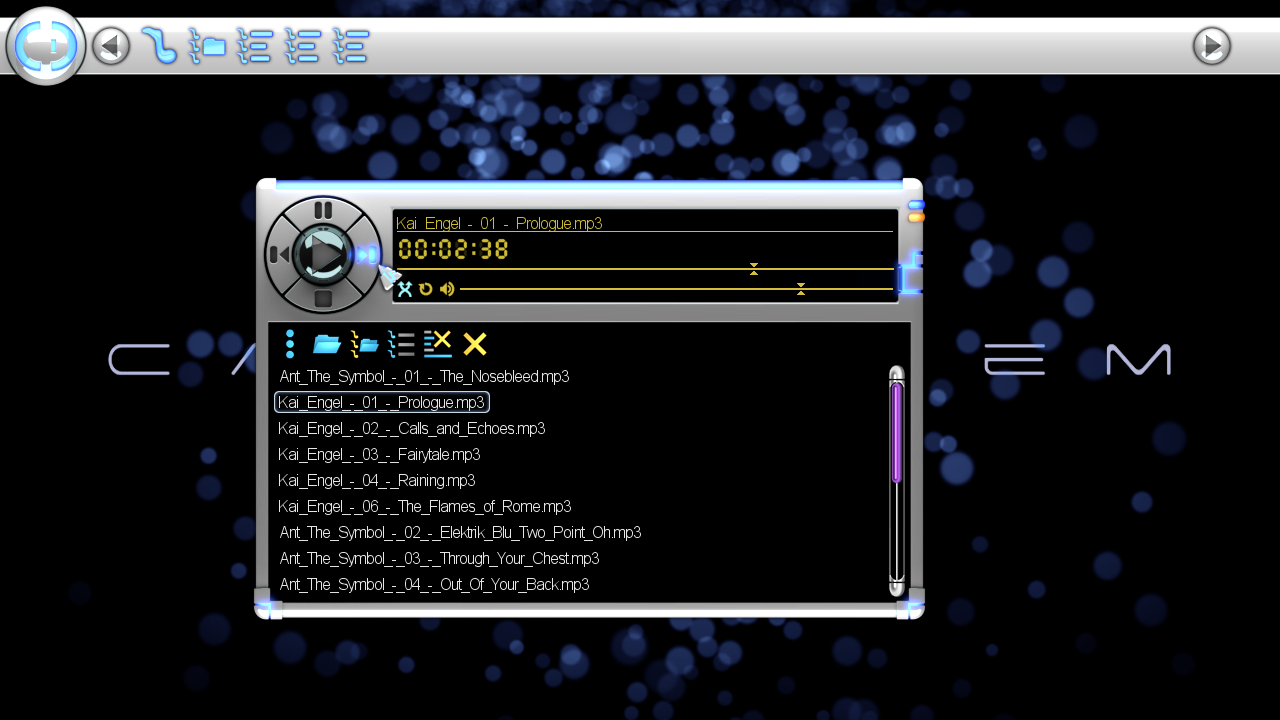 Over the last couple of weeks I've been busy implementing a music player, something I've been wanting to get into Carpe Diem since I started working with it. The music player in Carpe Diem supports both MP3 and Ogg file formats and comes complete with all the features one might expect a media player to support from playlist management to drag and drop functionality.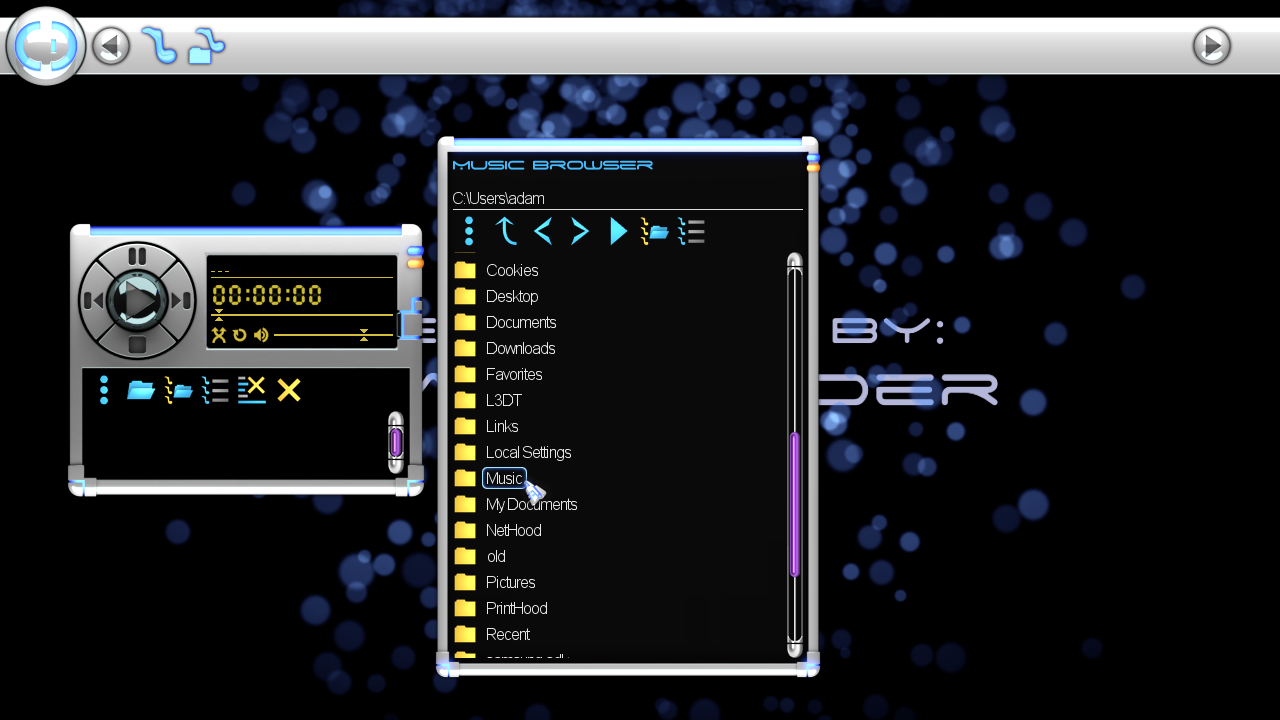 Initially you'll use the Music Browser window to browse your hard drive for music. From there you can add a selection of audio directly to the queue or add it to a new or existing playlist. Both the play queue and playlists can be organized and reorganized by creating a selection, use shift/ctrl select for selecting multiple files, and then dragging those files to the desired position in the list and dropping them right in.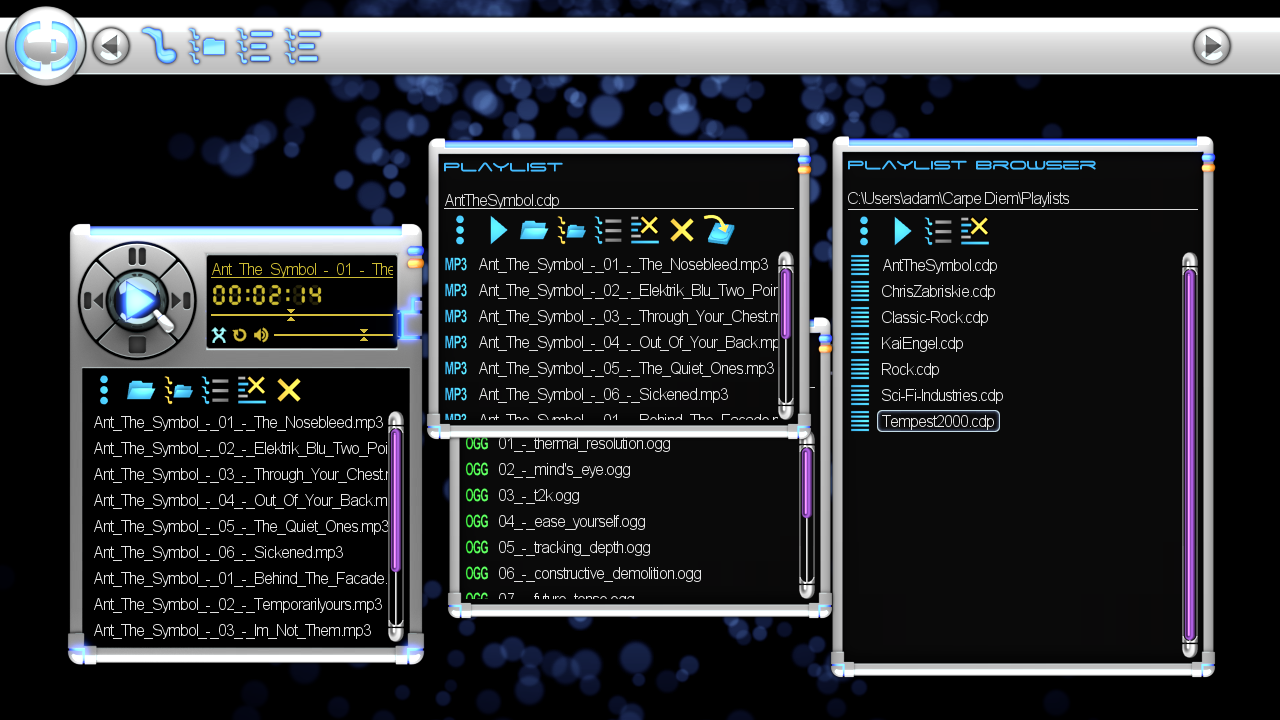 Use the Playlist Browser to perouse your current playlists. From here you can open one or more playlists, drag a selection of playlists directly into the play queue or create a new playlist either blank or with an initial selection of music imported from any selected existing playlists. All of the windows associated with the music player, such as playlists, browsers and the player itself, can be resized, minimized and closed.
Use the drag and drop interface to move songs from one playlist to another, from a playlist to the play queue, from the Music Browser to a playlist or the play queue or from the Playlist Browser to a playlist or the play queue. Playlists can be created from any of the associated music windows. Selecting the new playlist button in any window will create a new blank playlist or a new playlist with an initial selection of music imported from one or more existing playlists or from a selection of music from the play queue, Music Browser or another playlist.
Of course you can certainly just double click a song in a playlist or the Music Browser to clear the play queue and begin playing the selected song or select a range of songs/playlists and click the respective window's play button to clear the play queue, add the selection and begin playing the first song, or random if enabled, in the newly added selection.
The music player has a couple of odds and ends that need tying up, but for the most part this feature is functional and Carpe Diem is ready for some more game related work to be done. Until next time...