Hey Gunners!
We are pleased to announce the release of Carnival 1.3 today. We have been digging deep this past few weeks and our new coder has really stepped things up. We have loaded the game with all new content and we have fixed the stability issues. We are encouraging everyone out there with an iOS device to try Carnival of Bullets, It's a free app that we feel is well worth the download.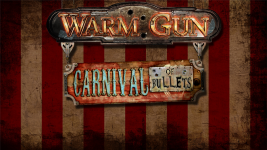 For those of you that are not familiar with our game please take a look at our updated promo shots. They should give you some idea of what the Warm Gun world is all about.
What's New in Version 1.3
✠Fixed Crashing Issues✠
✠Added Game Centre Achievements✠
✠Added Speed Run leader boards✠
✠Added All New Death-Match Mode✠
✠Updated Controls✠
✠Updated UI✠

Thanks again for all the support and for keeping us motivated, we hope you enjoy!