About Capsa
Capsa is an open world, social game which provides users with the opportunity to hang out in a breath-taking, and ever-expanding environment.
Featuring a large, gorgeous landscape, players can enjoy exploring Capsa's many destinations with all their friends. Developed using the most up-to-date technology, Capsa is designed to take full advantage of current hardware, providing an awesome, high-resolution experience. Unlike most virtual worlds Capsa is developed around the concept of a singular connected world, meaning no separate instances or loading screens to reach different locations and allowing you the ability to travel seamlessly to explore vast areas.
New Trailer and Progress on Steam Release?
We recently put together the above trailer, it highlights our key early access launch features. Plus, our store page is now live on Steam as 'Coming Soon', it can be found here, and have setup a Q&A thread on the discussion forums here. We are currently finalizing implementation of our translations and will then be submitting our build for review with Valve. We are currently aiming at an early-mid October release.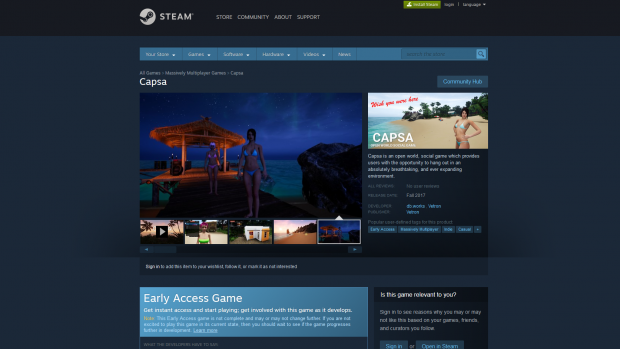 Early Access trailer and what current version includes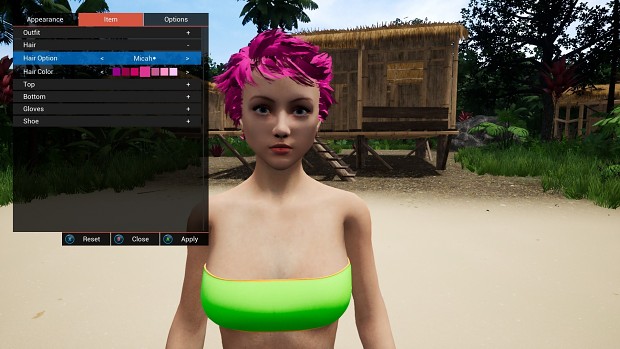 Included in the build we are launching with in early access are male and female character models with advanced facial morphing, allowing you to get that individualized look. We have around 80 or more slider options currently, plus other options for skin color, various makeup, such as lipstick and nails color as-well.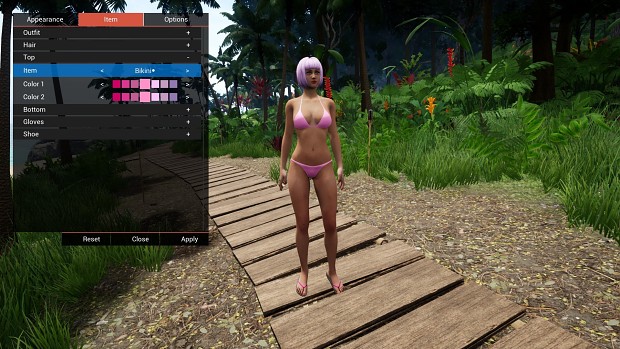 We've also added a selection of clothing you can make into outfits, with our setup you can pick which individual pieces you want to wear in each of the slots – e.g. top, bottom, gloves, shoes etc. You can then adjust these pieces with various color and design options.
Idea here is really to let people be unique in their looks as best we can, we will be constantly adding new clothing items and accessories over time, but feel we have a good selection to fit the tropical beach theme as it stands.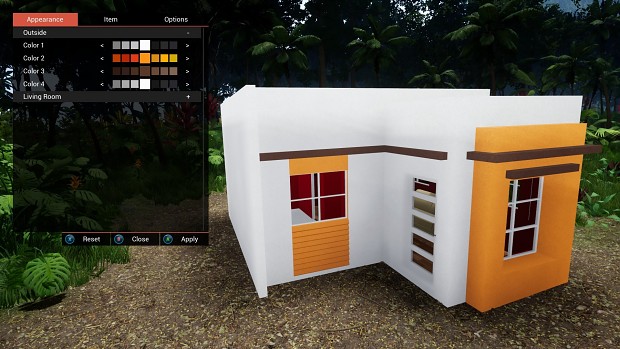 Shown off in the trailer is the homes system, how this works is you can essentially walk up to any home on the map, and providing it's not already claimed, claim it for yourself during this session.
Upon claim it recalls any previous customization you've set, this customization applies not just to this house in this specific house in this location, or even the very strict specific house model variation, but rather to a class of houses.
Let's say you customized a beach hut, or some tropical beach house, they all fall under the internal class of "Shacks". This means when you go to customize one, and then move to another house within that class, your customization settings are intelligently adapted and carried over. This allows the user to casually join any server, and find any house that is 'sort of' similar, and use it with previous customization theme with ease.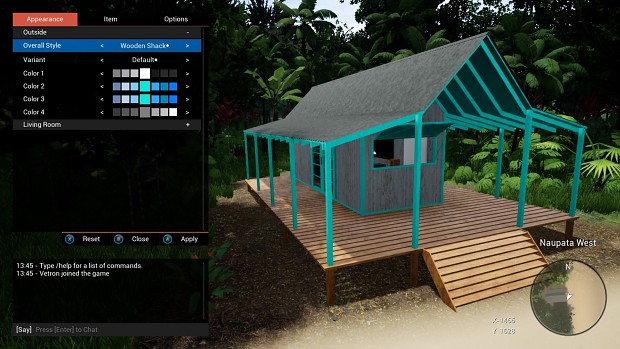 We have a handful of different house types in this build, these are all tropical themed to match the area, but we will be adding more types over time (and different themes as we extend the map).
In terms of customization for the homes, you can personalize different materials it decorated where suitable, change the paint, and pick from a selection of different furniture which fit into pre-defined suitable spaces for it based on a room layout choice. The furniture itself can then be customized further with different materials and colors.
Once you've fully personalized your own home you can use the built-in media system to watch youtube videos or listen to various audiostreams.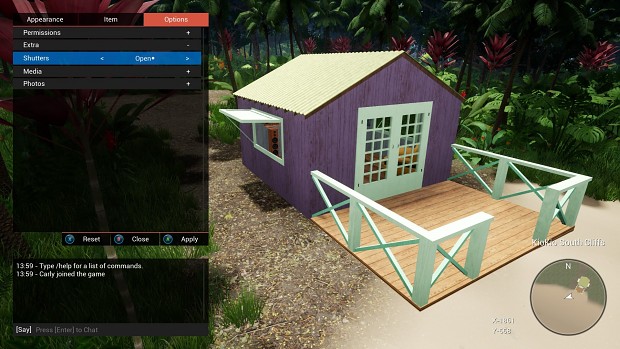 Our goal here is to have an easy to use system where you can get setup and going in minutes, but still get that personalized feel you want from it. We will be adding new furniture items over time, and another feature we are keen on adding is allowing the user to place collectables they've found, obtained or unlocked.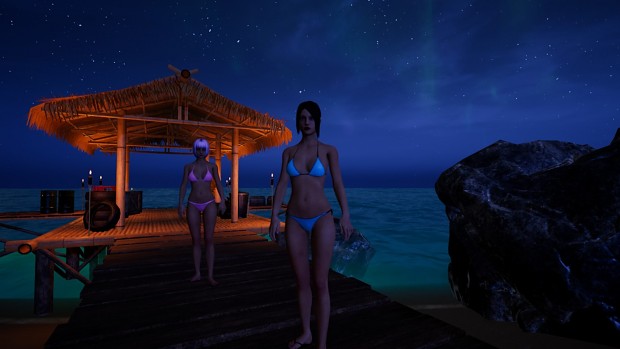 So far, we have 2 dance club locations, with more planned. Right now, you can pick from a selection of dances and take to the dance-floor while listening to the club's currently set streamed music.
We also have gestures and emotes, these can either be targeted or untargeted, so for example you can type /wave and it sets it up as "You wave at PlayerB" / "PlayerA waves at PlayerB". The untargeted version simply does "You wave"/ "PlayerA waves". These all have appropriate animations, and for some we will be adding sounds and facial movements sometime during early access.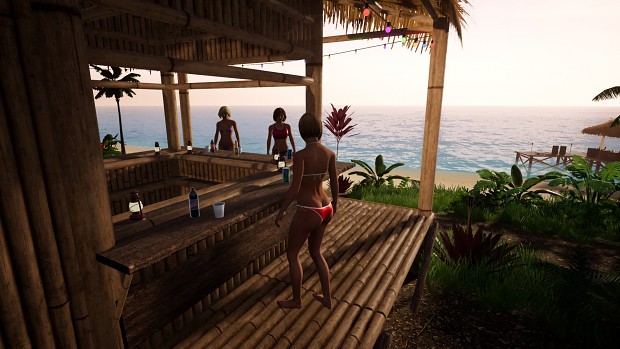 We are considering ideas of shared theaters and galleries, but these will be added during early access. Another thing we are looking at, but much later in develop will be various mini-games and games activities. So for instance mini-golf, beach volleyball perhaps, and other things that can be played together with friends.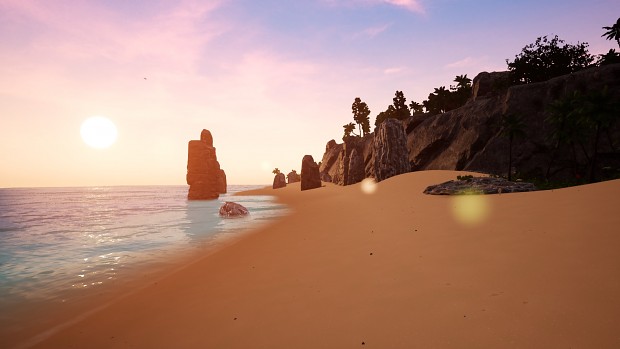 The initial Capsa game world is based around a south pacific archipelago featuring several large islands. Of these islands, we have half of them populated, with one of them heavily populated with things to see. This is one vast singular connected world, meaning there is no loading screens to reach other destinations (if traveling between them). The end goal is to add vehicles to make exploring these vast distances easier.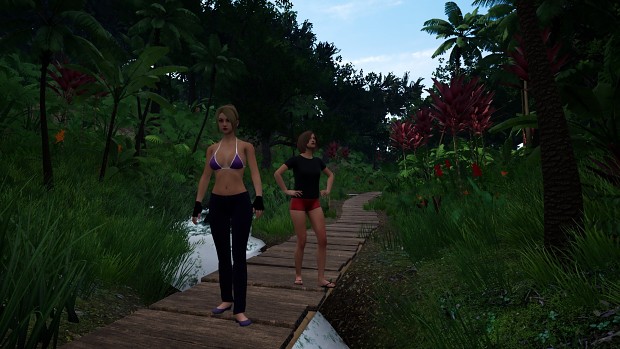 Currently one of the islands is primary aimed at traveling on foot however, its one we focused heavily on and there is lots to see in a 20-30-minute walk along its various pathways. Which you can travel with your friends together if you wish.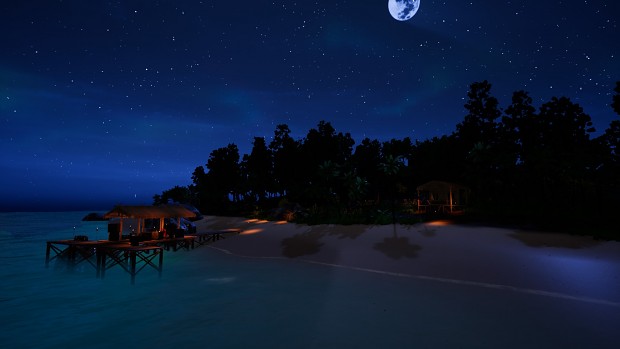 We have included a fully dynamic night and day cycle, with even things like aurora effects and the different lunar phases. There is plans for weather, such as rain and varied fog, which we will be working on in early access.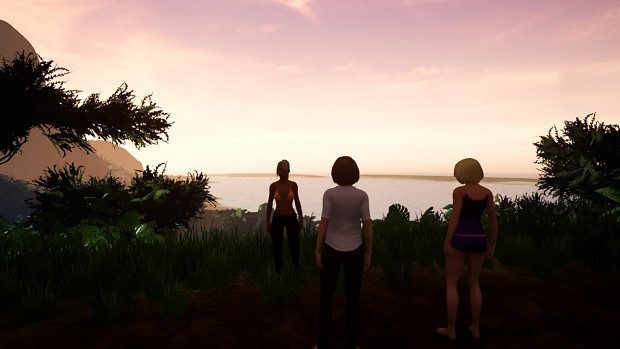 From the get-go, we wanted the game to be based around players being able to host their own servers, and having the choice about how their server is operated as we never really liked games that charged for 'virtual land' or subscriptions to play online.
Currently the server will only run on Windows (like with the game), but it was always our plan to add Linux support (as well as Mac OS X) during Early Access, and once we have that, naturally the server will too.
Right now, there are privacy options to restrict to friends or steam groups, plus have a bunch of options to customize things like the length of day cycle and so on.
Player counts are recommended for now at 64 until we optimize and do more stress tests, but there is no real restriction here, our end goal is to be able to allow hundreds of players on servers. But this will vary depending on what hardware the dedicated server is being run on.
Where can I find more about Capsa?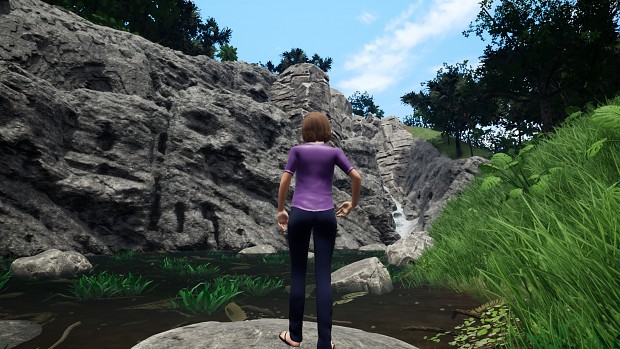 Capsa's store page is now live on steam here, and we have the community live with discussion forums live too where we are active in answering people's questions and taking any suggestions or ideas for the game. A full list of links are below.
Social Networks
Facebook
Vetron's Twitter

Steam Pages
Store Page
Greenlight Page

Useful Discussions
Introduction and FAQ