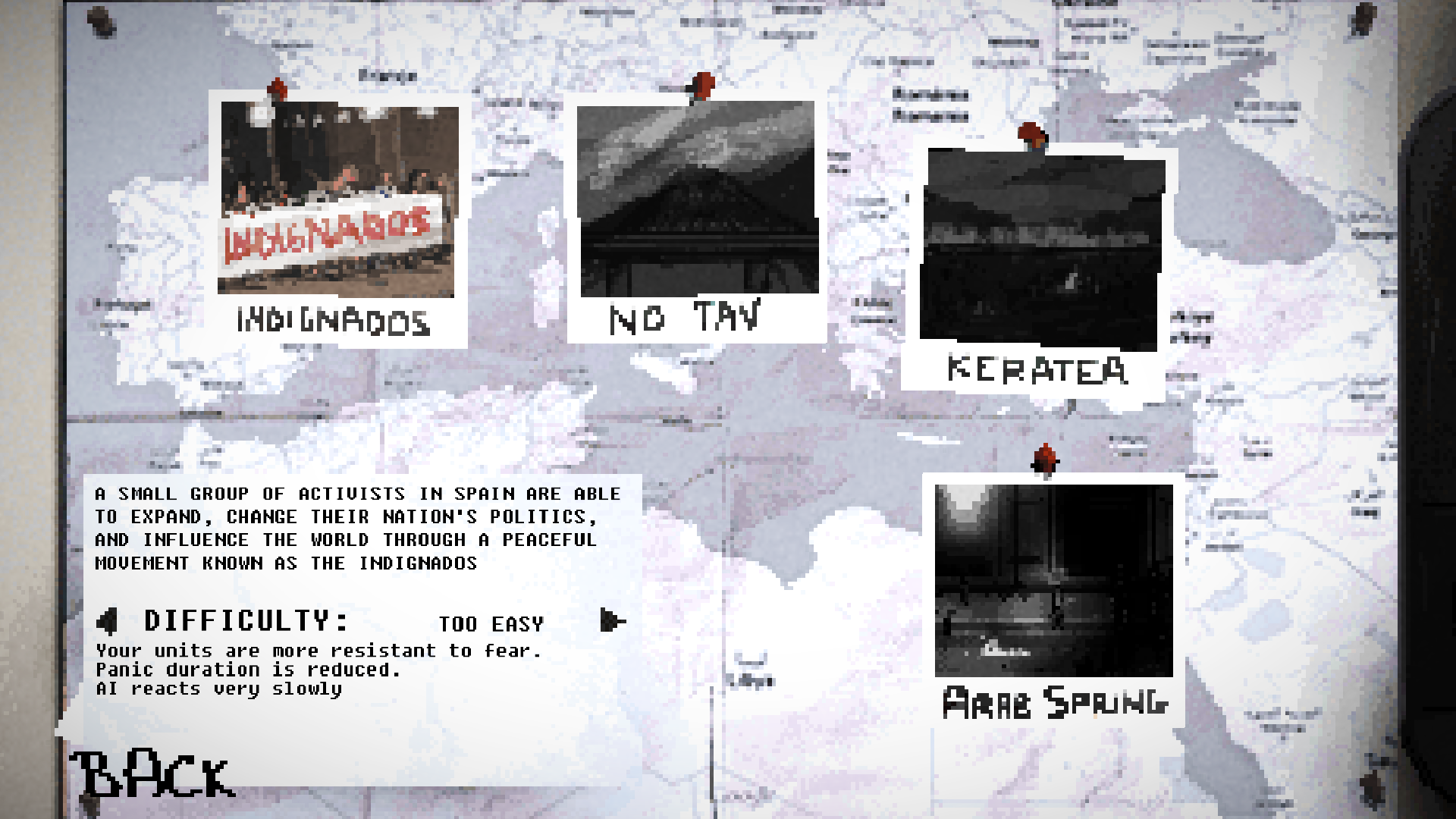 Indignados (Spain), No Tav (Italy), Karetea (Greece) and Arab Spring (Egypt) are campaings and contain the following levels (these levels are playable as single scenarios too, once beaten).

Indignados (Spain)
15-M
NO!
Mossos Retreat
Pozo Soton
No Tav (Italy)
Maddalena's Clearing
December 8th
The A32 Highway
The Beginning of an End
Karetea (Greece)
Bloko Keratea
Black Tuesday
Eftihis' Ballad
La Fin
Arab Spring (Egypt)
Friday of Anger
Friday of Anger Pt. II / Friday of Anger Pt. III
Battle of the Camel
We won't go! He will go!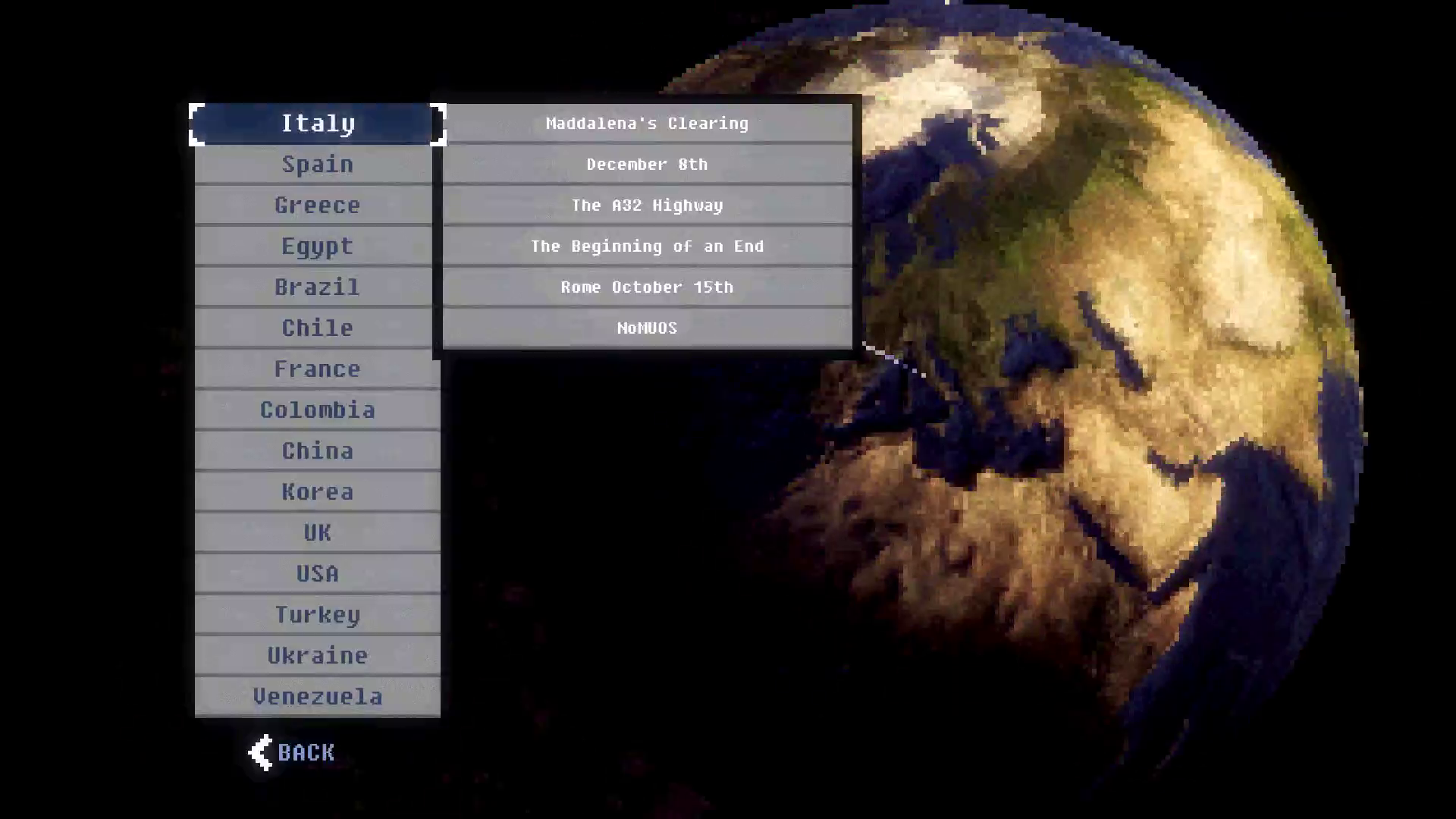 In addition, these are the sixteen single scenarios.

Italy
Rome October 15th – Roma Indignati, in 2011, 200,000 people protest against the influence of the European Commission, the European Central Bank, and the government of Silvio Berlusconi.
NoMUOS - Protests occurred in Sicily after that the government approved the installation of several M.U.O.S. military antennas without the approval of the local citizens.
Greece
Syntagma Square - The anti-austerity movement in Greece involves a series of demonstrations provoked by plans to cut public spending and raise taxes as austerity measures.
Egypt
Tahrir Library - An old library which contained thousands of ancient historical books, was burnt down during a riot near Tahrir square in Cairo.
Brazil
Confederations Cup Riots - After protesting against the increased price of public transport tickets, the Free Fare Movement unmasked several corruption cases in the Brazilian government.
Chile
Chilean Student Protests - Students in Santiago protest to demand a new framework for education in their country.
France
Clichy sous Bois - After escaping the police, two kids get killed by electrocution in a power station. The two deaths caused riots across many suburbs of Paris.
Notre-Dame-des-Landes - People in the country side of Notre-Dame are fighting to stop the construction of a new airport for ecological and human reasons.
Colombia
Nacional Bogotá University - As public universities across the country go on strike, thousands of students are discussing the next step on how to make sure the reform isn't passed.
China
Foxconn Riots - In 2012 nearly 2,000 workers at a Foxconn facility temporarily shut down the factory as a sign of protest because of the apparently inhumane working conditions.
Korea
Korean Training - Based on the popular video, this map shows the extreme organization of the Korean riot police during an organized demonstration.
UK
London Riots - Thousands of people rioted in cities and towns across England following the death of Mark Duggan, a local man who was shot dead by the police on August 4th.
USA
Occupy Oakland - Occupy Oakland refers to a collaboration and series of demonstrations in Oakland, California that started in October 2011.
Turkey
Gezi Park Turkish Revolution - Taksim Square, in 2013 the Turkish government planned to cut down all the remaining trees in Gezi Park to build a gigantic enclosed shopping area.
Ukraine
Ukrainian Revolution - The Ukrainian revolution took place after several violent events in Kiev that resulted in the ousting of the then-President of Ukraine, Viktor Yanukovych.
Venezuela
Venezuela Riots - People protested in Venezuela in 2014-2017 against the government of Nicolás Maduro, as a consequence of corruption and shortages of basic products.