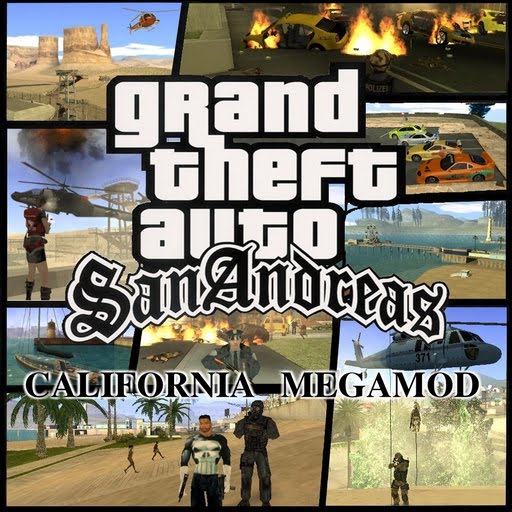 Version 1.55 beta of California megamod was released on 2 December 2009, and here are the links for downloading:
(Links updated 8 march 2014)
Please read installation instructions on the download page before trying to install.
Please, before starting installation check the filesizes because many bugs encountered was just because corrupt/incomplete files (if you see any warnings while decompressing then it means that the reported file was not succesfully downloaded, so download it again). Also be warned about the problems that may happen if your internet browser automatically renames downloaded files (usually adding numbers between brackets at the end of the name, and so causing that the unpacker/installer can't find all parts).
Appart from a lot of graphical improvements, thousands of new textures, new vehicles, weapons, peds, clothes, tattoos, more realism, etc, etc, This megamod includes several different gamemodes (.EXE) for playing Grand Theft Auto San Andreas in singleplayer mode, each gamemode may have some different vehicles, peds, weapons, and/or maps, some of this gamemodes are:
Starman mod (realism mod, original gta sa gamemode)
Crime Wars (gangwars and crime fight gamemode, you can play as wolverine or other heroes)
CRYSIS (figth military forces all over san andreas using your nanosuit)
GTA Halo Mod (cj fights masterchief and aliens)
Quasar Mod (you are a superhero with superpowers)
Space Invaders (fight alien invaders)
Alien City (a total conversion by Deniska, conversion into .exe by me)
GTA Ghostrider mod (play as ghostrider)
Myths mod (hunt for the misteries of san andreas)
GTA Zombies mod (for those resident evil fans)
Noob mod (gamemode for Stunters)
Global Overheating (ride in a world with no water)
Missions menu gamemode (for playing any missions in any order)
california megamod is compatible with SA-MP (but will have no mods when playing samp)
For more details visit the official website: Mods-gta.blogspot.com