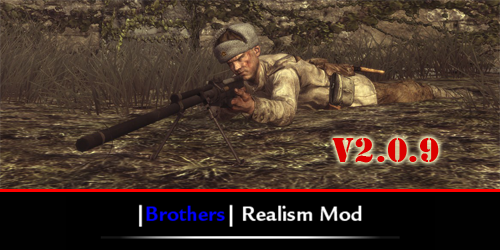 This update (v2.0.9) was not originally planned on this timescale, however a number of issues have cropped up with the previous release as well as some new features :-)
There was also a French translated version in the works, and to keep the two synced I have decided to release v2.0.9.
There are a few nice additions to this (such as the PTRS) and fixes a couple of nasty bugs introduced in 2.0.8 - sorry for any inconvenience over those.
Thanks are due to [1eBPC]TheRafal for sorting the French translations, and to Zeroy for the PTRS models.
-----------------------
New Features:
Deployable PTRS-41 Anti-tank rifle
Dvarable medic shout prompt instead of auto-shout
Dvarable .357 Magnum revolver for officer classes
Moderator admin level with configurable access (see _adminlist.gsc)
Ability to add DOM flags to unsupported maps (currently undocumented)
French Translations (if using French version). Translations by [1eBPC]TheRafal
Added ability to use Coaxial machine gun in tanks
Domination support added to match mode
Bugs Squished:
Fixed missing strafe plane explosion effect
Fixed freezing on respawn problem with Domination
Removed flashing icons in DOM / HQ / TWAR when waypoints disabled
Fixed runtime error caused by Napalm bombing runs
Fixed rare runtime error with suppression
Fixed problem where spectators could not free spectate.
Fixed issue with players being removed from squads on spawn