So, what's happening? been silent for a while..
We have cleaned up the project. Seemed like a good time to remove everything that we don't need, want and generally take a good look on the project.
We have also improved menus, added in some graphic options into the client.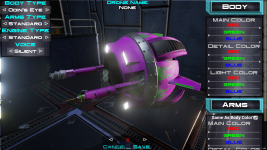 (I am still improving the menus. Making it 3d and changing the look.)
Raven is working on the spaceship and there will be screenshots of it later when it's closer to done. You guys will just have to wait for a while because this will take some time. (BUT, It's looking awesome so far :D)
Also, I am working on making the spacestation system both easier and more advanced :)
(Instead of screenshots I will upload the new system when it's ready to be abused).
I want to let players use premade room forms that they can scale up and down for people that don't want to use time on creating spacestations but rather want to make something functional to use in game.
I also want to make a more advanced system for players that want to make something closer to art :)
When, the system is working a lot better I will look into also adding a randomise button for those that just want to have something unique. But, really don't want to make it themself.
I have also been working on a save/load system for the spacestation system. So, that when you have made something, you can easily construct it in the actual game.
Also, the save/load system will let you share it with other players and use it later when the gameplay is in the prototype.
I have been thinking that when the spacestation system feels right that I will reupload a new version and most likely we can have a competition with some prices of sorts.
Either way, we are still working on the project. But, we are at a point in the project where it will take some time before we will share any new content.
Next prototype upload will include mac and linux. Not only windows as earlier versions.
Also, don't be a stranger. Please post in the forums if you want to ask questions or just want to chat.