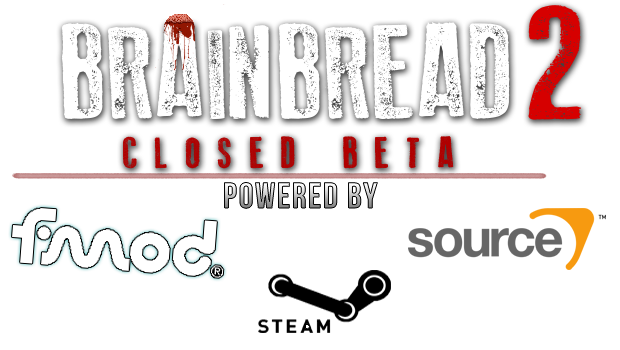 The Road to Steam

This update comes quite late, you might wonder why we decided to announce this rather 'old' achievement, if you've followed us on our FaceBook page you'd already know that we've been Greenlit.
However we felt that we didn't have enough to show off so we waited a while to post this announcement.
Now to the big topic, now that we've gotten our project on Steam we will push forward making sure this game sees the light of dawn!
Changes

Steamwork's gives us many unique possibilities to immerse our players more and allowing high competition!
We're going to maximize our extent of Steamworks, featuring:
* Stats - Levels, XP, Skill Points, etc... Will be saved Globally and can be loaded on any server if the owner permits this!
* Workshop Support
* Inventory - Throughout the game you will find items which will go into your inventory, if the server permits storing of stats then unique items you find will be stored in your inventory, you may then upgrade them / use them to upgrade a weapon which must be done in the main menu (when not playing), however you first need a backpack to enable this feature, backpacks can be found in the game as well!
* Achievements - We will feature many different Achievements to please Achievement Hunters. Some may even give you XP.
* Leaderboards - Making certain gamemodes competitive will definitely make this feature boost your motivation to get yourself to the top.
Platforms we will support:
* Windows
* Linux
* Mac
Gamemodes:
* Classic/Story - The old classic mode will become more story driven, both humans and zombies will have a story to follow. Level designers can easily add their own missions in the maps which enables high flexibility and dynamic gameplay. There will be a Journal GUI which stores all your missions(quests). Both Main/Side quests. On completing a quest you will be granted XP and you will progress in the map which may be one part of a big chapter. You can also fail quests which may lead you to big work arounds to progress further in the map.
* Survival - This is a pure deathmatch styled mode where everyone is for himself, you need to play strategically, the main goal is to Survive a round. If all the humans turn into Zombies the round will end. To maintain a good score you must both kill and find items.
* Arena - This is a team survival styled mode where you can only play as a human, you will fight against waves of different types of zombies. After X waves a boss will come and the difficulty will gradually increase for every wave. (Gladiator styled) If you die you will have to wait X sec to respawn and you will decrease the amount of reinforcements left, when the reinforcements run out no one will be able to respawn. So when everyone is dead you lose the match.
At the beginning of an Arena match you will be 'gearing' up in an armory. You can choose any weapon if you meet the level requirement. (The highest level player in your game will scale the npcs to match his performance, which means if you have a bunch of low levels + one high level it will be much harder!)
* Quarantine (WIP) - You will be put into multiple teams of both humans and zombies. Then there will be an A.I sweeper team of special forces who're sent to neutralize everyone and everything. It will be chaotic and you will face many threats. This will be an hardcore survival mode. (Still under construction)
Shared:
* The Skill System is available in every gamemode.
* You will be able to open a GUI menu to see an overview of your character + his/her skills,XP, inventory and quests. The quests is global which means you see the same stuff as everyone else.
* You can design your own survivor (female/male) in the main menu, similar to Fallout 3. You may change your characters appearance, clothing, etc...
* There's convars to disable the stats loading and inventory functions for those who want less Arcadish gameplay.
* You may filter the servers in the server browser by Level, meaning the servers will inform you if it has an average player count of high or low level players. IF you're a low level you would want to join a server with equal players in order to progress and have more fun. Vice versa for high leveled players.
* There is no cap on the level, however you can only spend 50 talent points (1 point per level) after that each level will just increase your base stats slightly. (WIP)
* There will be a unique skill tree for zombies, which means you can choose to play only as a zombie if you'd prefer that. (Survival and Arena will not let you play as a Zombie only)
Screenshots
Closed Beta
In one to three weeks we will start giving out 5 keys every Friday on our FaceBook page, these keys can be activated through Steam which will give you access to the current version of BrainBread 2!
Keep your eyes open and you may get lucky!
Why 5 keys every Friday? Because we need more testers and gradually getting more people to play would hopefully give some necessary feedback.
Recruiting
We're always looking for bright minds and positive folks to fill our ranks.
If you're interested in joining us please check this link[reperio-studios.net]!
Until next time, stay awesome!
~ Reperio Studios