New folder is largely a personal experimental direction on game development. Its not a new direction, but it is for me. More along the lines of agile development tied in with cowboy coding, rather than focused structured development.
It is a slightly random changing game direction with a basic beginning, and with community influences, work itself into an intricate project (Hopefully).
Well, why?
I've noticed a lot of development cycles can be related to an archery analogy.
When I first jumped into the development scene, it was more of a fire in the general direction and see how it goes.
I have since realized game/mod development is a planned procedure, where developers aim at targets much closer to where they are, such as internal releases and eventually alpha/beta, and plan accordingly when it comes to the next shot. All of this works for the bigger plan of finishing a full fledged project.
To sum up my early development planning: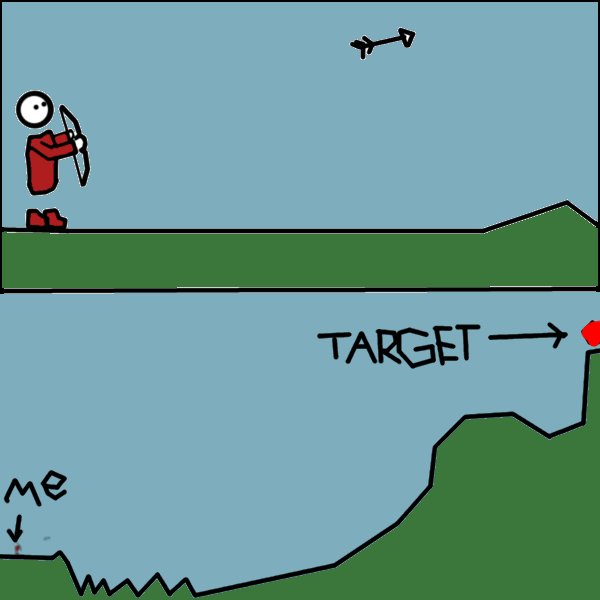 Either I was superman or I failed horribly. You can decide for yourself.
I think everyone knows game/mod development takes planning, but I think few realize what extent of planning and effort it really requires.
A few weeks ago, I still had an urge to continue some sort of game development, but I knew from past experiences that I could not even begin anything small scale.
Somehow in all of that, New folder was born. (Created actually, with a right click)
This way I could make a very simple game project that can become equally as complicated.
How does it work?
The beginning of development starts off like any project, only much simpler, with only the bare basics in place. (So far, aiming towards a typical team death match scenario)
Tying back in the archery analogy, I'll then take a shot at a reasonable direction. If it turns out great, I'll go from there and then try another shot.
If it doesn't seem to work well at all, I'll revert to a previous shot and try a different reasonable direction.
This is similar to a 'normal development cycle', only is in shorter bursts and can drastically change directions during development. (Which can result in entirely different settings or game-play)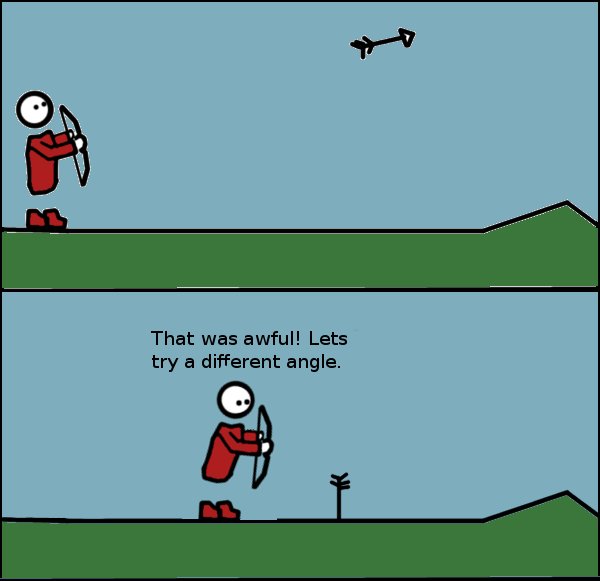 This style of development is very adaptive, and since my development time changes drastically, I can change the distance of the shot.
The fact it is less plan oriented and random makes it more suitable for a hobbyist project, since its ever changing behavior makes it more interesting. (In my opinion)
Closing thoughts
I don't know where this project will go, how fast it will go, or what it will do. I look forward to its development and potential. I also plan to keep news articles such as this to track progress, and show if the method is working.
The project is already taking its first shot towards team death match with mercenary characters.
As usual, I'm open to ideas and like to hear them. If you have any comments or constructive criticisms about this development cycle, please note them!