I know, I know its been ages since i last updated Darktimes so heres some of the things I have been fixing in the last 3 or so months.
BLUE LASERS for republic ships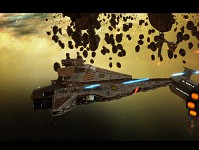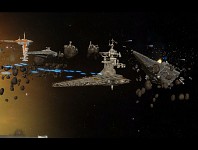 as you can see The Venator has finally been fixed up with appropriate Blue lasers
List of other "Blueified" ships
Assault Frigate MK 1
Pelta
Republic Corvette
Republic Interdictor
Dreadnaught
Republic light Frigate
Acclamator
And anyother big republic ship that i forgot to list.
I'm working on the Blueification of fighters and bombers now
In other news some of you may have known that i introduced good ol' Peallon to the Empire to replace Thrawn:
don't mess with my homie Peallon Mutha' F'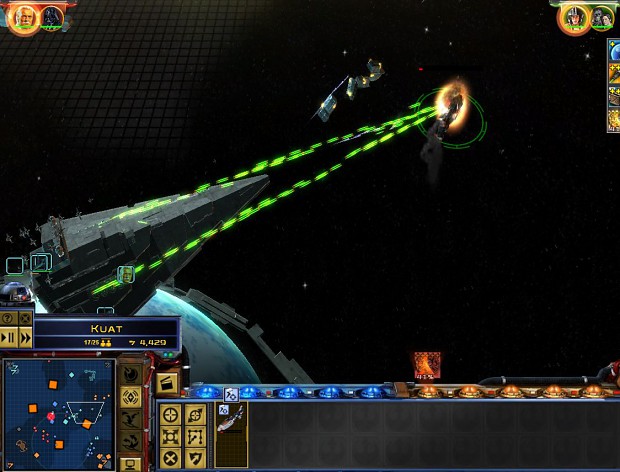 Here we can see Peallon's barrage ability completely decimating a Mark 1 alliance Assault Frigate
Other heros that will be replaced are:
Mara Jade----------Starkiller
Luke Skywalker----?
General Veers--------Clone commander of some sort (Bly? Rex? Cody?)
Admiral Akbar--------?
Kyle Katarn------------?
Issues relating to how underpowered the Rebels are in space have been fixed. They can now easily stand up to a CIS force equal in size
Also i am thinking about adding new music to the mod those of you that have played the other Petroglyph game Universe at War: Earth Assault may remember these:
New CIS battle music?
Moddb.com
New Empire or CIS music
Moddb.com
Moddb.com
New Rebel Battle Music
also I am going to add the new HD models by thomas39120 you can see more of his work at:
Moddb.com
and that in reality is most of what i have done in the last couple of months. I'm not proud that i've post-poned this update to my birthday---again. (One year ago i was making the TOR mod :( *sniff* *sniff ) and that i haven't worked on the mod with too much vigor in the last few months, But DARKTIMES is back on track!!