Its been a while. We've been busy with Blue Portals and a few other things. Since the last news post we got a lot done. One of the things we worked on was the final two new puzzle mechanics for Blue Portals; The Waterwalls and The High Powered Fan.
Colossal came up with an idea of having water in a wall-like form and being able to swim freely in it, or gain height, swim over a pit of electrified water, etc. Alone, this element was hard to make Portal puzzles with; as water has to be stationary and you can't go the extra mile and Portal it. On the other hand, however, with the Waterwall, players can reach a needed height and it was interesting with flings, but that's it. In the end alone, The Waterwalls were very dull.
Later, I came up with an idea involving a big fan that blasted a huge force of wind at the player and objects (such as boxes). The High Powered Fan uses some sounds and particle effects to show when it's on or not. The fan also stops every ten seconds and resets in five seconds . However, having more than one fan per room ruined performance due to all the requirements and actions a fan uses. And you can only do so many puzzles with just one fan.
When we added both the High Powered Fan and The Waterwalls together, new doors began to open. Fiuratively and literally. You have the self controlled movement of the Waterwalls, but sometimes you need the extra push from the fan. These elements went together like peanut butter and jelly, as you did not always want the intensity of the Fan, but you did not always want the slow swimming movement of the Water Walls. And what takes the CaKE; we added the function to Portal the fans' wind. You'll mostly see these mechanics together more then far apart.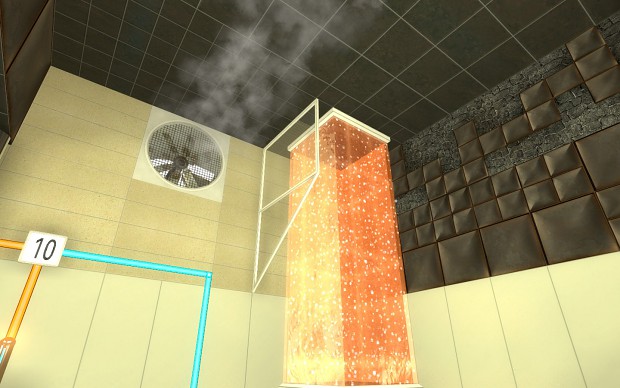 Other then making new elements, I've been working on some of the old elements, mostly the Ice Cube. The Ice Cubes original intention was to survive electric water and to 'melt' when being touched by the Fire Cube. We added a new flag for the Ice Cube 'melting' function such as if you place a ice cube in front of a Light Beam, it will also melt. The goal is to make the Ice Cube be very fragile and vulnerable. We are still looking for more possibilities for the Ice Cube and other elements, but one thing we have to work on (or at least try), is the melting sequence.
On the music side of things, The Hamster Alliance is working on the Soundtrack for the mod. If you like what you heard here, make sure to check out the site for other music. He also does live stream sessions if you want to see him work live on wonderful music.
And to end this article, we would like to shout out to a generous donor, Jexius, for buying us a domain. He and Colossal are working on a website for Blue Portals. Whats the point? Well since we like to save everything for a nice, long and juicy article here, there is a big time gap between articles. The point of the website is to post smaller news articles and updates. This way, we can keep you informed and you don't think we are being lazy and haven't been doing much. And hey, maybe in the future, we can host Portal 2 games...
Thanks again, sorry for the time gap.
-Blue Portals Development Crew. <3
P.S. If you see us playing a game on Steam that isn't Blue Portals or the SDK, don't tell us to stop playing and work on Blue Portals. We gotta have our breaks.