As Blue Portals gets closer and closer to being complete, we want to tell the community some of our plans, ideas, and clear up some things. As you can see, we changed the hopeless "To Be Dated" release date to a November 2010 release. So is that true? Well if I did my math right, it should be. We got one more chamber to work on and some Time Trial conversions.
So here is how this is gonna work (read carefully!); we have one more chamber to work on. I'll be working on it all through October so it should be done by the beginning of November. We finalized the first nine chambers, so now I can make Time Trial versions of the chambers without any being outdated. The rest of the month of November will be play testing and packaging and then will hit a release date of November 30th, 2010. (Which also happens to be Colossal's Birthday, too).
Speaking of Colossal, he got a new Operating System and when installing his drivers, it screwed everything up and ruined his computer. He's stuck using an old Macbook that he cannot texture or play on. So not only did I lose a play tester, but I also lost the texture artist (note from Colossal: Don't even ask if you can replace me :P).
And because I mentioned Time Trials, I would also shine some light beams on that. Time Trials is a gamemode where you speed run through the chambers as fast as you can; we've been working on it for Blue Portals since day one; so far we're very happy with it and at the same time see a few flaws. So what's going to be our solution? We're going to release it how it is. As we said before, whenever we tried to fix it, either the system broke or the entire thing became stupid. We're going to leave it to you guys, the community, to suggest some ideas for us. Since none of you played a chamber with a 60 second timer counting down while you make constant screw-ups because you're rushing, we want you to play it before you suggest anything. That's why we're not taking anything as of right now.
So what happens if you guys do send us ideas that work? Are we gonna update the Chamber Time Trials? Well that is where "Downloadable Content" comes in; we will supply new maps, testing ideas, themes, and perhaps more then one. For example, we might do a new Time Trial system but we might throw in some new elements, Portal 1 elements, and maybe Portal 2 remake elements. Who knows? I've been working on Blue Portals alone for 2 years, I don't want to release it and just forget about it. Plus we will be the first Portal mod to have "Downloadable Content" which has nothing to do with the campaign. Depending on the success, you might see Downloadable content weekly or bi-weekly; even after the release of Portal 2. Again, who knows? But we want to do at least a map after the release.
We also did a new design scheme for Chamber 09. Why? Just for practice and the blanket of warmness style gets tiring after months working with it. Also, we wanted to have a way to show how the Development Center was built. Have a look see.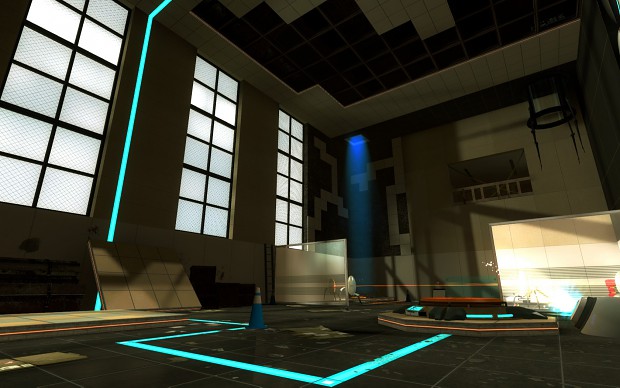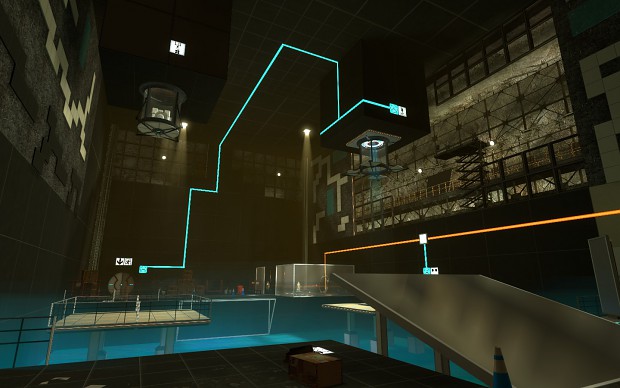 So that's it, Blue Portals should be out sometime around November 30th, 2010. Stay tuned, as we hope to get back to you soon.
~The Blue Portals Development Crew