Hello everyone,
Today I bring you ships from the past. First off; here's the pre-dater to the Apoc class Frigate, the Akula class Frigate. The Akula class Frigate was the UNSC's main Frigate class before the Apoc. After the Apoc was designed however, each of these ships were slowly replaced, mothballed, decommissioned and just stored away.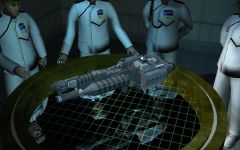 Another pre-dater I want to show you all today is the Jefferson class Cruiser. It is of course a pre-dater to the Halcyon class Cruiser. It didn't have the strenght of the Halcyon in both weapon power and armor but it was the only Cruiser the UNSC had at the time. When the Halcyon was designed however, it met the same fate as the Akula; replacement, mothballed, decommissioned and being stored away.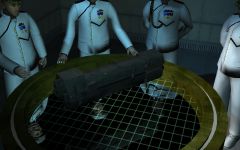 And here's a ship you've already heard about but since I really didn't like its design that much I went back and changed it heavily. So now here's the new Mako class Corvette.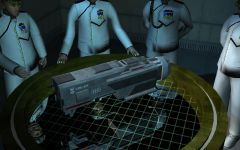 That was about all I have for today. I still haven't gotten around to completing new Covenant ships though I have worked on them. So perhaps next update. I'll try to make it fast but no promises.
Also, again, if anyone is interested, I'm always looking for an extra hand with modeling, texturing or possibly already putting things ingame and creating missiles, explosions etc.
Ciao,
Abyssinian