Although nuclear war was no longer regarded as an existential threat to mankind in the wake of World War 3, the Kingdom's civil war demonstrated its true horrors when unleashed upon population centers. Many throughout the world vowed to prevent future conflicts from escalating to strategic nuclear exchanges, and the people of the Legion take this upon themselves, with no government mandate nor transnational authority.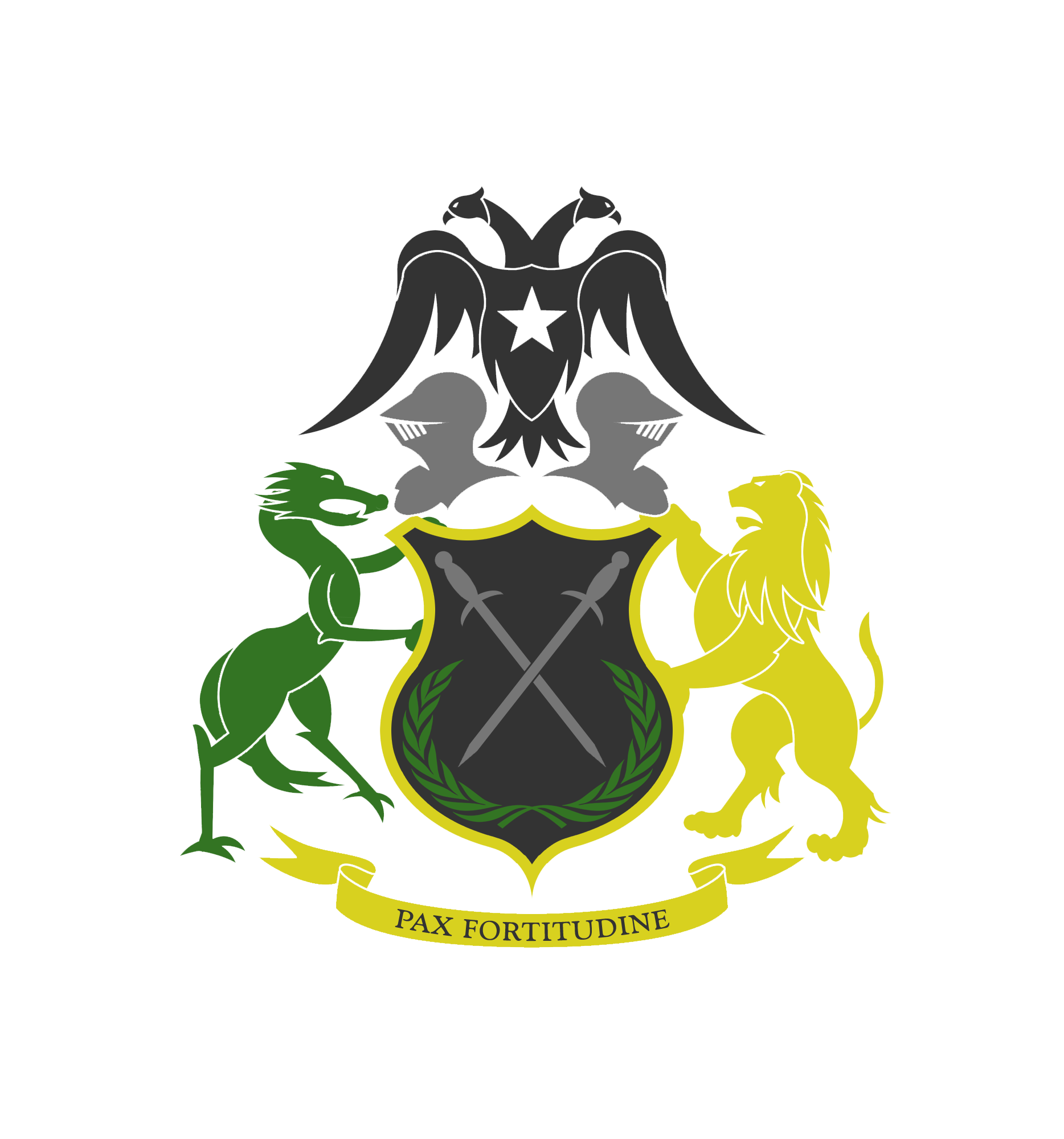 Founded in 1985 by Eulyrian veterans, the Legion has always invoked the aesthetics and imagery of the ancient Eulyrian Legions, but their first action - an airstrike against a Eulyrian battlegroup steaming to overthrow the pro-Poltavian government in Hestia - helped to dispel any nationalist connotations. The modern Legion has the luxury of handpicking soldiers, statesmen, and other professionals from around the world for induction, and the prestige to ensure that they almost always say "yes."
Since the 80s, the Legion's scope has expanded to preventing ANGEL and nuclear development in rogue states through military means and conducting both lobbying and astroturfing efforts within the superpowers to maintain public support for their actions and deter larger governments from engaging in arms races. While the Legion is too small to bring down a superpower on its own, their popularity throughout the world and image as keepers of the peace serves as a deterrent to going against their wishes. Even the superpowers' expeditionary deployments are de facto subservient to the Legion due to their overwhelming tactical superiority and global prestige.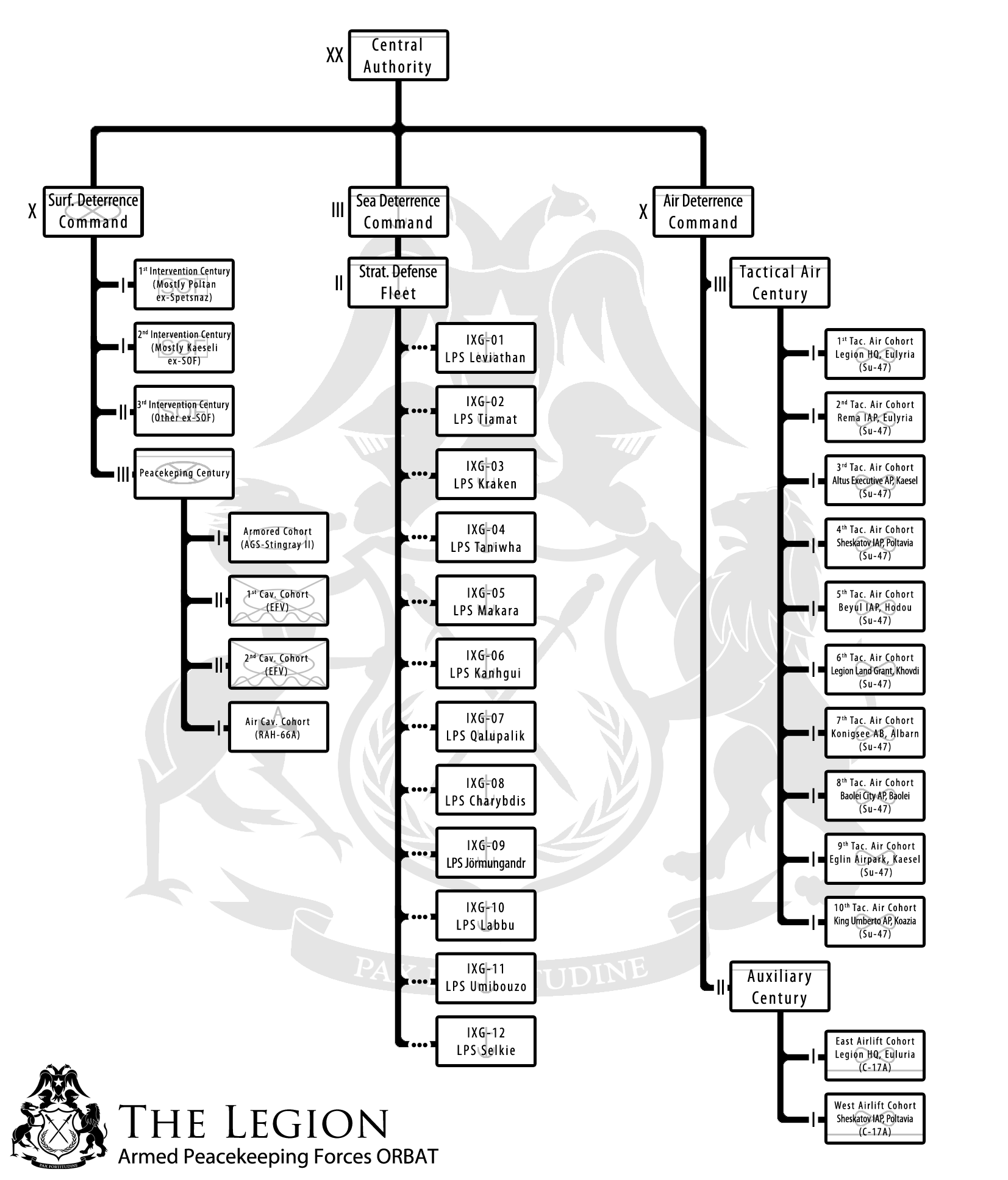 The primary subdivision of Legion is a Century. Originally composed of one hundred men, Centuries are now the main assignments of the 5000 total Legionnaires, the rest independently acting on their own accords in often government or business functions. Surface Centuries consist of three Intervention Centuries that disrupt superweapon development and regional instability through sabotage and political subterfuge and a larger Peacekeeping Century that actively forces combatants to cease hostilities.
The Strategic Defense Fleet operates a dozen Leviathan class arsenal ships. With offensive capabilities comparable to a carrier battlegroup, they are capable of supporting the Legion's sea and air operations against rogue states, but their primary task is to mitigate the risk of world war by intercepting ICBMs and ANGELs with suborbital SM-3 missiles. They are stationed across the world's oceans and make monthly stops at ports of call to take on supplies, perform personnel transfers, and maintain morale.
The Auxiliary Century is responsible for transporting and supplying combat Centuries on their expeditionary deployments, usually through chartered flights but occasionally with their own fleet of C-17s.
The Tactical Air Century, perhaps the most noted Legion division, operates one hundred Su-47s divided into ten-plane Cohorts, each complemented by one C-17 supply craft each and approximately 250 support personnel. Each Cohort has a home base at one of a few privately-owned airports around the world, but are self-sustaining for expeditionary deployments by procuring materiel on-site. Though small in numbers, their pilots are extremely skilled and their aircraft are top of the line; single Cohorts are often tasked with suppressing superweapon development and deployment in otherwise small-scale conflicts, often moving and deploying on their own volition and independence. In the event of a war between the superpowers, the entire Tactical Air Century is expected to sortie against ANGELs in defense of population centers.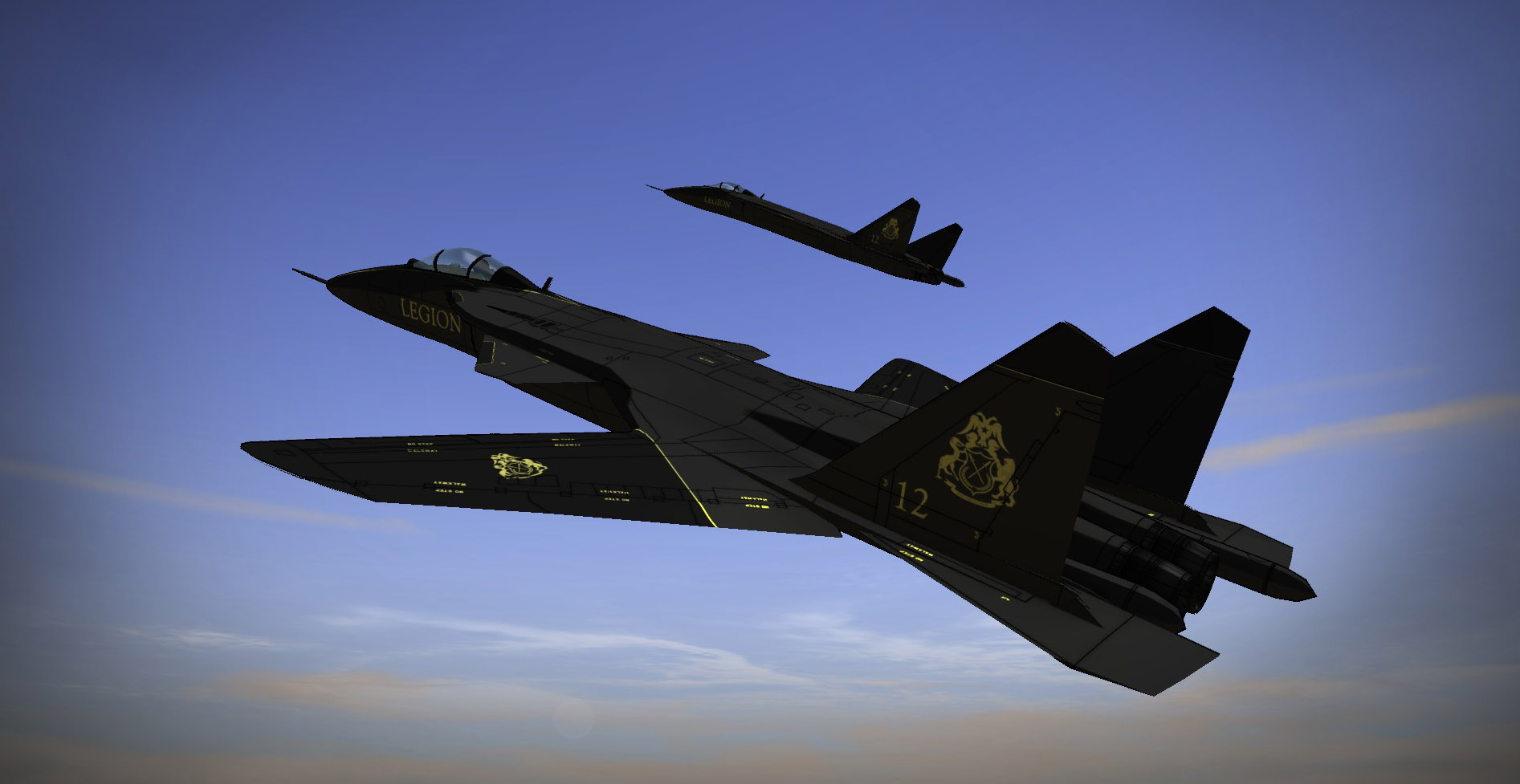 In recent years the ambiguous MO of the Legion to stop "cataclysmic" wars has caused internal polarization: absolutists believe that Legion's resources should be used more broadly to stop all war and more boldly stand up to the superpowers; the pragmatic wing favors conservative action based on practical and political viability. Legion's increasingly meek attitude towards the superpowers and hypocritical employment of EOS-04 Leviathan class IXGs (classified as ANGELs due to their size and some rumored offensive capabilities) has adversely affected their standing among even their most radical supporters. Pragmatists say that their cooperation with the superpowers has already fostered a more peaceful world order, however the absolutists fondly romanticize the Legion of the 80s that fought its own countrymen for the sake of world peace.
This friction is never displayed to the public. One of the most outspoken absolutists within the Legion is ████████████, callsign "Overton", a Legion pilot hailing from Kaesel. His long relegation to babysitting the International Coalition's Kingdom blockade force is said to be punishment for his strong opinions. However, the members of the Central Authority publicly maintain that his constant vigil is of his own accord.