Howdy folks, FlyAwayNow here and this isn't another cryptic and mysterious prologue to our first campaigns in Vector Thrust.
No, this is something much simpler and tame.
Forgive the delay, we've all been a tad busy, personally I've been trapped under 70~ or so inches of snow as well, but I'm sure it'll be worth it in the end.
---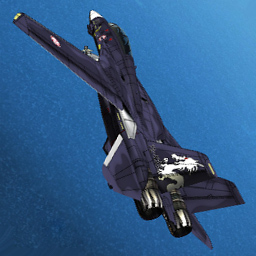 With the .9118 update came the introduction of a new battle scenario.
This has been put together by a few of VT's other developers and contributors, mainly MyHatisMyFriend, myself and ZakuTwo as a benchmark mission of sorts:
A clean, simple mission comprised of target elimination across the three main planes of warfare: ground, air, and sea, there should be little drama in knocking out these coup forces from one VT's main continents: Hono.
Perhaps it'll be a theatre we might explore in challenges and further battle scenarios, however I digress.
As part of the premier Loyalist fighter squadron: Dragon, you must knock out an airbase located on the coast of the mainland occupied by non-Loyalist forces.
This small little note in VT's world history will pale in comparison to the more complicated wars you will wage, but for now, revel in the slaughter of dissidents as we continue work on the first main campaign: campaign 01 which is already more than halfway done with the revamp. Campaign 02, Restless Bonds, is also under development at the moment.
Speaking from a development point of view BS01, Combined Operations, marks a standard of the vanilla missions that can exist in Vector Thrust, and has been used as a test as well, most chiefly for some new voice actors that will support VT through its lifetime:
So please give a round of applause for and look forward to them further in VT:
Benny Balmaceda
Trent Martin
Sasha "Rou" Abdurazak
Ian Deppa
Albert Kaito Kim
They are not the only people who have joined our VA efforts, so stay tuned and keep the airwaves open for them in the game's stories. A total of ten skirmish voice packs as well are inbound,
further to be added as development progresses.
This Battle Scenario is also important in the small fact that this is VT's first mentioning of one of its
continents (at least to my memory).
The continent of Hono is related to Japan at this point in only the fact that aircraft flown from there either fly colors associated to real world Japan or produce aircraft associated with Japan. It has been one of our MOs in the Vector Thrust team to only draw analogues from our Battle Weary World's continents to the real world in terms of where equipment is produced at this point in development. We'll go from there when development truly shifts.
For example:
Fulcrums and Flankers come from Tolstoj. Eagles and Falcons from Aestern. Typhoons and Jaguars from Voslow, Centera, and…
I digress, we don't have a world map out yet with the designated continents, but I'm sure you get the point.
In the words of our Big Boss, this is how we will view world building further:

... Take that as you will.
Vector Thrust's Battle Weary World will eventually be revealed in full earnest, probably in another report, but right now we're worried about Vector Thrust as a game, not a story.
---
As some of you have noticed, the aircraft you fly in BS01, or rather, the aircraft we recommend, is actually a community made skin provided by Mike Durao: ZakuTwo.
He is one of the many people that have provided their own works for us in VT, and we're very happy to take it and we'll be happy to allow him to work with us in the future providing skins for the state militaries as they come to be created.
Give him a round of applause as well, and accompany him on creating user content for Vector Thrust.
---
Another note regarding BS01 is the volume issue, and I fully take responsibility for not kicking it all down a notch. However in a coming update this will come to be fixed.
The next black ops report will reveal details regarding Campaign 01: Hollow Thunder, the internationally backed organization of peacekeeping try hards called "Legion", and a kingdom that the
world forgot. Until then, keep a lookout for a report from TS.
Also worth mentioning: Sound effects and a handful of other Battle Scenarios are in the works in the interim, as well as the final revamps of the original music tracks that were included with the game during the Desura Alpha. That's right! No more clapping for five minutes as you try to shoot down a Fishbed with a underperforming Starfighter over a desert!
…
I've been listening to that Survival track for far too long…