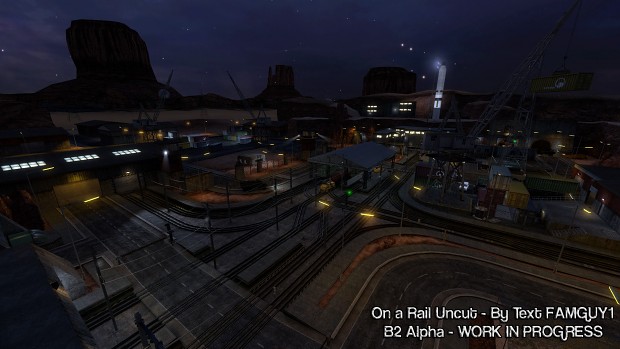 Introduction
Hi there everyone, it's been way too long, sorry! As I said in the summary, I've just last week graduated with a 2nd class honours from the London School of Economics, and have been using my newly found spare time to finish the final map of OaR Uncut - bm_c2a2b2, or B2 for short.
Though B2 isn't quite ready for alpha testing yet, it's certainly good enough for a media release, which is why I'm here - I want to let everyone know I'm still alive! The private alpha, conducted on the Black Mesa forums, will take place in hopefully a few days if everything goes according to plan (then again, does anything ever go according to plan?), and then the PUBLIC beta, which will also be posted on here, will be conducted a few weeks later, after implementing feedback from the private alphas.
Introduction to B2
So B2 is the final map of On a Rail Uncut, and the penultimate map of On a Rail as a chapter. Though I've said this in every single news post since I started, I'm going to reiterate it once more. Sorry regulars!
On a Rail Uncut, like my other mod, Surface Tension Uncut, is an addon you install into Black Mesa which seamlessly adds on and integrates into Black Mesa's story mode. This isn't official work, I'm just a big fan of Black Mesa and the Half-Life series in general trying to right what I perceive as a flaw in the remake. I'm just doing my bit; what I can. It actually adds 4 maps to On a Rail, which by default in Black Mesa is only 3 maps long! It more than doubles the length of the chapter, as a result.
Here is a breakdown of the maps in On a Rail with my mod adding onto it:
TextFAMGUY1 wrote: BM_ = Black Mesa
HL_ = Half-Life

BM_A = PART OF BLACK MESA BY DEFAULT. Introductory map. Introduction the whole rail system. = HL_A.
BM_A1 = MY FIRST A MAP. Introduction to loops and track switching. = HL_A.
BM_A2 = MY SECOND A MAP. Journey through a huge Office Complex. = HL_B, HL_C
BM_B = PART OF BLACK MESA BY DEFAULT. Smaller office complex. Introduction to the rocket. Rocket Priming. = HL_D
BM_B1 = MY FIRST B MAP. Introduction to Material Transit system. Turntable room ambush. = HL_D, HL_E
BM_B2 = MY SECOND B MAP. Continuation of Material Transit system. Arrival at the surface. Vast outdoor area, arriving at the rocket. = HL_F, HL_G
BM_C = PART OF BLACK MESA BY DEFAULT. Rocket Launch + Passage to "Apprehension". = HL_G, HL_F

The final download when the mod is finished will be installable in 2 separate packages.

OaR Uncut Lite includes BM_A1 and BM_A2, for those of you who really don't want the chapter to be as long as it was in the original (why not!?)
OaR Uncut Full (default package) includes A1, A2, B1 and B2.
B2 Walkthrough/Development History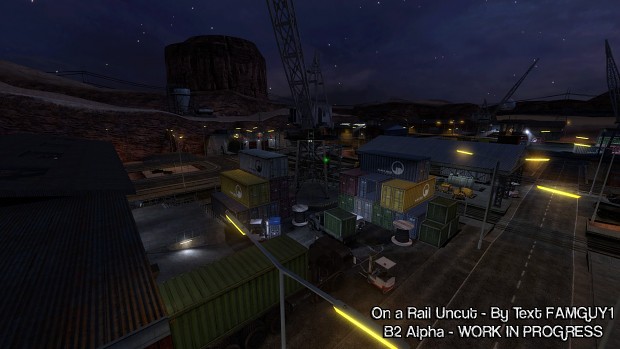 Another reason B2 has taken so long to reach its existence is because it's been horrific to develop. Not only have I been working well outside my comfort zone (loads of outdoor natural environments), but I've been super busy and basically trying to design an entirely original layout while staying true to the spirit of Half-Life's version.
B2's unique claim compared to the rest of On a Rail's maps is that the majority of it is set in a huge outdoor area. This is a potentially divisive massive departure from the original, where the entire tram system ran only underground aside from just before the rocket launch sequence.
On a personal level, I feel like it's the most beautiful piece of work I've ever created, though I have to thank the BM Devs for creating such fantastic lighting schemes for night time outdoor areas. Maybe on a gameplay level it doesn't offer a great deal that's unique and memorable, but it's more about the visual element, really.
Please watch the video for more information on the map!
Like B1 and A2, B2 seriously pushes the Source engine right to its very limits. Not only am I banging right on the door of the brush/brushside limits, I'm right bang on the entity limit too! Many things have had to be removed in order to keep the map functioning properly within the constrains of the somewhat antiquated Source engine, and while it's a bit disappointing that I've had to remove content to make it fit, it is necessary. While performance currently is terrible, hopefully the optimization pass can address this.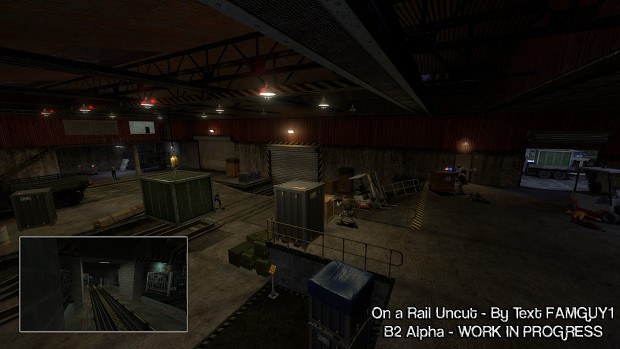 Reasoning behind outdoor environment
There are so many reasons that I decided to set B2 outside. The first, which I mentioned many times during B1's development is thematic variation. Part of the reason the original OaR was a bit on the boring side was because the chapter looked the same the entire way through, with no variation. This was a compelling reason to set part of the rail system outside - it allows the chapter to be long without being too boring from a visual perspective. Changing things up a few times visually can work wonders in keeping the player interested. Overall there are now 3 distinct thematic shifts throughout the whole of OaR - the rust red/orangy, run down, disused tunnels of the office transit system (A, A1, A2, B, C), the cold blue, well maintained, busy material transit system (B1, B2), outdoor areas (B2, C) and the cave tunnels could be considered an honourable mention (B2 only). This helps keep things interesting.
Another is that outdoor areas look beautiful in Black Mesa. The Black Mesa Developers' choice of lighting, sky, and star/moon effects, is stunning in conjunction with their cliffside textures and choice of artificial lighting for outdoor buildings. I felt a bit like the small section of the outdoors you see in Black Mesa's C by default just doesn't quite do justice to how good a job the Black Mesa Devs did when deciding how to make outdoor areas look.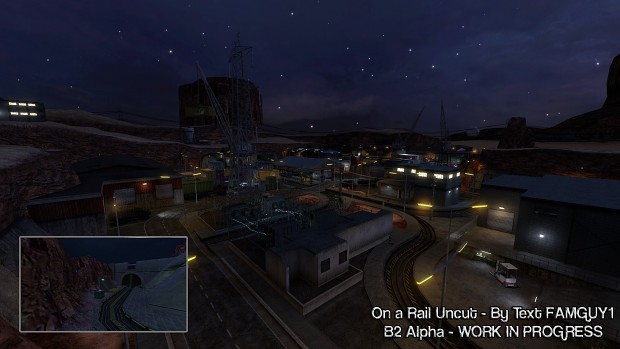 Conclusion
That's all I can really think about that I have to say on B2, though there's plenty more on the video. Keep checking back here for progress on the Beta, which should be soonish I hope! It won't disappoint, my team of fantastic testers and the community behind me won't allow it to! Thanks for all your support everyone, I enjoy doing this so much thanks to you guys. Let me know in the comments below or on the YouTube video your thoughts on the state of the B2 Alpha!