Biplane is a fast paced, multiplayer, arcade flight simulator with arena style gameplay. Fly a wide range of miniaturized aircraft in diverse environments. Instead of flying circles in the open air, players will be forced to navigate the levels and the best players will use this to their advantage. There will be a mix of interior and exterior levels, a variety of aircraft, fun power-ups, humorous accolades, rankings and more!

Biplane has numerous levels that vary wildly in setting, each with their own unique hazards. Typically, with flight simulators, the stratosphere is the limit - with Biplane, imagination is the limit. Imagine an outside level where you fly through the branches of a large oak tree and dodge the occasional lightning strike. Imagine being a gunner on your friend's B-17, protecting them from oncoming fighters while they line up for a bombing run. Imagine racing through a dungeon where either the fastest or most devious pilots have a chance at winning. Imagine ...

Flying is hard, so I have created tutorials to help you get started. There are guided routes to follow along with a scoring system so you know how good you are doing. Free flight mode is a fun way to explore the levels and bots are available to provide some target practice. Sharpen your skills with single player features and you will be ready to take on real players.

I have designed Biplane to play like an arena shooter only you are flying a plane instead of running around. The best part about this: no campers! (at least not till I add helicopters and base turrets). The game will be fast paced and the rounds will be quick to keep the action going. There will be end of round accolades as well as a full run-down on your stats so you can see how you ranked against your opponents.

There will be a slew of aircraft to choose from and each one will have its own unique properties and weapons so you can pick the one that best fits your play style. As an example, biplanes will have a machine gun as their primary weapon and mines as their secondary; F-16s will have unguided rockets as their primary and radar guided missiles as their secondary. Some planes will be more maneuverable than others and some will have more health. Some of the planes, like the B-17, will have gunner positions so that your buddies can jump in with you.

Biplane will have classic game modes like free-for-all, team deathmatch, domination and capture-the-flag. There will also by some unique game modes to Biplane including asynchronous play where the teams will be made up of different types of aircraft and will have different objectives. For example, one team could be B-17s trying to complete a bombing mission and the other team would be light aircraft trying to stop them.

Biplane is now on Steam Greenlight - please vote if you like the game!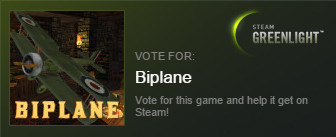 Website: Biplane3d.com
Free demo: Biplane3d.com
Feature list: Biplane3d.com
Blog: Biplane3d.com