BioTerror is now finished and uploaded to Kongregate ready for everyone to play! PLAY HERE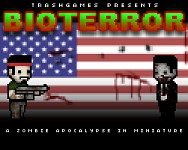 BioTerror is the first part of a trilogy that takes brainwashed super soldier Hank Damage on a mission to rescue the President's daughter from Zombies. Hank is forced by his former commander to go deep into the junge and rescue the girl against seemingly insurmountable odds. But this is only the beginning for Hank, as when he returns to the good old USA things become complicated.
The game contains a single player story mode as well as three survival levels based on locations from the story. So you can compete with everyone in the high score tables! Thanks to everyone for the comments and interest in the game and I hope you enjoy it!