As most of you already know, Noomix originally was known for it's fast-paced Local and Online battle modes. Aside from a short Tutorial Level where players got a brief introduction in basic movement and character abilities there were only Multiplayer matches (Like Deathmatch, Team-Deathmach, Nooball..) going on, which was great at that time.

After lots and lots of testings in-house and a successful Alpha period we first decided to focus on fixing some performance issues and bring in new playable characters and gameplay modes. The more we went in-depth into Multiplayer the more we realized that there were a lot more issues to be considered than common technical issues like connection stability or gameplay issues like different game play modes.

For a successful Multiplayer game to work well it is vital to have a constant number of players who are connecting to our servers or host their own servers to play with others. In over 800 matches over a month of Alpha testings we recorded lots of amazing sessions and got massive feedback from our testers on how we could improve our game. After evaluating these statistics our analysis showed that as a new upcoming indie-studio it would be very difficult for us to obtain the necessary amount of players by the release of Noomix.
In many talks with industrie experts we also got the advice to push the game not to Multiplayer right now but instead focus on an adventurous story campaign. Market research showed similar results that we might not obtain the required quantity of players for Noomix. Also according to our programmers there were lots of technical issues that needed to be solved to get a fluent match without abrupt lags or disconnections. So we finally decided to change the games' direction. Apies and GentleApes, our BIG announcement for Noomix is…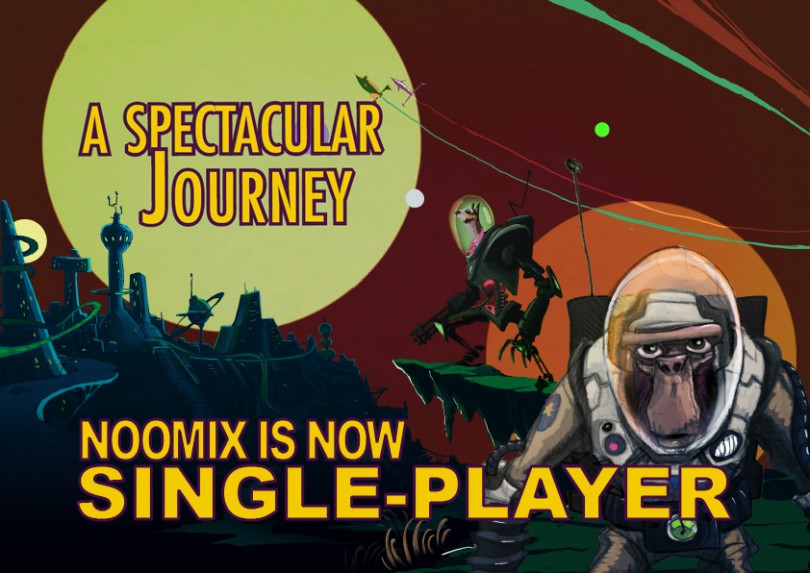 See you next time, where we will reveal another parts of the new concept for Noomix.