Our new concept artist, Edward has done a lot of work for me for the past two days. Already he has put up impressive drawings of the characters in the game.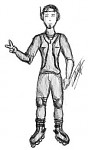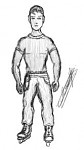 In addition, he uploaded sped up videos showing his process in drawing the characters which can be found in the video section. Also, he created a great title banner for my production company. Already, he has impressed me so much with his effort and dedication. He is continuing to design characters, locations and even graffiti artwork!
The other two guys working on the project, Louie, Stephen and I are working on the technical aspect of the game as well as the design. Soon we will have a conference and discuss all the ideas that I have come up with to make Revolution stand out from the rest. I have also put out a job ad for a GUI Artist. If you are accepted, I will send you a word document with EVERYTHING you need to know about while helping out with this project.
If you know anyone that could do anything to help with our project, just let me know via IndieDB's PM system. Currently the game design document is huge with 69 pages all written by myself. It is currently being reviewed by the other team members and I am awaiting feedback. I work on the game at least a few hours a day whether it is writing the script, storyboarding, throwing in more ideas, testing some experiments using the free version of Unity or any other thing that I do to contribute.
With you, the viewers, we appreciate your support as it motivates us and reminds us of how well we are doing and imagine the outcome of the project. I will release more content on the game such as the story and feature list later on. Thanks for reading and take care!